British family involved in collision in Greece, Foreign Office confirms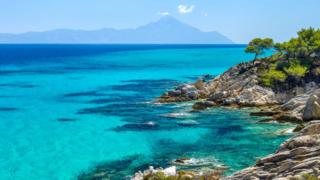 A British man has died following a collision in Greece.
Greek police said an unknown vehicle struck two pedestrians in Halkidiki, a region in the north, shortly before 20:30 local time (18:30 BST) on Sunday.
A 57-year-old British man was killed and his wife, aged 58, was injured following the incident in Kallithea. The woman, from the UK, remains in hospital in Polygyros.
Local media reports say a car sped away from the scene following the crash.
A spokesman for the Foreign Office told BBC News it was "supporting a British family involved in a road traffic accident in Greece".
He added: "We are also in contact with the tour operator and Greek authorities."