Extinction Rebellion: Man climbs on top of plane in climate protest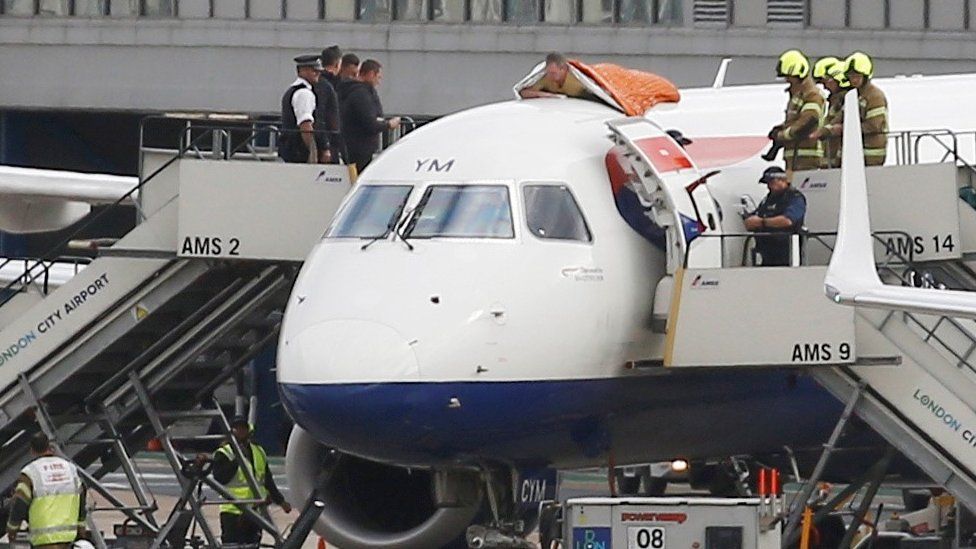 A Paralympic medallist climbed on top of a British Airways plane at London City Airport as part of ongoing protests by Extinction Rebellion.
James Brown, who is visually impaired, filmed himself clinging to the fuselage as he streamed a live message online.
Metropolitan Police Commissioner Dame Cressida Dick described the action as "reckless, stupid and dangerous". About 50 arrests were made at the airport.
Another man refused to sit in his seat, delaying a flight by nearly two hours.
Both men had bought flight tickets and passed through airport security.
On the fourth day of climate change protests, disruption in the UK centred on London City Airport.
Police arrested people blocking the airport entrance as others glued themselves to the floor.
Airport chief executive Robert Sinclair said flights ran largely on time or with slight delays, although two flights were cancelled.
At about 19:00 BST, he said protesters were no longer outside the terminal, although he advised people flying on Thursday evening or Friday to check their flight status before travelling to the airport.
Earlier in Westminster, tents and protesters were cleared from the roads leading to Parliament Square.
Police said they were working to clear a camp in St James' Park, with Trafalgar Square the only other site still occupied in central London.
BBC Newsnight's Nicholas Watt was on a Dublin-bound flight when a "smartly dressed man" stood up and walked down the aisle, delivering a lecture on climate change.
Cabin crew "calmly and very politely" asked the protester to retake his seat and, when he declined, they alerted the pilot, Watt said in a tweet.
He said the plane then taxied back to the gate, where police escorted the protester off the plane.
Aer Lingus said the passenger was removed "due to disruptive behaviour on board" and a full security check of the aircraft was completed before the delayed flight could depart.
At lunchtime, James Brown, a Paralympian cyclist from Northern Ireland, filmed himself sitting on top of an Amsterdam-bound plane which had been due to take off just after 13:00 BST. He was booked on to the flight.
In a live stream posted on Facebook, he said it was "scary" because he hated heights, felt cold and hoped they would get him down soon.
"Oh man I'm shaking," he went on. "This is all about the climate and ecological crisis. We're protesting at government inaction on climate and ecological breakdown. They declare climate emergency and do nothing about it."
After more than an hour on the roof, Mr Brown was brought down and led away by police.
Met Commissioner Dame Cressida said: "My early understanding is somebody has been arrested after they presumably bought a ticket, went through security perfectly normally, went up the steps of a plane and hurled themselves on top of a plane.
"Actually, that was a reckless, stupid and dangerous thing to do for all concerned.
"But I think you can see that it is quite a hard thing to predict or stop from happening."
She said a full review of security at the airport would be carried out.
Deputy Assistant Commissioner Laurence Taylor pointed out there was no law to stop a protester buying a plane ticket and, once they did so, they were "a legitimate passenger".
"There is a difference between a security threat and a protest threat," he said. "Protesting is not an offence."
Police said more than 1,000 people have been arrested since Monday, including about 50 at the airport on Thursday.
Twenty-nine people have been charged with various offences, police said.
Speaking on BBC One's Question Time, Rupert Read, from Extinction Rebellion, defended the group's methods, saying he had spent 20 years campaigning and knocking on doors for the Green Party "and none of it worked".
Before the April protests "we were still on the same trajectory for disaster as the last 20 years - but then we managed to push the issue up the agenda", he said, adding that the hundreds of people who have been arrested were "brave souls".
Transport Secretary Grant Schapps said he could not understand why the action was centred on the UK - the only G7 country to have pledged to cut greenhouse gas emissions to net zero by 2050.
"Rather than stopping people from getting to work, go to a country which isn't doing any of these things, and protest there," he said.
Activists had been attempting a three-day "Hong Kong-style occupation" of London City Airport's terminal building to highlight what they claim is the "incompatibility" of the east London airport's planned £2bn expansion meeting the government's legally-binding commitment to go net carbon neutral by 2050.
However, by Thursday afternoon, the number of protesters at the airport had begun to dwindle.
Former Metropolitan Police detective John Curran was among those arrested, after he glued himself to the pavement outside the airport.
An 83-year-old man, Phil Kingston, was also arrested, as hundreds of people blocked the main passenger entrance.
It is the third time he has been arrested as part of the Extinction Rebellion protests this week.
Protesters also caused disruption outside the terminal, as several sat down on the zebra crossing, blocking traffic going in and out of the passenger drop-off zone.
Cars and buses were backed up in both directions before the demonstrators were cleared from the roads by police.
Taxi driver Jason Lempiere said the protests had disrupted his work in and around the city.
"It's disturbing everyone's everyday life; working, travel in and out of the airport," he said.
"Yeah, have a voice, but [do] not disrupt people's lives like this."