Extinction Rebellion: Central London targeted despite ban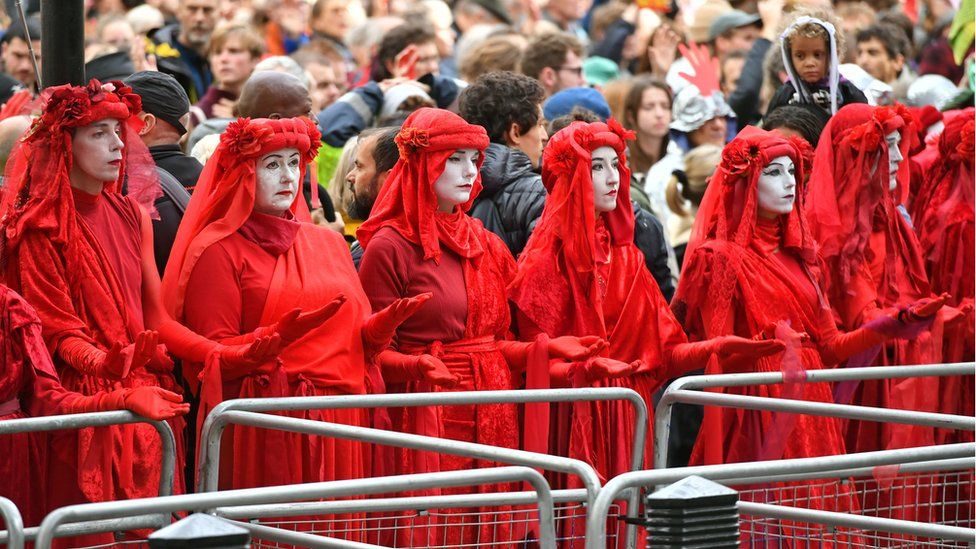 Extinction Rebellion protests continued in central London despite police banning the group's climate change demonstrations in the capital.
Activists blocked Oxford Circus with a wooden pyramid structure and descended on Westminster before moving to Trafalgar Square.
One man, who was dressed up as Boris Johnson, scaled the scaffolding surrounding Big Ben.
More than 1,760 arrests have been made in connection with the London protests.
A "closing ceremony" to mark the end of nearly two weeks of protests was held in Trafalgar Square.
Protesters moved there from Westminster, where an activist was arrested after climbing the scaffolding around the Elizabeth Tower.
He unfurled an Extinction Rebellion banner to "highlight government inaction on the climate and ecological emergency".
The man, named by the group as tree surgeon Ben Atkinson, 43, was on the scaffolding for nearly three hours, before police brought him down safely using a lift at about 19:00 BST.
Mr Atkinson had been willing to stay up there until his demand to speak to the prime minister was met, according to a fellow activist.
Outside the gates of Downing Street, protesters sang and held up their hands - which many had painted red to symbolise blood.
Alan Partridge actor Steve Coogan joined the protest.
Earlier police used a cherry picker to clear protesters perched on a wooden structure built to block the road at Oxford Circus.
Specialist teams brought in a JCB to dismantle the structure that protesters had made.
The Extinction Rebellion London Twitter account said the junction, which was also occupied by the group for several days in April, was targeted because Oxford Street is a centre of fast fashion and is heavily polluted.
The protests come despite a ban on two or more people linked to Extinction Rebellion assembling in London, announced by police on Monday.
The demonstrations had originally been due to finish on Saturday.