Prince William 'worried' about Harry after ITV interview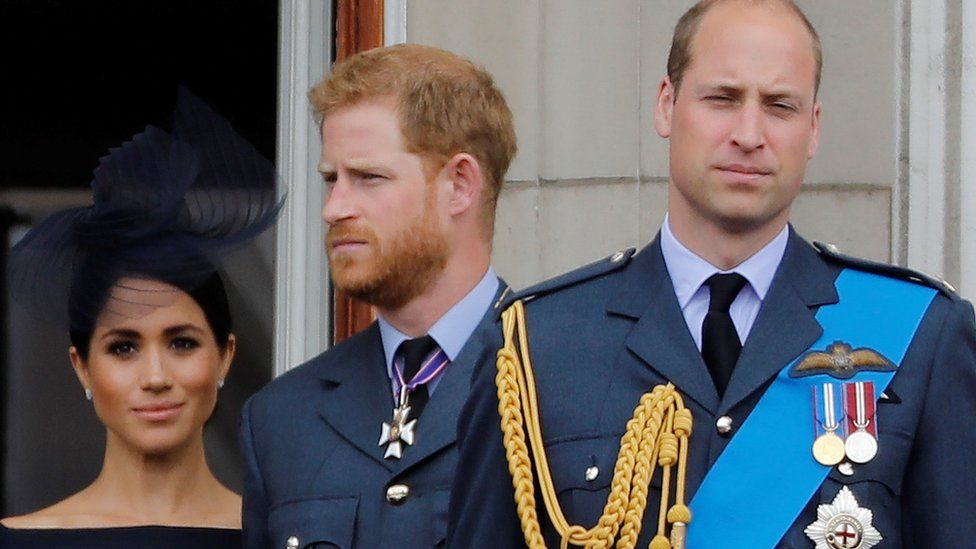 The Duke of Cambridge is "worried" about his brother after he talked about his mental health in a TV documentary, a Kensington Palace source has told the BBC.
The palace source said there was a view the couple were "in a fragile place".
Kensington Palace had no comment on the ITV film, which aired on Sunday.
The documentary followed the Duke and Duchess of Sussex on their tour of southern Africa earlier this month.
In interviews, the couple both said they were struggling with the intense scrutiny from elements of the British tabloid press.
The palace source played down suggestions that Prince William was "furious" with his brother after the documentary aired on Sunday.
It followed Prince Harry's admission in the film that he and William have "good days" and "bad days".
Asked about media reports of a rift between the brothers, the Duke of Sussex said that "inevitably, stuff happens" as a result of "this family being under the pressure that it's under".
He added: "We are brothers. We will always be brothers.
"We are certainly on different paths at the moment, but I will always be there for him as I know he will always be there for me."
Alarm bells are ringing. This morning a well-placed source told the BBC that Prince William was 'furious' with his brother about the interview he gave.
A palace source said that was not his understanding of the prince's mood. Instead the official suggested a mood of concern, for the safety of the couple.
The interviews revealed two people under considerable pressure, such pressure that they were prepared to go public with their concerns; Harry still struggles with his mental health; the shadow of his mother, Diana, Princess of Wales still looms over his life.
Worst of all he sees history repeating itself - first the media tore down his mother, he thinks, now his wife.
William sees the world differently. Once upon a time he too saw the media as an intrusive and often hostile force. No more.
It is one of the ways that the brothers' paths have diverged. But the tone now is of deep concern for Harry and Meghan - as if they are alone, and vulnerable.
Meghan, 38, said in the documentary that adjusting to royal life had been "hard".
"When I first met my now-husband my friends were really happy because I was so happy," she said.
"But my British friends said to me, 'I'm sure he's great but you shouldn't do it because the British tabloids will destroy your life'."
Asked by ITV's Tom Bradby if it was fair to say she was "not really OK", the duchess said: "Yes."
Prince Harry, 35, described his mental health and the way he deals with the pressures of his life as a matter of "constant management".
He said: "I thought I was out of the woods and then suddenly it all came back, and this is something that I have to manage.
"Part of this job is putting on a brave face but, for me and my wife, there is a lot of stuff that hurts, especially when the majority of it is untrue."
The royal brothers previously campaigned together to help open up conversations about mental health.
In 2017, they and Catherine, Duchess of Cambridge, took part in a charity fundraiser for their Heads Together initiative, which they set up to challenge stigma around mental health.
The couples later announced their charitable foundation would split, but vowed to continue working together on issues like mental health.
Prince Harry's comments about the pressure of media scrutiny come as he and his wife pursue legal actions against the press, with Meghan suing the Mail on Sunday over a claim that it unlawfully published one of her private letters.