December election: What difference does winter make?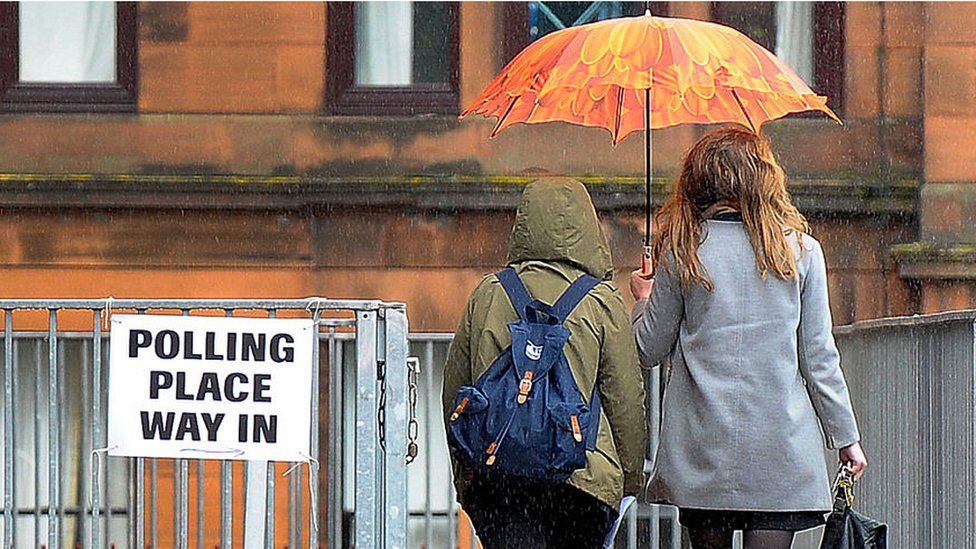 MPs have voted for a general election on 12 December. UK elections usually take place in May or June - the last December election was in 1923 - so what difference might a winter election make?
Are all the polling stations booked up?
Elections are huge organisational feats. Millions of polling cards have to be distributed. Postal votes need to be sent. And thousands of school halls, churches and community centres have to be booked to be used as polling stations.
The worry is that lots of these locations will already be booked up in mid-December for Christmas events.
Laura Lock, of the Association of Electoral Administrators, says her members have been making calls, and finding many of the usual venues already have bookings.
"We will find polling stations," she told BBC Radio 4's Today programme - but they might not be where people expect. Voters could find themselves casting their ballots in garages or under caravan awnings.
And the counting of votes, which lasts many hours and relies on temporary staff, may also have to take place in similarly makeshift locations.
Will bad weather stop people voting?
This is an enduring idea which instinctively feels right. In the cold and damp December weather, surely people will be less inclined to turn out and vote.
However, experts say there is no evidence from the UK to suggest that bad weather stops people from voting.
Research from the University of Oxford found virtually no correlation between the weather and turnout - instead people are more likely to vote if the election race is close and there is a strong difference between the leading parties.
They are far less likely to vote if it feels like a foregone conclusion, or the main candidates seem relatively close in their political outlook.
As in the case of polling stations, the shorter winter days provide a logistical challenge for election organisers.
Some are already planning to buy in temporary lighting for polling station entrances, according to Ms Lock.
They may also need to consider gritting polling station car parks and pathways in case of bad weather.
As for whether shorter days might put people off voting, we don't have evidence for that.
Prof Sir John Curtice at Strathclyde University told the BBC that in the post-war period there have been two winter elections in February, and both had high turnouts.
Both shorter days and poor weather might make life more difficult for people knocking on doors during the campaign.
Could it stop students voting?
It has been suggested that an election in mid-December, close to the end of term, could affect the student vote. Students may be registered to vote at home but still be at university or college on polling day, or vice versa.
According to higher education policy website WonkHE, 16 December is the most common end of term date for universities in the UK - but many finish after that. Only a handful finish before 16 December and before the expected election date.
The last election in 2017 was similarly close to the end of summer term with some institutions finished with teaching and others still going. YouGov polling suggests 70% of student votes were cast in their home constituency, rather than their term-time address.
Students can register to vote at both their home and term-time addresses, provided they are in different constituencies. They can only vote once though - casting more than one vote at a general election is a criminal offence.
When an election date is known, students should then have time to register to vote in the appropriate location.
What about the last December election?
It has been almost a century since the last time Britain went to the polls in December.
Electors on 6 December 1923 had a choice of main parties including Stanley Baldwin's Conservatives, Ramsay MacDonald's Labour and H. H. Asquith's Liberal party.
The result perhaps acts as a warning to prime ministers tempted to call an early election. Mr Baldwin had replaced Tory PM Bonar Law after he fell ill and resigned earlier that year.
Under Mr Law, the Tories had won an election in 1922 and sat in the Commons with a healthy majority. But Mr Baldwin wanted his own mandate.
And while he did win the most seats, the election produced a hung parliament. Within weeks, Labour, under Mr MacDonald, would form the party's first-ever government in agreement with the Liberals.
It would last just 10 months before another election was held in October 1924, which the Conservatives won by a landslide.