Kidnapped UK man and wife rescued after Philippines gun battle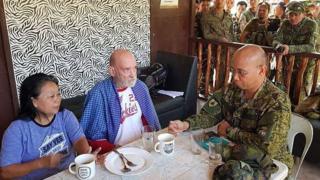 A British businessman and his Filipino wife have been rescued from their abductors in the southern Philippines, the country's army has said.
Allan and Wilma Hyrons were taken from a beach resort on Mindanao island by four armed men on 4 October.
Their kidnappers - thought to belong to the IS-loyal militant group Abu Sayaff - fled after a gun battle in the nearby Sulu region on Sunday.
UK Foreign Secretary Dominic Raab said the couple were "safe and well".
Mr Hyrons, 70, who is a dual national, has lived in Mindanao's Zamboanga del Sur region with his wife since 2013.
On the day they were captured, the couple had reportedly been celebrating Teachers' Day at a nearby college.
Witnesses reported seeing them being taken from a hut and dragged to a motorboat.
They were given medical checks after their ordeal ended with the operation by Philippine forces at approximately 17:00 GMT on Sunday.
BBC News has been told that the UK military was involved in the rescue operation.
A small team of British special forces personnel provided advice and planning support to help the search, a military source told BBC defence correspondent Jonathan Beale. The MoD has not commented.
Mr Raab thanked the Philippine authorities' "tremendous efforts".
"We are in particular grateful to their armed forces for their courage throughout a difficult operation which resulted in Alan and Wilma's release," he said.
"Foreign Office officials have been in close contact with Alan and Wilma's family throughout this ordeal. We request their privacy during this emotional time."
British Ambassador to the Philippines Daniel Pruce has spoken to the couple by telephone since their release, the Foreign Office said.
He tweeted: "Fantastic news! My sincerest thanks to all involved."
Who are the Abu Sayyaf group?
Abu Sayyaf is one of the smallest and most violent jihadist groups in the southern Philippines. Its name means "bearer of the sword" and it is notorious for kidnapping for ransom, and for attacks on civilians and the army.
The group is believed to have an estimated 400 members and, since 2014, several of its factions have declared their allegiance to the so-called Islamic State (IS).
In 2016, Isnilon Tontoni Hapilon, one of Abu Sayyaf's most prominent leaders, was recognised as the leader of all IS-aligned groups in the Philippines.
The UK government advises Britons against all travel to the area where Mr Hyrons was taken.
BBC Philippines correspondent Howard Johnson says the island has "several militant groups" operating on it.
In May, a 59-year-old Dutch hostage was reportedly killed by his captors on the nearby island of Jolo in May.
The Philippine army said Ewold Horn, who had been kidnapped in 2012, was shot as his captors fled a confrontation with troops.