Qasem Soleimani: Let British troops stay in Iraq, UK urges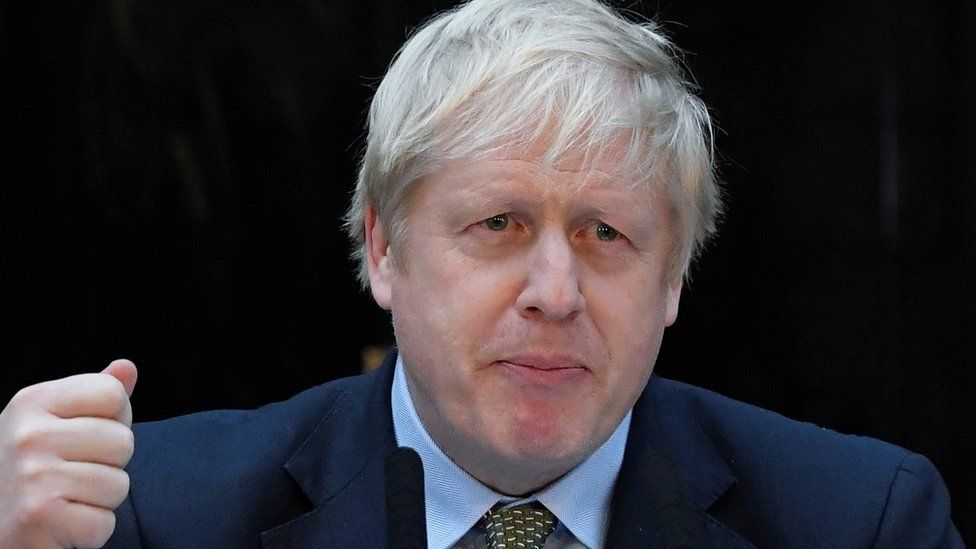 No 10 has urged Iraq to allow UK troops to stay in the country following the US assassination of Iranian general Qasem Soleimani, saying their work is vital.
Soleimani was killed in a US drone strike in Iraq on Friday on the orders of President Donald Trump.
Iraqi MPs responded to the strike by passing a non-binding resolution calling for an end to the foreign military presence in their country.
European leaders have called for all sides to show restraint.
The letter said the US would be "repositioning forces in the coming days and weeks" - but Mr Esper said there had been "no decision whatsoever to leave".
Earlier, Boris Johnson spoke to Iraqi Prime Minister Adel Abdul Mahdi by phone, and a Downing Street spokesman said the leaders had "agreed to work together to find a diplomatic way forward".
"The prime minister underlined the UK's unwavering commitment to Iraq's stability and sovereignty and emphasised the importance of the continued fight against the shared threat from Daesh [the Islamic State group]".
Mr Johnson then chaired a meeting of senior ministers to discuss the deepening crisis.
Afterwards, Foreign Secretary Dominic Raab said the government's key message was the "importance of de-escalating the tensions and finding a diplomatic way through this crisis".
He also distanced the UK from the US president's threat that cultural sites in Iran could be targeted, saying: "We have been clear cultural sites are protected under international law and we would expect that to be respected."
About 400 British troops are stationed in Iraq, while the US has 5,200.
Nato Secretary General Jens Stoltenberg announced on Monday that the alliance's forces had suspended training in Iraq. Only a small number of the UK troops in Iraq are involved in that operation.
The Army says that British troops are in the country to provide training and equipment to Iraqi and Kurdish security forces - rather than in a combat role - and have trained more than 25,000 Iraqi forces.
Caretaker Iraqi Prime Minister Mr Abdul Mahdi spoke in favour of US and other foreign forces leaving the country, although most Sunni and Kurdish MPs boycotted the vote.
A UK government spokesman said that coalition forces were in Iraq to protect its people and others from the Islamic State group, at the request of the Iraqi government.
Meanwhile, Iran's ambassador to the UK has strongly denied reports in the Times that his country had threatened to kill British troops following the assassination of Soleimani.
The paper quotes an unnamed senior commander in Iran's Revolutionary Guard as saying that its forces would "target US troops in the Middle East without any concern about killing its allies, including UK troops".
But Hamid Baeidinejad described the story as "provocative" and a "vicious lie" in a Twitter post.
"I will ask the concerned UK authorities to take swift action to stop such malicious false propaganda in this very sensitive time," he said.
As the Ambassador and high representative of my country in the UK, I strongly condemn the vicious lie and provocative news by #Times today. I will ask the concerned UK authorities to take swift action to stop such malicious false propaganda in this very sensitive time. pic.twitter.com/LVMPUJH79s

— Hamid Baeidinejad (@baeidinejad) January 6, 2020
An Iranian Embassy official also told the BBC there were no plans to attack British targets and said any suggestion that an attack could take place in Britain was laughable, adding "we are not idiots".
Retired army officer Sir Simon Vincent Mayall warned on Radio 4's Today programme that British troops serving in the Middle East could "possibly" be killed in retaliation attacks on US soldiers.
The Ministry of Defence adviser said western allied troops stationed in neighbouring Iraq were "joined at the hip" and that casualties could be shared in Iraq if Iran hits back.
In a joint statement issued on Sunday night, Mr Johnson, Germany's Angela Merkel and France's Emmanuel Macron said the current cycle of violence "must be stopped" and called on Iran to refrain from further violent action and proliferation.
The three leaders said they were concerned by the "negative" role Iran has played in the region but called on "all parties to exercise utmost restraint and responsibility".
With tensions rising in the region, Iran has responded by vowing revenge and announcing it will no longer abide by the restrictions in its 2015 nuclear deal.
The deal limited Iranian nuclear capacities in exchange for the lifting of economic sanctions.
A No 10 spokesman said Iran's announcement was "extremely concerning".
"It's in everyone's interest that the deal remains in place," he said, adding that "it makes the world safer".
"We've always said the nuclear deal is a reciprocal deal and in light of Iran's announcement we are urgently speaking to partners about next steps," the spokesman said.
In their statement, the three European leaders urged the country to "reverse all measures inconsistent with" the deal.
Mr Johnson said he spoke to President Trump on Sunday about the assassination of the Iranian general, who spearheaded the country's military operations in the Middle East as head of the elite Quds Force.
The White House said the two leaders had "reaffirmed the close alliance between the two countries".
Following warnings from Iran, Mr Trump said that the US would respond in the event of retaliation for Soleimani's death, "perhaps in a disproportionate manner".
He repeated a threat to target Iranian cultural sites, saying the US would "strike very fast and very hard" if Tehran attacked Americans or US assets.
On Monday, former foreign secretary Jeremy Hunt told BBC Breakfast one "heartbreaking" result of the crisis was that it was now going to be "much harder" to secure the release of British-Iranian woman Nazanin Zaghari-Ratcliffe.
She was jailed in Iran over spying allegations that she denies.
Meanwhile, a British frigate and destroyer - HMS Montrose and HMS Defender - are to start accompanying UK-flagged ships through the Strait of Hormuz in the Gulf, where a tanker was seized by Iran last July.