Harry and Meghan: What do we know so far and what will happen next?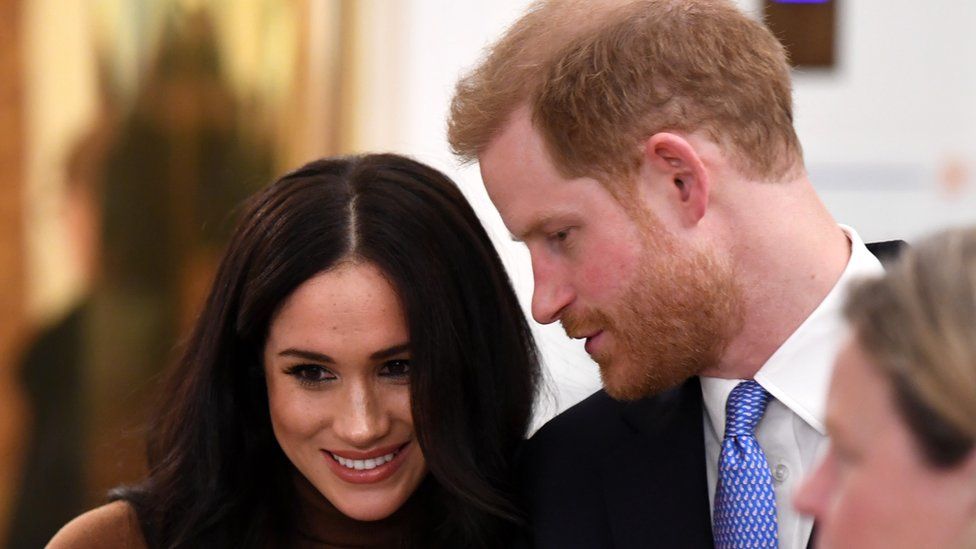 The Duke and Duchess of Sussex are stepping back from royal duties and will divide their time between the UK and North America, Buckingham Palace has announced.
They will no longer use their HRH titles and will stop receiving public funds for royal duties under the "new arrangement".
The couple, who have a baby son, Archie, had previously said they planned to carve out a "progressive new role" in the Royal Family and intended to "work to become financially independent".
What might the 'next chapter' look like?
Following the announcement from the Queen, a separate statement from Buckingham Palace said the couple were grateful to the monarch and the Royal Family for their support as they "embark on the next chapter of their lives".
It said they understood they are "required to step back from royal duties, including official military appointments".
The couple will continue to maintain their private patronages and associations "with the Queen's blessing", the statement said.
Prince Harry and Meghan said previously they plan to launch a new "charitable entity".
Exactly where and exactly what are unclear as the couple have not yet elaborated on how they see their new role.
However, their new charity is expected to be global in reach, with some of the focus likely to be on the US and Africa.
On the pair's first official overseas tour last year with their son, Archie, the Duchess of Sussex told teenage girls in a deprived part of South Africa that she was with them "as a woman of colour and as your sister".
Prince Harry has spoken of his personal love for Africa, describing the continent as a place "where I feel more like myself than anywhere else in the world".
How will they fund their new life?
The Duke and Duchess of Sussex will not receive public funds for royal duties.
They have said their ambition is to "work to become financially independent".
David McClure, author of a book on how royals have made and spent their wealth, said they already have their own money and could make more from TV in future.
Meghan was reportedly paid $50,000 (£38,400) per episode of the TV show Suits. While she is no longer a working actress she will receive some payments whenever the show is rebroadcast.
Currently, the duke and duchess's expenses - such as living costs, travel, clothing - are covered by Harry's father for their role as working royals, representing the Queen.
The Prince of Wales funds his sons and their families with income from the Duchy of Cornwall.
Historian and royal author Hugo Vickers previously told the BBC he was unconvinced by the couple's plans.
He said: "They think they can do all sorts of things together but the fact is that they're very likely, if they're not careful, to end up as slightly tarnished celebrities, perhaps".
Where will they be based?
They plan to divide their time between the UK and North America, but BBC royal correspondent Nicholas Witchell said: "It is expected that they will spend the majority of their time in North America now."
They only moved into their new home - Frogmore Cottage in Windsor, Berkshire - last April ahead of the birth of their son. The estimated cost to the taxpayer of renovations to it is about £2.4m.
Buckingham Palace said in a statement the couple have "shared their wish to repay Sovereign Grant expenditure" for the refurbishment of Frogmore Cottage.
It will remain their UK family home, the palace added.
Harry and Meghan took an extended break from royal duties over Christmas, including time spent in the Canadian province of British Columbia.
While acting in the US drama Suits, Toronto became an adopted city for Meghan. It is home to her friends, Jessica and Ben Mulroney, the city's "most polished power couple", according to Toronto Life magazine.
It is likely that the family would spend time in Meghan's US homeland too - her mother, Doria Ragland, lives in California.
Her father, Thomas Markle, with whom Meghan has little contact, lives in Mexico.
What's behind the decision?
Many months of reflection and internal discussions, they said.
In October, the public got a glimpse into the couple's mindset in an ITV documentary filmed during a tour of Africa.
The Duchess of Sussex admitted adjusting to royal life had been "hard" and she had not been prepared for the intensity of the media scrutiny, despite warnings from her British friends that the tabloids could "destroy" her life.
Asked whether she was coping, Meghan, a new mother, said: "I have said for a long time to H - that is what I call him - it's not enough to just survive something, that's not the point of life. You have got to thrive."
Prince Harry also described his mental health and the way he deals with the pressures of his life as a matter of "constant management".
Following their decision to step back as senior royals, BBC royal correspondent Jonny Dymond said there were "great chunks" of the job that the couple "simply could not stand", while Harry "hated the cameras and was visibly bored by the ceremonial".
Towards the end of last year, Prince Harry said he and Meghan were to take legal action against the Mail on Sunday over a claim it unlawfully published one of her private letters. The paper stands by its story.
At the time, an unrestrained Harry said: "I lost my mother and now I watch my wife falling victim to the same powerful forces."
Referring to his mother, Diana, Princess of Wales' sudden death in 1997, he said: "I've seen what happens when someone I love is commoditised to the point that they are no longer treated or seen as a real person."
What else have they said?
Speaking at an event on Sunday evening, Prince Harry said he is "taking a leap of faith" in stepping back from being a senior royal, adding that "there really was no other option".
The duke insisted he and Meghan had hoped to continue serving the Queen, but without public funding. "Unfortunately, that wasn't possible," he said.
"The decision that I have made for my wife and I to step back is not one I made lightly," he said.
The BBC's royal correspondent Jonny Dymond said there were "two big messages" to take from the speech: including Harry stressing that the move was his call; and that the prince wanted to continue in some sort of royal role.
Following the announcement from the Queen that the couple were stepping back from royal duties and can no longer formally represent the Queen, Buckingham Palace said the Sussexes have made clear that everything they do will "continue to uphold the values of Her Majesty".
While no details have been given about security arrangements for the couple, the statement said "there are well-established and independent processes to determine the need for publicly-funded security".
The duke and duchess said they would be adopting a "revised media approach to ensure diverse and open access of their work" in 2020.
Included in this new strategy, Harry and Meghan said they would "engage with grassroots media organisations and young, up-and-coming journalists".
They will also pull out of the so-called royal rota system, where journalists and media representatives are given exclusive passes to cover royal engagements on the understanding they share all the material they gather.
"The current system predates the dramatic transformation of news reporting in the digital age," the couple said in a statement on their website.
Under a heading asking what Harry and Meghan's stance is on the media in general, the couple said they believe in a "free, strong and open media" which "upholds accuracy and fosters inclusivity, diversity and tolerance".
"Their Royal Highnesses recognise that their roles as members of the Royal Family are subject to interest, and they welcome accurate and honest media reporting as well as being held to account if appropriate. Equally, like every member of society, they also value privacy as individuals and as a family."
The couple said they would continue to use social media, including their Instagram account which has 10.1m followers, to "personally share moments in their lives directly with members of the public".