Iran plane crash: Evidence suggests Iran missile shot down plane - PM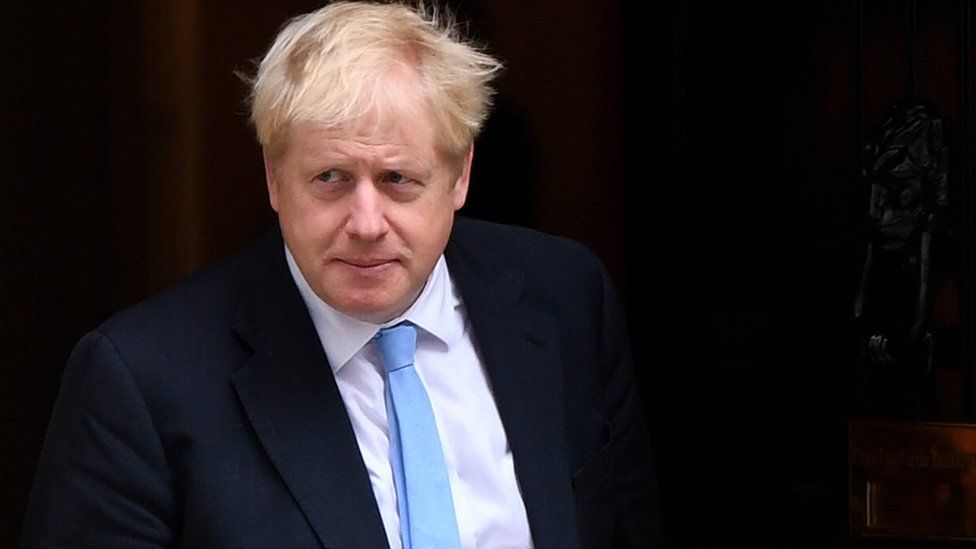 There is a "body of information" to suggest an Iranian surface-to-air missile brought down a Ukrainian passenger plane that crashed near Tehran, PM Boris Johnson has said.
Four Britons were among the 176 people who died in the crash shortly after take-off on Wednesday, the PM added.
Mr Johnson said information suggests the plane was shot down but "this may well have been unintentional".
Iran dismissed the suggestions that it was to blame as "US propaganda".
Tehran has ruled out a missile strike by its air defences.
The crash came just hours after Iran carried out missile strikes on two airbases housing US forces in Iraq.
The air strikes were in retaliation for the US killing of top Iranian general Qasem Soleimani.
On Friday morning the Foreign Office hardened its travel advice for Iran for the second time in a week.
It was previously reported that three British nationals - including two engineers and an owner of a local dry cleaning business - had died in Wednesday's plane crash. No 10 confirmed a fourth also died.
Also on board were 82 Iranians, 63 Canadians, 11 Ukrainians, 10 Swedes, four Afghans and three Germans.
Mr Johnson's comments came after Canadian Prime Minister Justin Trudeau said he had seen evidence that suggested Iran's missiles brought down the Boeing 737-800 - which was operated by Ukrainian International Airlines on flight PS752.
Mr Trudeau called for a full and thorough investigation into the crash.
UK Foreign Secretary Dominic Raab said he agreed with the Canadians' assessment.
Speaking in Canada, he said: "The Iranian regime must open up to the international community, including access to the crash site, so we can get to the truth as quickly as possible to give the families of the victims an understanding of what happened to their loved ones."
"Let us not forget the Iranian families because they have suffered the greatest loss of life in this terrible incident and they deserve to know the truth too."
US President Donald Trump also said on Thursday he had "suspicions" about what happened to the plane.
In a statement on Thursday, Mr Johnson said the UK government was working closely with Canada and other international partners affected by the crash and that "there now needs to be a full, transparent investigation".
"It is vital that there should be an immediate and respectful repatriation of those who've lost their lives to allow their families to grieve properly," he said.
"The UK continues to call on all sides urgently to deescalate to reduce tensions in the region."
An Iranian official told the BBC's security correspondent Frank Gardner that reports the plane was shot down by an Iranian missile were "US propaganda".
"Their claim without providing hard evidence to international community is worthless," the official said.
"If they have any evidence, they simply can share it with international bodies before making such noise and efforts to shape public opinion for their further acts against Iran."
Meanwhile, concerns have been raised for Britons detained in Iran, amid the growing tensions.
Sherry Izadi said she was worried there could be a backlash against foreign prisoners and that when she spoke to her husband two days ago he asked her to record a message telling her how much he loved her in case he didn't get another chance to do so.
"When he said that it really clicked in my mind that they must be so worried to leave a message that sounds like a last message," she told BBC Breakfast.
Tributes have been paid to three British men who have already been named as being on board the plane. The fourth British national has not yet been named.
Mohammed Reza Kadkhoda Zadeh, 40, ran a neighbourhood dry cleaners in Hassocks, West Sussex, and had a nine-year-old daughter.
He was described as a hardworking man who was good at his job and loved by staff.
BP engineer Sam Zokaei, 42, from Twickenham, was also among the passengers after being on holiday.
A friend described him as "always smiling and full of positive energy" and who "loved travelling to interesting far out places."
Also killed was PhD student Saeed Tahmasebi, 35, who worked as an engineer for Laing O'Rourke in Dartford.
Last year, Mr Tahmasebi - whose full name was Saeed Tahmasebi Khademasadi - married his Iranian partner, Niloufar Ebrahim, who was also listed as a passenger on the plane.