Coronavirus: Britons on Wuhan flights to be quarantined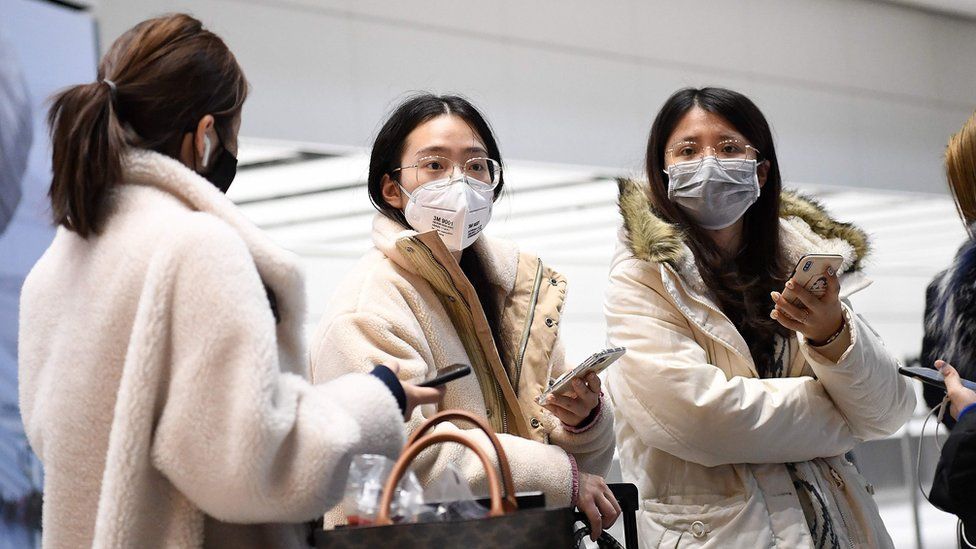 Hundreds of British citizens being flown back to the UK from Wuhan on Thursday will be put in quarantine for two weeks on their arrival.
It is believed passengers will be required to sign a contract agreeing to commit to the quarantine period.
It comes as British Airways suspended all direct flights to and from mainland China because of the coronavirus outbreak.
Australia, Japan, the US and EU nations are also repatriating citizens.
The virus has caused more than 130 deaths, spreading across China and to at least 16 other countries.
The UK government plans to fly 200 British citizens out of Wuhan, the centre of the coronavirus outbreak.
They will be put in "supported isolation" for 14 days with "all necessary medical attention", a Downing Street spokesman said.
He said the government would confirm their location in due course, but offered no comment on reports it would be a military base.
Those returning from other parts of China will not be placed in quarantine, but have been advised to "self-isolate" for 14 days.
Health Secretary Matt Hancock is chairing a meeting of the government's emergency Cobra committee on Wednesday evening.
Under Chinese jurisdiction, only British passport holders who do not hold Chinese nationality are permitted to leave through assisted departure.
"I literally had no words when I got the call," she said.
Ms Francis, who works as an English teacher in Wuhan, added: "I don't know who can sort this out, [but] please don't forget us."
The UK government is pressing China to allow family members of British nationals and British-Chinese dual nationals to leave the country.
"Our priority is to keep British nationals and their family members together and we have urgently raised this with the Chinese authorities," a Foreign Office spokesperson said.
The Foreign Secretary raised the issue of dual nationals with his Chinese counterpart yesterday.
The airline apologised to customers but said safety of passengers and crew was its priority.
Other airlines, including United Airlines, Air Canada and Cathay Pacific Airways, have already cancelled some flights to China.
What's happening to people stuck in Wuhan?
Some Britons in Wuhan said they had not been told about the quarantine plan, with one man having refused his place on the flight for fear of spreading the disease.
Kharn Lambert told the BBC's Victoria Derbyshire programme that the embassy said it was an individual's own responsibility to arrange transport home and isolate themselves.
"I don't want to put the health of regular, everyday British citizens at risk," he said.
British lecturer Yvonne Griffiths, who is currently in a hotel in Wuhan, said she was told in the early hours of Wednesday morning that there would be a flight from Wuhan airport to the UK.
"We have to be there six to seven hours before the flight leaves, and we would have a screening from some health people here in Wuhan, and if we are not showing any symptoms then we'll be able to board that plane," she said.
"If we were to be suffering temperature or any other symptoms, breathing problems, then there seems to be a possibility of quarantining at this end."
What about people flying back from China?
By Francesca Gillett, BBC News reporter, at Heathrow Airport
Passengers on BA's last flight from Beijing walked into Heathrow Airport's arrival lounge shortly after 15.30 GMT.
Some were wearing masks, others said they had just taken them off. Nearly everyone on the flight had been wearing one, passengers said - and staff at Beijing airport had carried out temperature checks.
Teacher Daniel Maloney, 50, is originally from Scarborough but lives in a village north of Beijing. He came back to the UK with his two children. His village is in lockdown, he said, showing a WhatsApp group where villagers shared concerns about how to access supplies.
Schools are shut at least until 17 February. "There's only so many jigsaws we can do," he said.
He had been stockpiling food and hired a driver to take the family to the airport early this morning. "The motorways were empty and there were about 20 people at the airport," he said.
Mr Maloney has already booked a doctors appointment for his children back in the UK for later this week.
Also on the plane was Edinburgh University student James Marmol, from London, who has had to cut short his year studying abroad at Beijing's Peking University.
"I was kind of surprised there wasn't as many checks as I thought," said Mr Marmol of the BA flight.
What's the latest on the spread of the virus?
The number of deaths from the virus has risen to 132 in China, Chinese authorities said on Wednesday.
The "whole world needs to be on alert" to fight the virus, the head of the World Health Organization Health Emergencies Programme has said.
Dr Michael Ryan praised China's response to the outbreak and said the "chains of transmission can still be interrupted".
The WHO will meet on Thursday to discuss whether the virus constitutes a global health emergency.
Four cases have been confirmed in Germany, making it the second European country to report cases, after France.
The United Arab Emirates has also confirmed its first cases of the virus in a family who recently returned to the UAE from Wuhan.
In the UK, the Department of Health said on Wednesday that 130 people had been given the all-clear for the virus.
Hundreds of foreign nationals are being evacuated from Wuhan, where the virus first emerged, with Japan, the US and the EU among those repatriating their citizens.
Australia plans to quarantine its evacuees on Christmas Island, 2,000km (1,200 miles) from the mainland.
EPA
Coronavirus in China
5,974Confirmed cases

9,239Suspected cases

16Other countries with confirmed cases
Source: China National Health Commission as of the end of 28 January; WHO
An expert from China's National Health Commission said it could take 10 more days for the outbreak to peak.
The new coronavirus, which can cause severe acute respiratory infection, is a particular risk for elderly people and those with pre-existing illnesses.
The sharp rise in cases is in part attributed to increased awareness, monitoring and testing in recent days.
The virus is thought to have emerged from illegally traded wildlife at a seafood market in Wuhan.
There is no specific cure or vaccine.
It is a basic question, but the answer is elusive.
It is far too simplistic to take the 130 deaths and the 6,000 cases and come up with a death rate of 2%.
We are in the middle of the outbreak and thousands of those patients are still being treated. We don't know if they will live or die, so they can't be used in these calculations.
We also don't know how many mild and undetected cases are out there.
Also, the deadliness of the new virus is only one component of its threat.
'Flu kills hundreds of thousands of people each year, not because it is super-deadly, but because it is able to infect so many people.
Learn more about the new virus
Have you been affected by any of the issues raised? Are you in Wuhan or have you visited recently? You can share your experience by emailing haveyoursay@bbc.co.uk.
Please include a contact number if you are willing to speak to a BBC journalist. You can also contact us in the following ways: