Sudesh Amman: Who was the Streatham attacker?
By Daniel De Simone
BBC News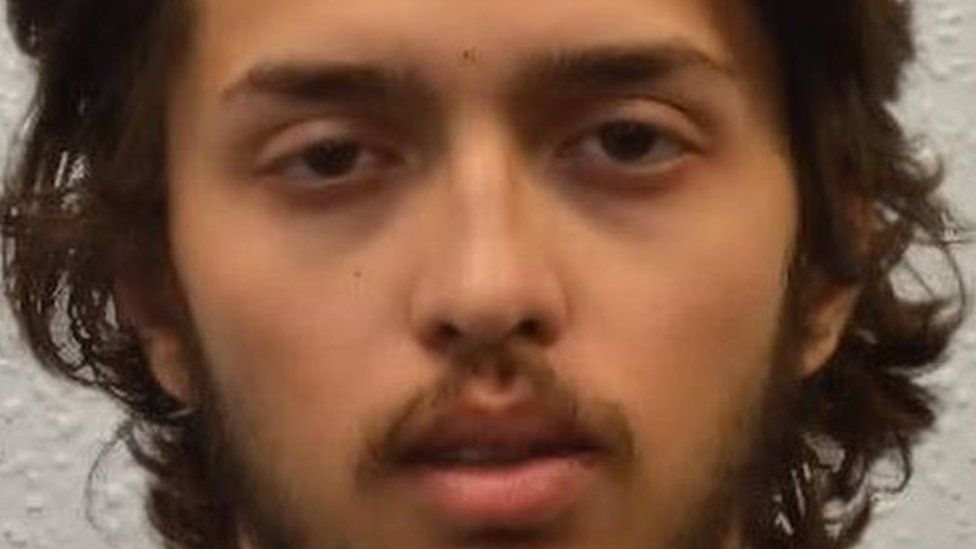 Sudesh Amman, the 20-year-old responsible for the attack in Streatham, south London, on Sunday, pleaded guilty in November 2018 to six charges of possessing documents containing terrorist information and seven of disseminating terrorist publications.
Three of the terrorist manuals Amman admitted owning were about knife fighting.
In fact, much of Amman's fascination with conducting an attack was said to be focused on using a knife.
He was jailed at the Old Bailey the following month for three years and four months.
I was there and recall Amman smiling as he was sentenced.
He was automatically released from HMP Belmarsh on 23 January 2020 after serving half of his sentence in custody.
It is understood that he had since been living at a bail hostel in south London.
He was under a curfew and had to wear a GPS tag, coupled with exclusion zones such as ports and airports. He had to surrender his passport and had limited access to electronic devices and restrictions on his internet use
Amman was first arrested in north London in May 2018 by armed officers on suspicion of planning a terrorist attack, although he was not ultimately charged with doing so. Scotland Yard said that, following consultation with the Crown Prosecution Service, "we did not charge with this offence."
The prosecution of Amman related instead to his ownership and distribution of terrorist propaganda and instructional manuals.
At the time, he was living in Harrow and studying science and maths at the nearby North West London College. Prior to that, Amman had studied at Park High School between 2011 and 2016.
He came to the attention of counter-terrorism police in April 2018 when a Dutch blogger made officers aware of postings on the Telegram messaging app.
The posts included a photo showing an image of a knife along with two firearms on a Shahada flag along with Arabic words meaning: "Armed and ready April 3".
The blogger also said the same person had linked to a YouTube video of a pro-gay rights speaker who frequented Speakers' Corner in Hyde Park.
The post called on others to "all unite together to attack one another. He will be there this Sunday at Hyde Park".
Police enquiries showed the user of the relevant Telegram account was Amman and a decision was taken to arrest him.
The Dutch blogger, named Azazel van den Berg, told the BBC he was "shocked" to have heard that Amman was responsible for the attack.
He said: "I had heard of the attack on Dutch television. When I sat down at my computer I saw that message with his photo late last night."
He added: "I did everything that was possible, I also did not know that man was already free. I think that jihadists like him should be punished harder with prison sentences and not conditionally free with a single bond.
"If he had just served his whole sentence, what happened now would never have happened. But English law must be applied to that, which is a task for the politicians in your country."
Amman had elsewhere written of how he was thinking of conducting a terror attack in north London and that he had conducted reconnaissance.
Detectives discovered that the student was using a WhatsApp group to expose young members of his family to violent terrorist material.
He used it to share an al-Qaeda magazine and exclaimed "the Islamic State is here to stay".
The WhatsApp group - entitled La Familia - included images of Amman's younger siblings in poses reminiscent of IS supporters.
In messages with one family member Amman claimed that, as Yazidi women were slaves, the Koran made it permissible to rape them.
He sent beheadings videos to his girlfriend - whom he said should kill her "kuffar" parents - and told her: "If you can't make a bomb because family, friends or spies are watching or suspecting you, take a knife, molotov, sound bombs or a car at night and attack the tourists (crusaders), police and soldiers of taghut, or Western embassies in every country you are in this planet."
In messages to her, Amman said he had pledged allegiance to Islamic State and wished to carry out acid attacks.
Elsewhere, he asked if he could have a knife delivered to her address and told her he considered Isis to be the best thing to happen to Islam.
He wrote that he preferred the idea of a knife attack over the use of bombs and discussed whether he would stand his ground if police came to arrest him.
In a notebook - in which he had written about explosives and detonators - he had listed his "goals in life". These included: "Die as a shuhada" (martyr) and go to '"jannah" (paradise).
Before he was jailed Amman had previous convictions for possession of an offensive weapon - a broken bottle - and cannabis.