Duchess of Cambridge used hypnobirthing to cope with sickness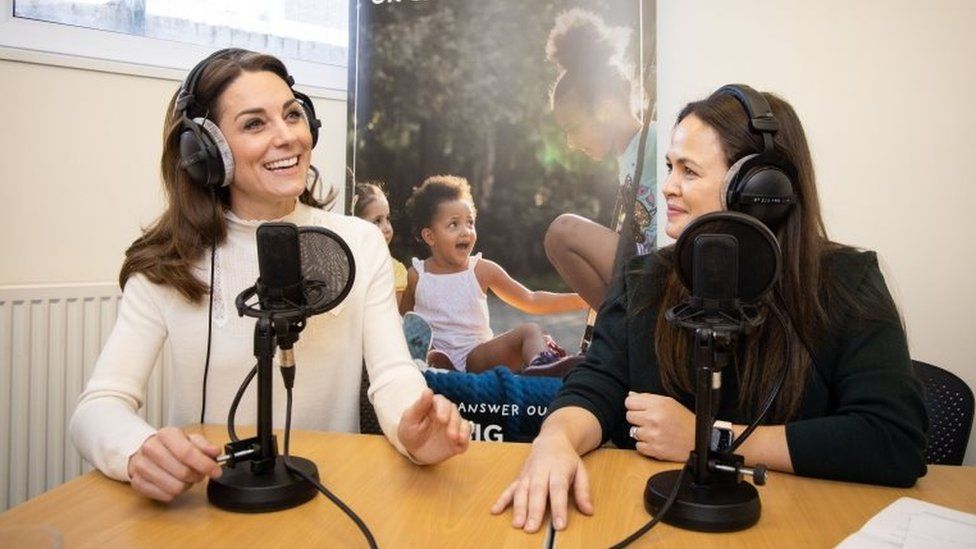 The Duchess of Cambridge has revealed she used hypnobirthing techniques of mindfulness and meditation to cope with severe morning sickness.
Catherine suffered from hyperemesis gravidarum, which causes severe vomiting, during her pregnancies.
In her first podcast interview, she said the illness meant she was "not the happiest of pregnant people".
However, she said after trying everything to overcome it she realised the importance of "mind over the body".
The duchess joked: "I'm not going to say that William was standing there sort of, chanting sweet nothings at me.
"He definitely wasn't. I didn't even ask him about it, but it was just something I wanted to do for myself.
"I saw the power of it really, the meditation and the deep breathing and things like that, that they teach you in hypnobirthing, when I was really sick, and actually I realised that this was something I could take control of, I suppose, during labour. It was hugely powerful."
"I had an amazing granny who devoted a lot of time to us, playing with us, doing arts and crafts and going to the greenhouse to do gardening, and cooking with us," she said.
"And I try and incorporate a lot of the experiences that she gave us at the time into the experiences that I give my children now."
By Daniela Relph, royal correspondent
These are some of the most open and candid words we've heard from the Duchess of Cambridge.
She speaks personally about her childhood and reflects on the value of her stable upbringing.
There are many insights into her own experience of pregnancy and motherhood that many will recognise.
She shares the misery of extreme morning sickness, the power of hypnobirthing, the uncertainty of those early days with a new baby and the guilt of working and relying on others to help you.
She also describes how she felt in the moments before facing the world's media outside the hospital just a day after giving birth and holding a newborn Prince George in her arms.
She said it was terrifying.
It's clear the duchess felt comfortable speaking to the podcast host, Giovanna Fletcher. That ease comes from the fact this area is now a real priority for Catherine.
Her royal work has a sharp focus on family and specifically early intervention - helping vulnerable parents with children under the age of five who need extra support.
The Five Big Questions survey she launched last month asking for people's views on early childhood has so far drawn more than 200,000 responses.
The duchess said her own priorities included providing her children with the "happy home" and "safe environment" she had enjoyed as a child.
She said she was "passionate" about children spending a lot of time outside, adding that it was "so great for physical and mental wellbeing" and laying the foundations for healthy development.
"It's such a great environment to spend time in, building those quality relationships without the distractions of 'I've got to cook' and 'I've got to do this'. And actually, it's so simple," she said.
A picture of Catherine's daughter, Princess Charlotte, smelling a bluebell has been released following the duchess's interview.
The image of the four-year-old was taken by the duchess at their home in Norfolk in spring last year.
The month-long online poll, conducted by Ipsos Mori on behalf of Catherine's Royal Foundation, aims to "spark a national conversation" on early childhood, Kensington Palace has said.
Launched in January, it is thought to be the biggest survey of its kind and the results are intended to guide the duchess's future work.
"It's going to take a long time, I'm talking about a generational change, but hopefully this is the first small step: to start a conversation around the importance of early childhood development," Catherine said.
"It's not just about happy, healthy children. This is for lifelong consequences and outcomes."
Ms Fletcher - who is married to Tom Fletcher from McFly - said Kate seemed "passionate" about the subject and it was "beyond wonderful to sit and talk further about the survey, her work - for which she has so much knowledge, and her own experiences of being a mother".
"It doesn't matter who you are, what you have, or where you come from - we're all trying to do our best with our children while continuously doubting our decisions and wondering if we're getting it completely wrong. Talking helps unite us all," she said.
1. What do you believe is most important for children growing up in the UK today to live a happy adult life? Rank from most important to least important:
Good physical and mental health
Good friendships and relationships
Access to opportunities
Access to a good education
2. Which of these statements is closest to your opinion?
It is primarily the responsibility of parents to give children aged 0-5 the best chance of health and happiness
It is primarily the responsibility of others in society to give children aged 0-5 the best chance of health and happiness
It is the shared responsibility of parents and others in society to give children aged 0-5 the best chance of health and happiness
Don't know
3. How much do you agree or disagree with this statement? The mental health and wellbeing of parents and carers has a great impact on the development of their child(ren)
Strongly agree
Tend to agree
Neither agree nor disagree
Tend to disagree
Strongly disagree
4. Which of the following is closest to your opinion of what influences how children develop from the start of pregnancy to age five?
Mostly the traits a child is born with (i.e. nature)
Mostly the experiences of a child in the early years (i.e. nurture)
Both nature and nurture equally
Don't know
5. Which period of a child and young person's life do you think is the most important for health and happiness in adulthood?
Start of pregnancy to five years
5-11 years (primary school)
11-16 years (secondary school)
16-18 years (further education)
18-24 years (young adulthood)
Don't know
All equally important