Westminster abuse claims: Police and parties 'turned blind eye'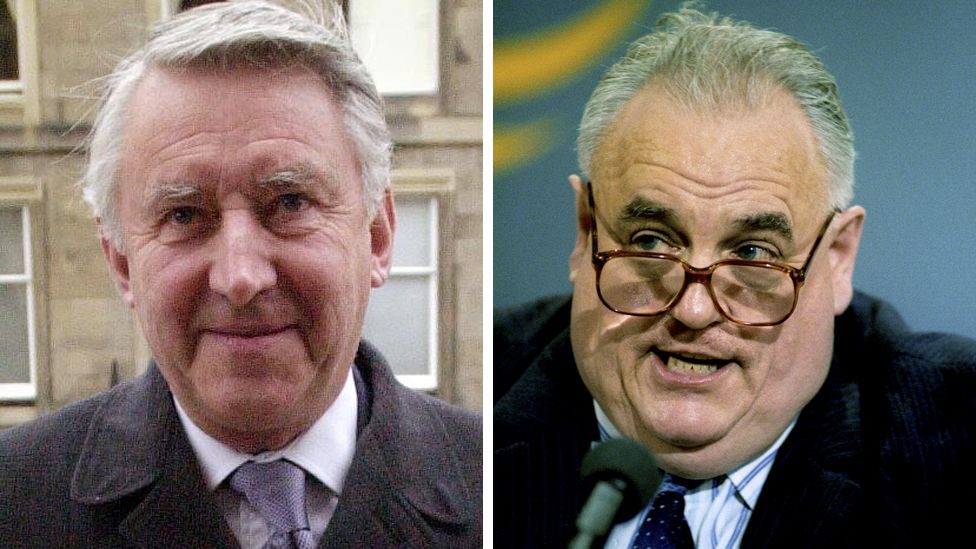 Political institutions failed to respond to historical claims of child sexual abuse but there was no evidence of an organised paedophile network at Westminster, an inquiry has found.
The Independent Inquiry into Child Sexual Abuse said there had been a "significant problem" of deference towards people of public prominence.
Its report said political parties and police had turned a "blind eye".
Lord Steel, one of those it criticised, has now quit the Liberal Democrats.
The inquiry found that institutions "regularly put their own reputations or political interests before child protection".
It cited as an example former Liberal party leader, Lord Steel, who was criticised for not acting on information that the late MP Cyril Smith had abused children.
Lord Steel told the inquiry last year how in 1979 he failed to pass on allegations against the then MP for Rochdale - even though he believed them to be true - because it was "past history".
He subsequently recommended Smith for his knighthood.
He said: "Knowing all I know now, I condemn Cyril Smith's actions towards children."
Prof Alexis Jay, who chaired the inquiry, said: "It is clear to see that Westminster institutions have repeatedly failed to deal with allegations of child sexual abuse, from turning a blind eye to actively shielding abusers."
It stated there was also no evidence such a network was covered up by security services or police.
Responding to the inquiry, ex-Conservative MP Harvey Proctor - who was among those to be falsely accused by Beech - said he had always "made it clear that there was no Westminster VIP paedophile network or ring".
He added the report's findings had vindicated his position and that the real victims of historical child sexual abuse had not benefitted from the inquiry.
The report also highlighted how former Prime Minister Margaret Thatcher and ex-Conservative party chairman Norman Tebbit were aware in the 1980s of rumours about MP Peter Morrison having "a penchant for small boys" but did nothing about it.
The allegations "should have rung alarm bells in government", it said.
It found there had been a "consistent culture for years" in the Tory whips' offices to "protect the image" of their party by "playing down rumours and protecting politicians from gossip or scandal at all costs".
The report said that at that time "nobody seemed to care about the fate of the children involved, with status and political concerns overriding all else".
"Even though we did not find evidence of a Westminster network, the lasting effect on those who suffered as children from being sexually abused by individuals linked to Westminster has been just as profound," it added.
By BBC home affairs correspondent Tom Symonds
Critics of the Independent Inquiry into Child Sexual Abuse accuse it of grasping for scapegoats because the allegations, which were swirling when it began, turned out to have no substance.
Officials say they looked hard for evidence of an establishment paedophile network, but didn't find any. They defend this report as going to the heart of the inquiry's core role - to identify the failure of institutions to protect children.
The inquiry only found a limited number of examples of powerful political men abusing children, mostly dating back decades and, perhaps as a result, its list of recommendations is relatively short.
They include removing official honours from abusers, tightening up safeguarding and protecting whistleblowers.
But the Westminster strand was one of more than a dozen investigations. The inquiry has had more success in identifying considerable failures which allowed abuse in children's homes and religious settings.
Its final report is still more than a year away. One thread runs through all of its work - a failure in the past to take action when abuse came to light.
The inquiry is likely to recommend making it a legal requirement to act on concerns, for anyone working closely with children.
Steel inaction 'unforgivable'
After Lord Steel gave evidence to the inquiry, he was suspended by the Scottish Liberal Democrats. But the party later determined that there were "no grounds for action" against the politician, who is also a former MSP and Holyrood presiding officer.
A Liberal Democrats spokeswoman said the party would be "thoroughly reading" this latest report, adding that "Cyril Smith's acts were vile and repugnant".
A lawyer representing eight of Smith's accusers said Lord Steel's "inaction" after being told by Smith himself that he had molested young boys was "unforgivable".
Richard Scorer said Lord Steel was not being blamed for Smith's alleged crimes but "for his own failure to stop Smith when he had the chance".
"This must surely now be the catalyst for a mandatory reporting law, compelling those who suspect child abuse to report their concerns," he added.
Lord Steel said he feared that he had been made a "proxy" for Smith, because the inquiry had failed to secure "a parliamentary scalp".
Announcing he was quitting the Liberal Democrats, he said he wanted to avoid "turmoil in my party and to prevent further distress to my family" after some had called for a new investigation.
"With considerable personal sorrow", he said, he was retiring from the Lords to "enjoy a quiet retirement from public life".
The report made a number of suggestions, including re-examining the policy on forfeiting honours after the death of the recipient - which would strip knighthoods from the likes of disgraced entertainer Jimmy Savile.
It also recommended creating widespread and well-understood whistleblowing policies for all Westminster institutions.
The Independent Inquiry into Child Sexual Abuse in England and Wales, set up in 2014, has been investigating claims against local authorities, religious organisations, the armed forces and public and private institutions - as well as people in the public eye.
Launched following the Savile scandal, the inquiry's investigation into Westminster is one of 15 separate investigations, which are expected to be completed later this year.