Coronavirus: Widespread transmission in UK 'highly likely'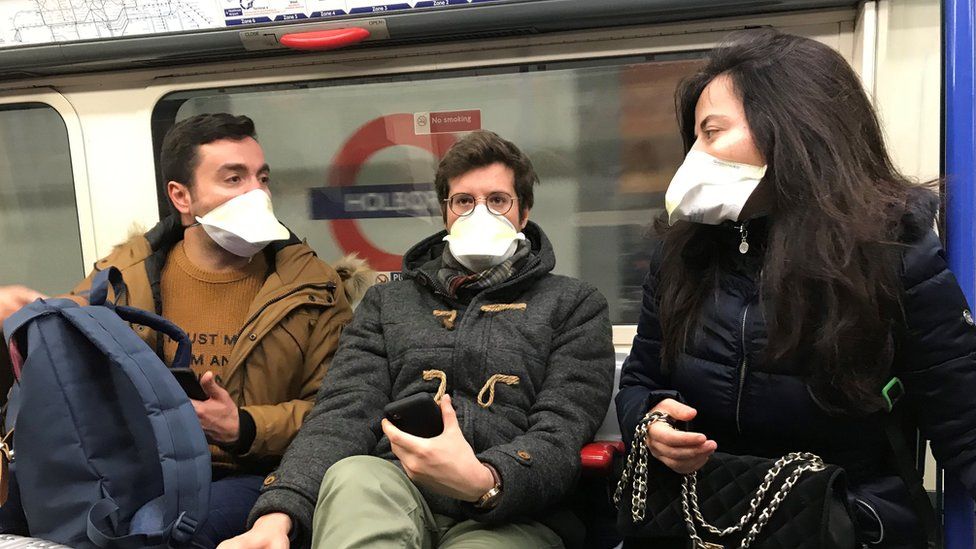 Widespread transmission of coronavirus in the UK is now "highly likely", Public Health England (PHE) has said.
Medical Director Prof Paul Cosford said the country must be prepared.
The prime minister was at a meeting of the emergency Cobra committee on Monday to finalise government plans, after the number of UK cases jumped to 36.
Meanwhile, the EU has raised the coronavirus risk in member states to "moderate to high".
What do I need to know about the coronavirus?
A panel of experts and BBC reporters will be answering your questions about the coronavirus outbreak in a special programme on BBC One at 19:30 GMT on Monday
Prof Cosford said the extent of infection in other countries suggested the UK needed to prepare for more widespread infection.
Pressed on whether this was now inevitable, he told BBC Breakfast: "I wouldn't say anything is inevitable but it is now highly likely."
It comes after 13 new patients were diagnosed on Sunday.
The latest cases included 12 more in England and the first patient in Scotland, meaning the virus has now reached all four parts of the UK.
Another is a staff member at Wimbledon College in south-west London, which has closed for deep cleaning.
Three of the new cases in England were linked to a man from Surrey, who was the first patient to not have been abroad recently and was instead infected within the UK.
Meanwhile, more British holidaymakers stuck in a quarantined hotel in Tenerife are preparing to return home after testing negative for the virus.
Around 25 Britons have already left the hotel, but 150 others are now in their seventh day at the H10 Costa Adeje Palace after a group of Italians contracted the virus.
Travel operator Jet2holidays said its customers would be travelling back to the UK on a dedicated flight on Monday afternoon.
Once home, they must isolate themselves until the original quarantine period ends on 10 March.
Last week concerns about the outbreak wiped more than $5tn from global stocks. But prices in Asia began to rise on Monday after Japan's central bank promised to take action to support the markets.
The government has said its plan if the outbreak worsens could include asking newly-retired doctors and nurses to return to the NHS.
People could also be urged to work from home - and closing schools and cancelling major public events have also not been ruled out.
The government has also set up a "war room" in the Cabinet Office to roll out a public health campaign encouraging people to wash their hands for 20 seconds or more.
Where are the latest UK cases?
On Sunday, 13 new cases were revealed:
Three of them were close contacts of the man from Surrey, who was announced as testing positive on Friday. They included another person from Surrey and two people from West Sussex who were all "part of an adult family cluster", Public Health England said.
Another new case from Essex had "no relevant travel" and it was unclear how they had contracted the virus.
The remaining eight had visited affected areas - six to Italy, and two to Iran. They were from London, West Yorkshire, Greater Manchester, Hertfordshire and Gloucestershire.
Scotland recorded its first case - a patient from the Tayside area who had recently travelled from Italy.
On Saturday, three new cases were confirmed in Gloucestershire, Hertfordshire and Berkshire.
One of those was a member of staff at St Mary's School in Tetbury, Gloucestershire, the primary school confirmed. Another school - Willow Bank Infant School in Woodley, Berkshire - said one of its staff had been infected.
Labour's shadow health secretary Jonathan Ashworth said his party "broadly supported" the government's aims.
But he told the BBC he was concerned about the NHS's capacity to deal with the virus and urged the government to consider emergency funding.
The GMB union has also called on NHS trusts to ensure that outsourced staff are given sick pay in suspected cases of Covid-19.
It warned most private companies providing the NHS with cleaners, porters and caterers do not offer sick pay for the first three days.
As of 09:00 GMT on Sunday, the Department of Health said a total of 11,750 people had been tested in the UK.
Globally, around 86,000 people have been infected, with cases in more than 50 countries. More than 3,000 people have died - the vast majority in China's Hubei province, where the outbreak originated in December.
Have you been affected by the coronavirus? Or do you have any information to share? Get in touch by emailing haveyoursay@bbc.co.uk.
Please include a contact number if you are willing to speak to a BBC journalist. You can also contact us in the following ways: