Coronavirus: Woman in 70s becomes first virus fatality in UK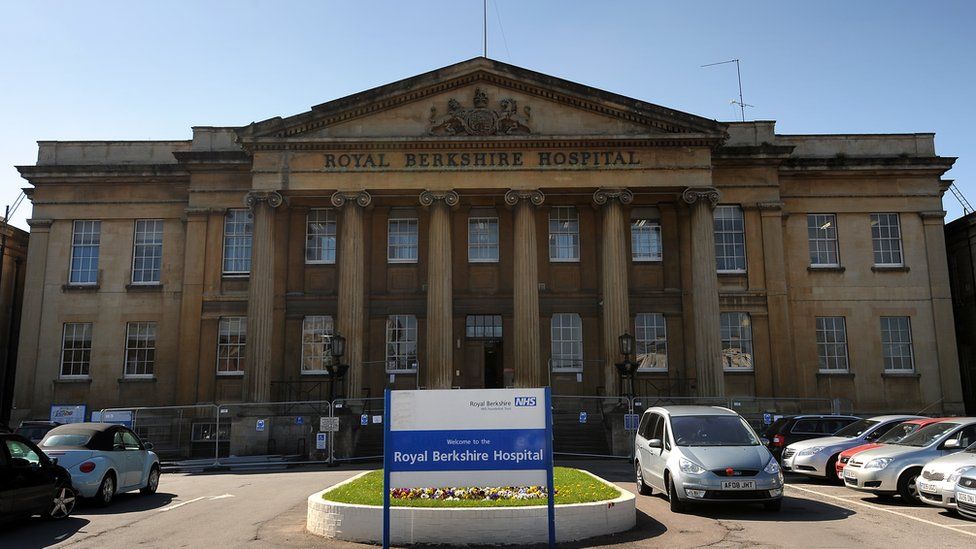 A woman with underlying health conditions has become the first person in the UK to die after testing positive for coronavirus.
The Royal Berkshire NHS Trust said the patient, understood to be in her 70s, had been "in and out of hospital for non-coronavirus reasons".
She was admitted and tested positive for coronavirus on Wednesday.
It comes as the number of UK people diagnosed with the virus reached 116, a rise of more than 30 in 24 hours.
Meanwhile, the prime minister's official spokesman said it was "highly likely the virus is going to spread in a significant way".
What do I need to know about the coronavirus?
The woman, who was being treated at the Royal Berkshire Hospital in Reading, is believed to have caught the virus in the UK, said the country's chief medical adviser Prof Chris Whitty.
She is not thought to have been abroad recently, BBC health correspondent Nick Triggle added.
Officials are now trying to trace the people she was in contact with.
Prof Whitty offered his sincere condolences to her family and friends and asked that their request for privacy is respected.
Prime Minister Boris Johnson also said "his sympathies are with the victim and their family".
Mr Johnson reiterated that the UK was "still in the contain phase" - the first stage of the government's response to the outbreak.
He said scientists and medical staff are making preparations for the next phase - the "delay" phase.
According to the latest government figures, as of 9:00 GMT on Thursday there were 115 cases across the UK. Another case was later confirmed in Wales.
The UK cases include 105 patients in England as well as six in Scotland, three in Northern Ireland and two in Wales.
Alder Hey Hospital in Liverpool confirmed a child there had tested positive for coronavirus. It is not known how old the child is.
Around 45 of the confirmed cases have been self-isolating at home, while 18 people have recovered.
There are currently 10 cases where the authorities do not know how the individual was infected, said our health correspondent. They have no links with foreign travel, he added.
Mr Johnson said the UK was still in the first phase of its four-part plan to tackle the virus outbreak, which is made up of: contain, delay, research and mitigate.
The government is still deciding what measures will be taken in the delay phase, but has previously said this could include banning big events, closing schools, encouraging people to work from home and discouraging the use of public transport.
Meanwhile, a 33-year-old British woman who works for the United Nations is one of four people who have been diagnosed with the virus in Senegal, after travelling there from London.
And in California, more than 140 British nationals are stranded on board a Princess Cruises ship as officials test passengers for Covid-19.
The government has now updated its guidance to travellers arriving in the UK from Italy - the country in Europe that has been hit worst by the virus, with more than 3,000 cases.
On Thursday, the government said the whole of Italy - not just the north of the country - is now classed as a recognised area of concern, meaning if people develop symptoms after returning from the country they should self-isolate.
For those returning from the quarantined towns in Italy, people should self-isolate even if they do not show symptoms.
Bank HSBC says an employee at its Canary Wharf offices in London has been diagnosed and it is "deep-cleaning the floor where our colleague worked and shared areas of the building"
UK airline Flybe has gone into administration and says coronavirus is partly to blame
Starbucks says it is "pausing the use of personal cups" and washable ceramic cups in their UK, US and Canadian stores because of fears of the virus
Pupils at a school in south Devon are receiving lessons online, after the school shut when a pupil was diagnosed with the virus
The competition watchdog has warned retailers and traders they could be prosecuted for trying to "exploit" the coronavirus outbreak by selling protective products at inflated prices
ITV say travel companies are deferring their TV advertising, with advertising revenue due to drop 10% in April
England's Six Nations games against Italy in Rome on 14 and 15 March have been postponed - rather than taking place behind closed doors - as a response to the outbreak
Ireland records another seven cases, bringing its total up to 13
Iran will close schools and universities until 20 March in an attempt to curb the spread
Worldwide, authorities have confirmed more than 92,000 cases of coronavirus - of which more than 80,000 are in China, where the virus began.
More than 3,000 people have died globally, with the vast majority in China.
Earlier, Prof Whitty told MPs on the health and social care committee that half of all coronavirus cases in the UK are most likely to occur in just a three-week period, with 95% of them over a nine-week period.
He said the health service would be stretched by people needing oxygen and some "things may be considerably less well done" during the peak of an epidemic.
But he said neither elderly people nor people with asthma should self-isolate yet, adding there was no evidence of "deep harm" in children with asthma.
Please include a contact number if you are willing to speak to a BBC journalist. You can also contact us in the following ways: