Coronavirus: 13-year-old boy dies, says London hospital trust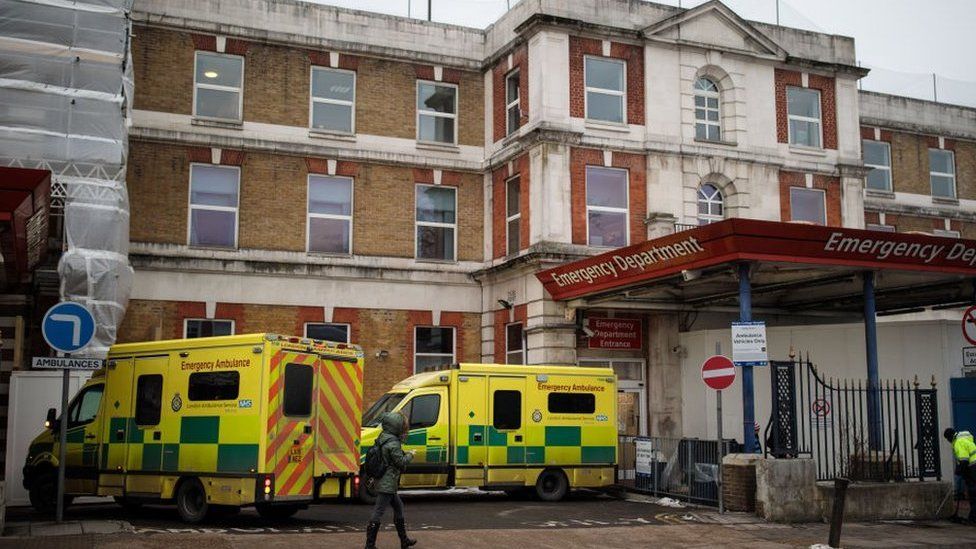 A 13-year-old boy who tested positive for coronavirus has died, a London hospital trust has said.
Ismail Mohamed Abdulwahab, from Brixton in south London, died in King's College Hospital early on Monday. He is thought to be the youngest person to have died with the virus in the UK.
A spokesman for the trust said the boy's death had been referred to the coroner, but gave no further details.
As of 17:00 BST on Monday, the number of UK deaths was 1,789.
Ismail's family said they were "beyond devastated" by his death, in a statement released by a family friend.
They said he had no apparent underlying health conditions and tested positive for Covid-19 on Friday, a day after he was admitted to hospital.
BBC health correspondent Nick Triggle said it was rare for teenagers to become seriously ill after being infected with coronavirus.
"Just 0.3% of those who show symptoms require hospital care and 0.006% die - in other words, two out of every 30,000 infections among this age group will not survive," he said.
"But it does happen, as this distressing case shows."
Ismail's family said he was admitted to the hospital in south London after he had begun showing symptoms and having difficulties breathing.
"He was put on a ventilator and then put into an induced coma but sadly died yesterday [Monday] morning," they said.
"To our knowledge he had no underlying health conditions. We are beyond devastated."
Mark Stephenson, college director at Madinah College, in south-west London, where Ismail's sister works as a teacher, has set up a fundraiser to raise money for the funeral costs.
A statement on the page said Ismail died "without any family members close by due to the highly infectious nature of Covid-19".
Analysis: What is the risk to young people?
By Richard Warry, assistant editor, health, BBC News
Research suggests that children and teenagers are much less likely to die from Covid-19 than adults.
Symptoms tend to be more mild in children, in contrast to flu, when children are at higher risk of complications.
Scientists have yet to determine why this might be. It is possible that children's bodies are more able to cope with the virus.
Children's immune systems are immature and often tend to overreact to infections. But the coronavirus appears not to stimulate their immune systems in this way.
One idea is that children might be better off because they have not been exposed to other, milder, types of coronavirus.
Adults have, and have developed antibodies as a result, but because those antibodies are not exactly matched to Covid-19 they might do the body more harm than good.
All this does not mean that young people - particularly those with underlying health conditions - are completely safe from the effects of Covid-19, as this case tragically shows.
Dr Nathalie MacDermott, clinical lecturer at King's College London, said Ismail's death "highlights the importance of us all taking the precautions we can to reduce the spread of infection in the UK and worldwide".
She added: "It is important that a coroner assesses whether a post-mortem is necessary to further understand the exact cause of death.
"While chronic underlying medical conditions are known to result in worse outcomes in Covid-19 infection, we have heard of cases of younger individuals with no known medical problems succumbing to the disease.
"It is essential that we undertake research to determine why a proportion of deaths occur outside of the groups expected to succumb to infection, as it may indicate an underlying genetic susceptibility of how the immune system interacts with the virus."
Dr Vanessa Sancho-Shimizu, a research fellow in infectious diseases and virology at Imperial College London, said the case highlighted that "however exceedingly rare this may be, statistics means nothing when it affects those close to you, and that there is no room for complacency in this pandemic".
Dr Simon Clarke, an associate professor in cellular microbiology at the University of Reading, said: "Any premature death is tragic news, but the death of any child is particularly sad - and the first death of a child in the UK following a positive test for Covid-19 is particularly significant.
"The lesson from countries such as China is that while the old are much more likely to die from coronavirus infection, the young are certainly not immune from it.
"Children can catch the virus, and while they are more likely to have mild symptoms, they can still pass it on to others who are more vulnerable. In rare cases, they can also get seriously ill, or die.
"This is a reminder that we must take the advice of health officials seriously to stay at home, wash hands, and keep well away from all other people.
"The message so far has seemed to be that by following the guidance, you might save the life of a cherished parent or grandparent.
"This case could yet remind us that staying home could also save the life of a cherished child or grandchild too."
Meanwhile, Cabinet Office minister Michael Gove described the latest rise in UK deaths as "deeply shocking" during the government's daily briefing.
"Now is absolutely not the time for people to imagine there can be any relaxation or slackening" of lockdown measures, he said.