Coronavirus: Boris Johnson 'improving' as intensive care treatment continues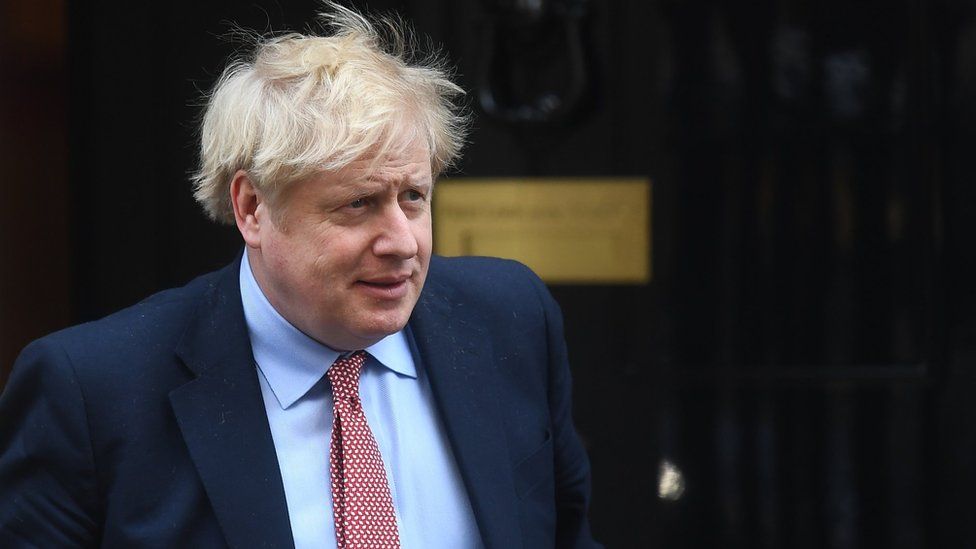 Prime Minister Boris Johnson is "improving" after two nights in intensive care with coronavirus, Chancellor Rishi Sunak has said.
Mr Johnson was now sitting up in bed and "engaging positively" with the clinical team at St Thomas' Hospital in London, the chancellor added.
Mr Sunak also said a Cobra meeting on Thursday would discuss "the approach" to take in reviewing lockdown measures.
It comes as a record 938 daily deaths were reported in UK hospitals.
The PM was taken to St Thomas' Hospital in London on Sunday - 10 days after testing positive for the virus - and was then moved to intensive care on Monday.
At the daily coronavirus briefing in Downing Street, Mr Sunak said Mr Johnson was "receiving excellent care from the NHS team at St Thomas'".
"The prime minister is not only my colleague and my boss but also my friend and my thoughts are with him and his family," he said.
Later, Downing Street said the prime minister "continues to make steady progress" but remained in intensive care.
Though the daily rise in deaths was larger than the previous highest toll of 786 - on Tuesday - the deputy chief scientific adviser, Prof Dame Angela McLean, said new cases were not "accelerating out of control".
But NHS England medical director Stephen Powis warned now was not the time to become "complacent".
He said: "We are beginning to see the benefits, I believe (of the government's lockdown measures), but the really critical thing, I believe, is that we have to continue following instructions, we have to continue following social distancing, because if we don't, the virus will start to spread again."
'Closing in on Italy's worst day'
By Philippa Roxby, BBC health reporter
The number of deaths reported today (938) is a new high for the coronavirus epidemic in the UK, but it is still lower than expected if deaths had been following their long-term trend of doubling every three to four days.
The daily figure is, however, closing in on Italy's worst day of deaths on 27 March.
There are cautious hopes that Italy - which has reached 17,127 total deaths - has turned a corner, and in Spain too - with a total of 14,555 deaths - figures show the death toll is on a downward trend.
So what about the UK? Numbers of new daily cases of coronavirus may give us a clue. In the past week, they have stayed relatively constant at around 4-5,000.
With more people being tested every day as part of the government's plans to ramp up testing to NHS staff, as well as hospital patients, steady numbers of cases suggest there could be the light at the end of the tunnel.
The number of people being admitted to hospital with Covid-19 and being taken to intensive care are also showing signs of levelling off.
So it is now hoped, that with nearly three weeks of social distancing behind us, the number of people dying will soon start to show the same pattern.
Mr Sunak said Thursday's Cobra meeting would discuss the approach the government would be taking towards reviewing lockdown measures.
Mr Sunak said the review would happen "around" the three-weeks point, which would be based on evidence that will "only be available next week".
"I think rather than speculate about the future, I think we should focus very seriously on the here and now and the present," he added.
The measures, which involve cash grants direct to charities providing key services during the crisis, follow concern that some charities are facing collapse because of enforced shop closures.
Mr Sunak added, however, it was "simply not possible" to "save every single job, protect every single business or indeed every single charity".
Karl Wilding, chief executive of the National Council for Voluntary Organisations, said the move was an important first step but warned "it will not be enough to prevent good charities around the country from closing their doors".
He estimated charities were set to lose out on £4bn in fundraising between March and June, in addition to facing rising costs.
And shadow chancellor Anneliese Dodds, who was appointed to the role after Sir Keir Starmer became Labour's new leader, said the announcement was welcome but fell "far short" of filling the financial "black hole" many organisations were facing.
Asked by BBC political editor Laura Kuenssberg whether the crisis would lead to a recession, Mr Sunak said: "I have been very honest that this will have a significant impact on our economy."
He added that the government had put in place "an enormous amount of support to help as many people as possible to get through this".
Fifteen residents have died at a care home in Luton - five of whom had the virus while the 10 others were not tested. The local council leader said it was a "tragic situation"
Friends and family have been paying tribute to 29-year-old Rebecca Mack, a former children's cancer nurse at the Royal Victoria Infirmary in Newcastle, who died on Sunday after contracting the virus a few weeks ago
CrimeStoppers has passed on more than 500 tip-offs to police across the UK about people breaking lockdown rules - including people with the virus being spotted outdoors, threats to infect or cough at people, and parties being planned on social media
In London, 14 public transport staff have died from the virus, including nine bus workers. The mayor said some buses were trialling allowing passengers to get on the bus only through the back doors to avoid going near the driver
Supermarket Tesco said most food would still need to be bought in store as it was not able to meet home delivery demand, while Sainsbury's said it was removing restrictions on thousands of products as stock levels recover
How have you been affected by the issues relating to coronavirus? Share your experiences by emailing haveyoursay@bbc.co.uk.
Please include a contact number if you are willing to speak to a BBC journalist. You can also contact us in the following ways: