Coronavirus: Stay at home over Easter to stop virus, public told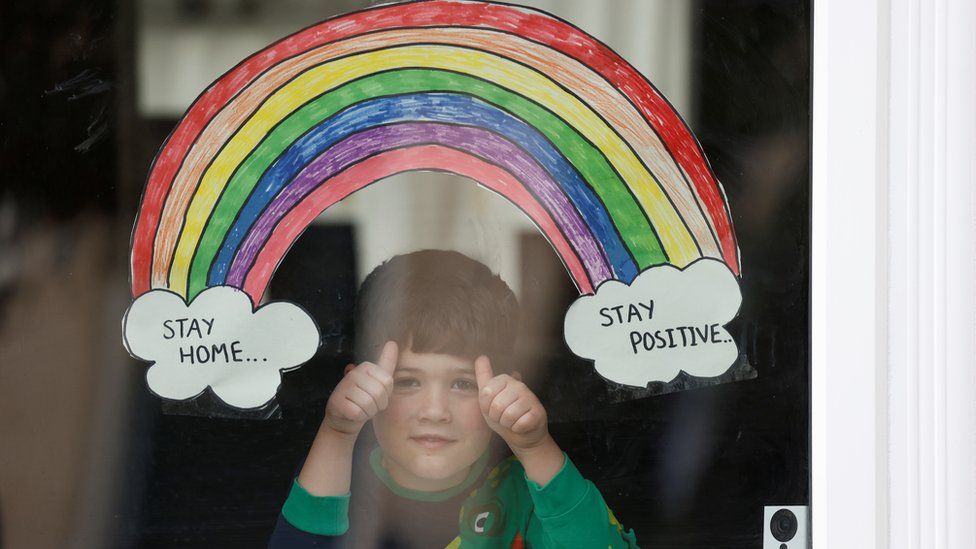 People should follow the government's coronavirus rules and stay home over the Easter weekend, as warmer weather is forecast across parts of the UK.
Culture Secretary Oliver Dowden said the UK was "just beginning to see this strategy starting to work" and people needed to "stick with it".
Temperatures are forecast to reach 25C (77F) in some parts of the country, according to the Met Office.
Some police forces have warned of a crackdown on people flouting the rules.
The rules, which were brought in on 23 March, are due to be officially reviewed next week.
He was taken to hospital on Sunday evening after self-isolating with coronavirus symptoms and admitted to intensive care a day later.
A total of 7,978 patients have died in hospital after testing positive for coronavirus as of 17:00 BST on Thursday, up by 881 on the previous day.
NHS England said 765 people with the virus had died, while in Scotland another 81 people died. Wales announced a further 41 deaths and four more people died with the virus in Northern Ireland.
Of those who died in England, 43 had no known underlying health condition and were aged between 33 and 99 years old.
Among those who have died in recent days is Edmond Adedeji, 62, a doctor at Great Western Hospital in Swindon.
Speaking to BBC Breakfast, Mr Dowden appealed for people to stay at home over the Easter weekend.
"This is not how I planned to spend my Easter weekend, I'm sure it's not how any of your viewers planned to spend their Easter weekend," he said. "We'll have to stay at home."
He said it was unlikely that the restrictions would be lifted in any way next week "given they're just starting to have an effect".
Nicola Sturgeon said she knew following the rules will "seem even harder over this Easter holiday weekend".
"Please stay in touch with family, friends and loved ones in whatever alternative way best works for you," she said.
Since the measures were brought in on 23 March, people have been told they can only leave the house for four limited reasons: Shopping for basic necessities; one form of exercise a day; any medical need and travelling to work if you cannot work from home.
Police were given powers to enforce the restrictions and have been acting with discretion, with some people receiving fines.
But the chief of Northamptonshire Police warned the "three-week grace period is over" and more people could face fines or a criminal record if they do not stick to those rules.
And the assistant chief constable of Devon and Cornwall Police said police officers will patrol roads, adding: "If we stop vehicles and they are travelling to a second home, we will ask them to return to their primary residence."
Downing Street said the police will have the "full support" of government in enforcing the lockdown, adding that individual forces will use their "discretion" as to how the measures are enforced.
Restrictions, the biggest curtailment of our liberty in our lifetimes, lockdown. Call it what you will - it's not going any time soon.
The Welsh government has already said so. So has the Scottish government.
And the Culture Secretary at Westminster, Oliver Dowden, has said the evidence points to it "staying in place".
And Downing Street is at pains to emphasise the importance of social distancing, and not talk about anything else.
There have been some private grumbles at Westminster that Cardiff and Edinburgh have been so explicit, so soon, given there are UK-wide discussions about this.
But that is to indulge in the minutiae when the big picture is what matters.
Should we be surprised the lockdown is going to carry on for some time? No.
Yes, the government promised to look at it three weeks in. That means next week.
But it was always going to take this long for even the beginnings of evidence that it might be working to start to appear. So across the Easter weekend, and beyond bluntly, we need to get used to this.
Ministers, including from Scotland, Wales and Northern Ireland, are looking at evidence from scientists on the impact of the measures at the Cobra meeting.
He told BBC Breakfast it was important to be "straight with the public", saying that "if we don't provide a clear message" then people might be under the impression the lockdown measures might be lifted next week anyway and "start to act as if the last few days doesn't really matter".
A UK government source said "we were surprised that the Welsh government decided to jump the gun with their own plans" before the Cobra meeting.
The source said there was a "high-level joint call" between Welsh First Minister Mark Drakeford, Welsh Secretary Simon Hart and Cabinet Office minister Michael Gove "where it was agreed that a continued UK-wide approach was best for our response to fighting coronavirus".
According to new coronavirus laws, the health secretary must review the restrictions at least once every 21 days, with the first review due by 16 April.
One family's story: 'Every day we prepare for worst'
Sue Martin's husband Mal, 58, from south Wales, has been in intensive care for the past 11 days.
Doctors tried to wean Mal off the ventilator but he continued to deteriorate, and the medics told Sue and her two teenage children there was almost zero chance he was going to survive.
"I rang back later and begged to be able to see him. We hadn't seen him since he left the house over a week before," she said.
"We had to be in full protective gear - we weren't allowed to touch him but we could speak to him. Essentially we were going in to say our goodbyes.
"We just told him we loved him and it was heartbreaking to hear the children tell him that they were going to make him proud and we were really glad to have that time with him." Since then, there has been no further improvement but no deterioration in his condition.
"Every day we prepare for the worst but there's this little glimmer that maybe just maybe he might turn a corner."
Accommodation rental site Airbnb is temporarily restricting bookings in the UK to key workers and "essential stays" until 18 April
A Home Office scientific adviser has told staff at Her Majesty's Passport Office that 80% of people will get Covid-19 and "we can't hide away from it forever" amid demands they return to work
Admissions to hospital A&E departments in England fell last month by 23%, with NHS England saying it was likely to be due to the virus outbreak
Almost three in 10 businesses have cut jobs because of the pandemic, according to the Office for National Statistics
The Queen has written to those she would have presented with symbolic money during the annual Royal Maundy service, which was cancelled due to the pandemic
A 101-year-old man has been discharged from hospital in Worcestershire after recovering from coronavirus at the Alexandra Hospital in Redditch
A study by communications regulator Ofcom has found 46% of internet-using adults in the UK have seen false or misleading information about the coronavirus
The Alzheimer's Society has written to Health Secretary Matt Hancock calling for more action to stop the spread of coronavirus in care homes - on Wednesday it emerged that 15 residents had died at a home in Luton
How have you been affected by the issues relating to coronavirus? Share your experiences by emailing haveyoursay@bbc.co.uk.
Please include a contact number if you are willing to speak to a BBC journalist. You can also contact us in the following ways: