Goodies star Brooke-Taylor dies with coronavirus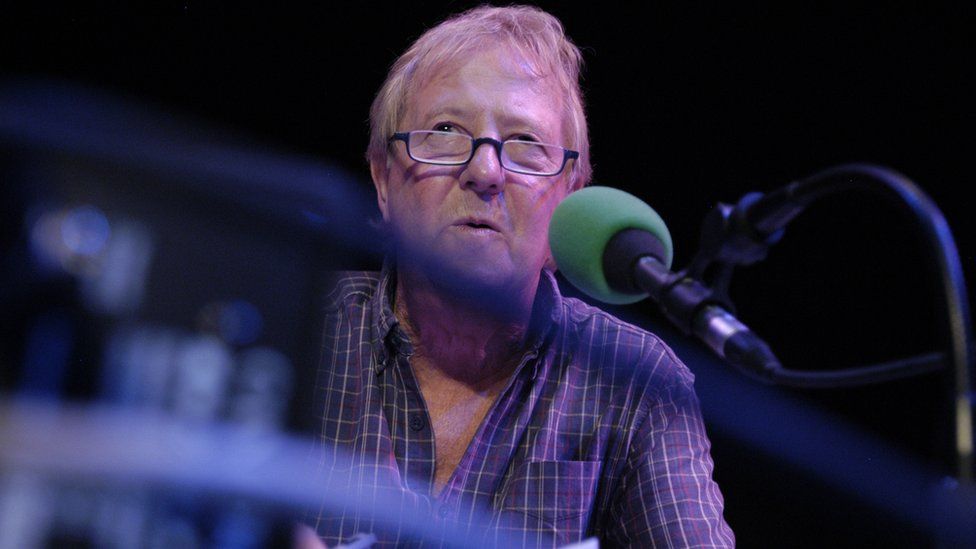 Comedian Tim Brooke-Taylor has died at the age of 79 with coronavirus, his agent has confirmed to the BBC.
The entertainer, best known as one third of the popular 1970s show The Goodies, and I'm Sorry I Haven't A Clue, died on Sunday.
Goodies co-star Bill Oddie called him a "true visual comic and a great friend".
The third member of the trio, Graeme Garden, said he was "terribly saddened by the loss of a dear colleague and close friend of over 50 years".
"He was a funny, sociable, generous man who was a delight to work with. Audiences found him not only hilarious but also adorable."
Oddie recalled some of the Goodies' sketches in his tribute tweet, adding: "No-one could wear silly costumes or do dangerous stunts like Tim. I know it hurt cos he used to cry a lot. Sorry Timbo."
Fifty years and he only got cross with me once... well maybe twice... no quite a lot actually! No one could wear silly costumes or do dangerous stunts like Tim. I know it hurt cos he used to cry a lot. Sorry Timbo. A true visual comic and a great friend x.

— Bill Oddie Official (@BillOddie) April 12, 2020
Brooke-Taylor's career spanned more than six decades and his comedic roots lay in the Cambridge Footlights Club, which he joined in 1960.
Membership of the Footlights brought him into contact with both Garden and Oddie as well as future Monty Python stars John Cleese and Graham Chapman.
Cleese paid tribute by saying: "Tim was one of my very oldest friends, and one that I used to love performing with. He did 'frightened' better than anyone...".
And another member of Monty Python, Eric Idle, revealed that his career was started in 1963 when he was auditioned by Brooke-Taylor for an annual comedy revue.
Brooke-Taylor started his own broadcasting career on BBC radio, before forming The Goodies with Garden and Oddie and later becoming a long-standing panellist on Radio 4's I'm Sorry I Haven't A Clue.
A host of comedians have paid tribute to Brooke-Taylor on social media.
I was obsessed with 'The Goodies' as a child, the first comedy show I really loved. I queued up to get the Goodies' autographs as a grown-up, and got to meet Tim Brooke-Taylor more recently at a party. I was in total awe, but he was so kind & generous. It is so sad he is gone. pic.twitter.com/wxyGpJoyIU

— David Walliams (@davidwalliams) April 12, 2020
Tim Brooke-Taylor was a man I was privileged to call my friend. Generous and kind. Sitting beside him while he made us all laugh was an honour. He will be much missed.

— Sandi Toksvig (@sanditoksvig) April 12, 2020
I queued as a schoolboy in Edinburgh to get my Goodies Album signed, and can't believe 40 odd years later we were doing Clue together in January. Big theatres, huge laughs, such joy & affection for Tim. He was an absolute delight. ❤️

— Rory Bremner (@rorybremner) April 12, 2020
Devastated by this news today. Tim was funny, kind and an incredible man in every way. Sitting beside him on I'm Sorry I Haven't A Clue was a privilege. Our duets will be moments I treasure forever. My dear friend. Sending all my love to his family https://t.co/dtfGdGjOiX

— Susan Calman (@SusanCalman) April 12, 2020
Comedian Jack Dee, the current host of I'm Sorry I Haven't a Clue, said: "It has come as devastating news to hear that Tim has succumbed to this dreadful virus - especially when we all thought he was recovering.
"Tim was a delightful man and never anything but great company. It has always been one of the great joys of my career to work with someone who was part of the comedy landscape of my childhood."
One of his biggest contributions to British comedy was co-writing and performing the famous Four Yorkshiremen sketch with John Cleese, Chapman and Marty Feldman, originally for the ITV comedy programme At Last The 1948 Show! The sketch later became a popular fixture of Monty Python's live shows, and was generally performed by Chapman, Eric Idle, Terry Jones and Michael Palin.
As part of The Goodies, he also enjoyed an unlikely pop career. At a time when novelty comedy songs regularly made the charts, the trio achieved five Top 40 hits, the biggest of them 1975's The Funky Gibbon - which they memorably performed on Top of the Pops.
The trio found international fame with The Goodies, becoming household names in Australia and New Zealand, with shows attracting millions of TV viewers.
In 2011, Brooke-Taylor was appointed an OBE for his services to entertainment, joining Oddie and Garden in having the same honour.