Coronavirus: Care home deaths 'far higher' than official figures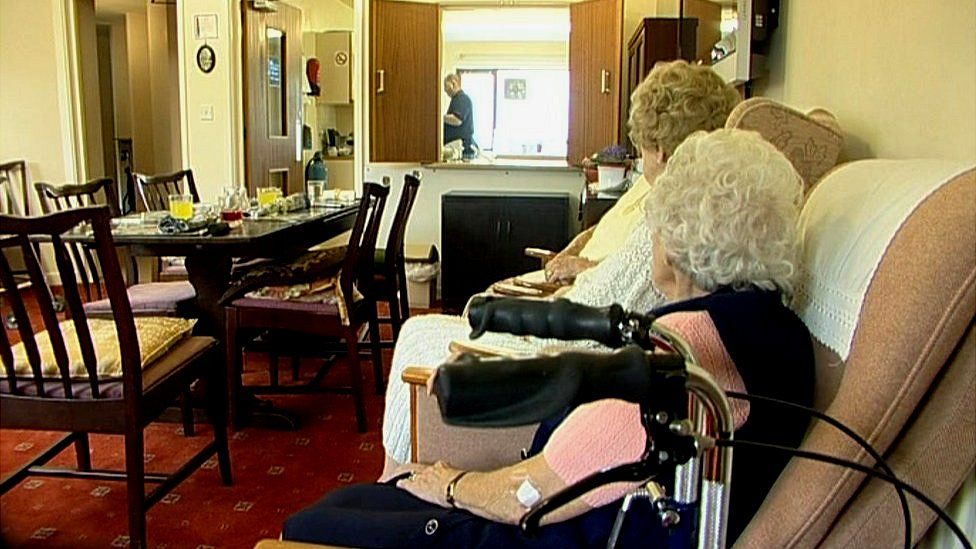 New data has added to growing evidence that the number of deaths linked to coronavirus in UK care homes may be far higher than those recorded so far.
The National Care Forum (NCF) estimates that more than 4,000 elderly and disabled people have died across all residential and nursing homes.
Its report comes amid calls for accurate data on virus-linked deaths.
Only 217 such care home deaths have been officially recorded in England and Wales up to 3 April.
The NCF, which represents not-for-profit care providers, said its findings highlight significant flaws in the official reporting of coronavirus-related death statistics.
It collected data from care homes looking after more than 30,000 people in the UK, representing 7.4% of those people living in one of the country's thousands of care settings.
It said that, across those specific homes, in the week between 7 April and 13 April, there had been 299 deaths linked to coronavirus. That was treble the figure for the previous week and double that in the whole of the preceding month.
If that number was reflected across all residential and nursing homes, NCF estimated there have been 4,040 coronavirus-related deaths in care homes which are not yet included in official figures.
Meanwhile, Cabinet Office Minister Michael Gove has denied reports the government has drawn up a graduated plan to start easing the lockdown within weeks.
Speaking to Sophy Ridge on Sky News, he said: "It is the case that we are looking at all of the evidence, but we have set some tests which need to be passed before we can think of easing restrictions in this lockdown."
Education Secretary Gavin Williamson said "no decision has been made" on when schools in England, which were closed on 20 March, will reopen.
Responding to a report in the Sunday Times suggesting some pupils could return in early May, he tweeted: "I can reassure schools and parents that they will only reopen when the scientific advice indicates it is the right time to do so."
But addressing claims in the same paper that ministers had failed to prepare properly for the outbreak, shadow health secretary Jonathan Ashworth said there were "serious questions about the government's immediate response to this pandemic and whether they were too slow to act".
The daily number of UK-wide coronavirus deaths, announced each day by the government, only includes people who died with the virus in hospital in the four nations.
Ministers have regularly explained that this is because the hospital figures can be quickly collated and released, enabling their experts to analyse trends to help them advise on how the UK is coping with the virus.
Virus-related deaths in care homes - and elsewhere in the community, such as in hospices or in people's own houses - are measured separately and figures covering England and Wales are announced on a weekly basis by the Office for National Statistics every Tuesday.
Because these are based on what doctors write on death certificates - sometimes only issued in the days after the death - there is a two-week lag on collecting this data from the thousands of care homes involved. For that reason, the figures issued last Tuesday only went up to 3 April.
The Care Quality Commission (CQC), which holds detailed statistics of care home deaths, has been accused by some in the residential care sector of "dragging their heels".
The CQC, England's health and social care regulator, said it was working to "provide more detailed information about how the pandemic is affecting care homes".
Separately, analysis from Care England, which represents large care home providers in England, claims that there have been 7,500 more deaths in care home - from all causes - in the last two weeks than would be expected at this time of year.
And modelling by the health consultancy, Candesic, for the Financial Times, suggested the number of deaths due to the epidemic in UK care homes was at least 6,000.
The fact the National Care Forum is saying there's been such a rapid increase in deaths is not surprising - the hospital figures show deaths have been increasing at a similar rate, before beginning to slow more recently.
But it is the scale of the deaths which is shocking.
They are effectively saying the number of deaths is around six times higher than the Office for National Statistics figures suggest.
The NCF has relied on its own staff to say whether they suspect a person has died of coronavirus as well as including the confirmed cases, whereas the official figures rely on cases where doctors have recorded the virus on death certificates.
Since we have not had widespread testing in care homes so far it is very difficult to really judge the true impact. The government is now promising more testing so it will only be in the coming weeks and months that we will really know.
Vic Rayner, the NCF's executive director, said that as long as residents in care services are omitted from the most widely-quoted statistics, the government will not be able to properly plan how to protect its people or prepare an exit strategy.
She said: "Our current national debate on how to mitigate and exit this crisis is virtually entirely centred on the management of the peak within hospitals.
"We are overlooking how this crisis is playing out in other settings, which are there to protect those who are most vulnerable to the impact of the virus.
"If we truly believe that every life has value, there can be no meaningful discussions about exit strategies without considering these individuals."
A statement from the Department of Health said: "Every death from this virus is a tragedy and that is why we are working around the clock to give the social care sector the equipment and support they need to tackle this global pandemic."
The statement added that it was particularly focusing on providing tests for care workers and their families and ensuring that workers got access to any protective equipment that they required.
The government has appointed Lord Deighton, who headed the Organising Committee of the London Olympics, to resolve problems with supplies and distribution of PPE.
However, speaking at Saturday's Downing Street briefing, Communities Secretary Robert Jenrick did not dispute the suggestion that the 400,000 gowns in the shipment would only last NHS England around three days.