Coronavirus test online slots booked up within hour of site reopening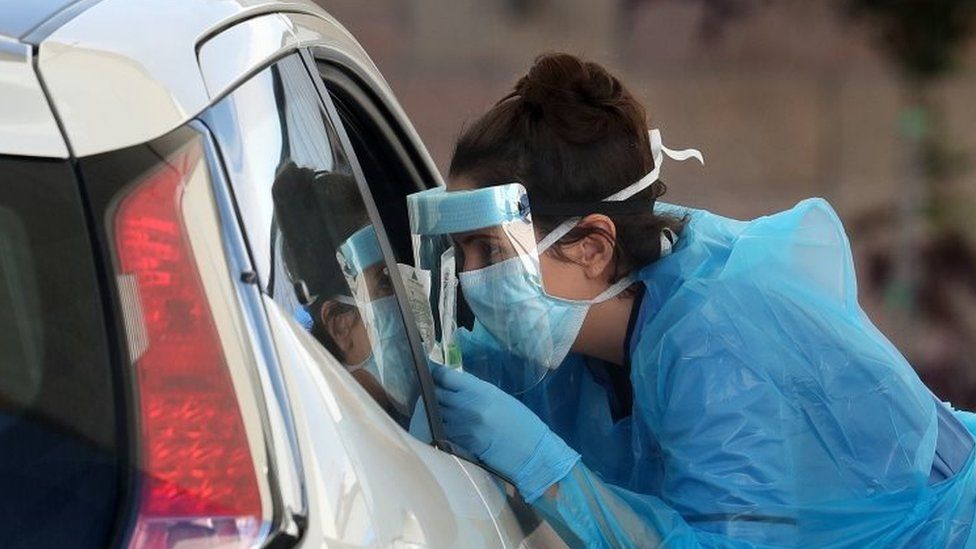 Coronavirus tests offered to UK key workers were booked up within an hour - apart from some in Scotland.
The tests, which are targeted at those who are self-isolating, allow people to return to work as quickly as possible.
Health Secretary Matt Hancock has said testing is part of "getting Britain back on her feet".
But the government website closed to new applicants within hours of the Friday launch, after 46,000 people tried to access it.
Home testing kits became unavailable less than 15 minutes after bookings reopened on Saturday morning.
Some 16,000 bookings were made.
Tests at drive-through sites in England were booked up within an hour on Saturday morning, with spaces not becoming available again until the evening.
Requests for drive-through tests in Scotland are still currently available on the site.
Key workers in Wales and Northern Ireland cannot currently book tests online. Both nations appear as options on the government's online system but with a label saying no slots are available.
For key workers in England and Scotland with symptoms of the virus, and anyone in their household with symptoms, tests at drive-through centres and home testing kits will become available each day from 08:00 BST, Downing Street has said.
Essential workers can also request a test through their employers.
The tests offered are swab tests that determine whether people currently have the virus - rather than whether they have had it in the past.
Dr Simon Eccles, chief clinical information officer at NHS Digital, said an "amazing team" had worked "all night" to enable the site to reopen on Saturday.
After home testing kits were booked up, he wrote on Twitter: "I know it's frustrating but we're developing more lab, supply and logistics capacity every day.
"If we'd waited until we had the full 100k, to launch, no-one would have had a test today."
Prof Stephen Powis, medical director of NHS England, urged key workers showing Covid-19 symptoms to book a test online.
He told BBC Breakfast there was now capacity for more than 50,000 daily tests - and that reaching 100,000 a day by Thursday remained "the aim".
"The NHS has committed to capacity of 25,000 within NHS laboratories and we are on trajectory for that capacity to be in place," he said.
Natalie's story: 'Disgusting waste of time and fuel'
Natalie Orton-Rose, from Leicester, said she managed to book a test on Friday but was turned away after she arrived at the drive-through centre.
The property manager for Poundstretcher, who is classed as a key worker, said she has been self-isolating after being told by her doctor that it was likely she had Covid-19.
Natalie, 34, said she requested a test at 07:00 BST on Friday and "finally" got a code to book an appointment at 15:00.
"I drove an hour from my home in Leicester [to the test centre in Nottingham] and sat waiting for half an hour in the queue only to be told actually they had no more tests left," she said.
"I am absolutely disgusted. It is bad enough that my closest test centre is an hour away but then to waste my time and fuel... I think the government and public need to be aware that just because you have an appointment and turn up doesn't mean you'll get the very much needed test."
The list includes NHS and social care staff, teachers, police officers and transport workers.
They and their family can also request a test if someone in their household shows symptoms.
If a child in the same household as an essential worker needs a test, the child's parent or guardian must book it on their behalf.
The test involves taking a swab of the nose and the back of the throat.
There are two ways to get a test: at a testing site, or with a home testing kit.
Home kits will initially be limited but are being sent to NHS staff.
Most people will get their test results by text within two days.
When can I go back to work?
Provided you and/or those in your household have not tested positive, you can go back to work.
That is so long as you are well enough and have not had a high temperature for 48 hours.
Are you one of the key workers waiting to get tested? Share your experiences by emailing haveyoursay@bbc.co.uk.
Please include a contact number if you are willing to speak to a BBC journalist. You can also contact us in the following ways: