Coronavirus: Deal agreed for antibody virus tests on NHS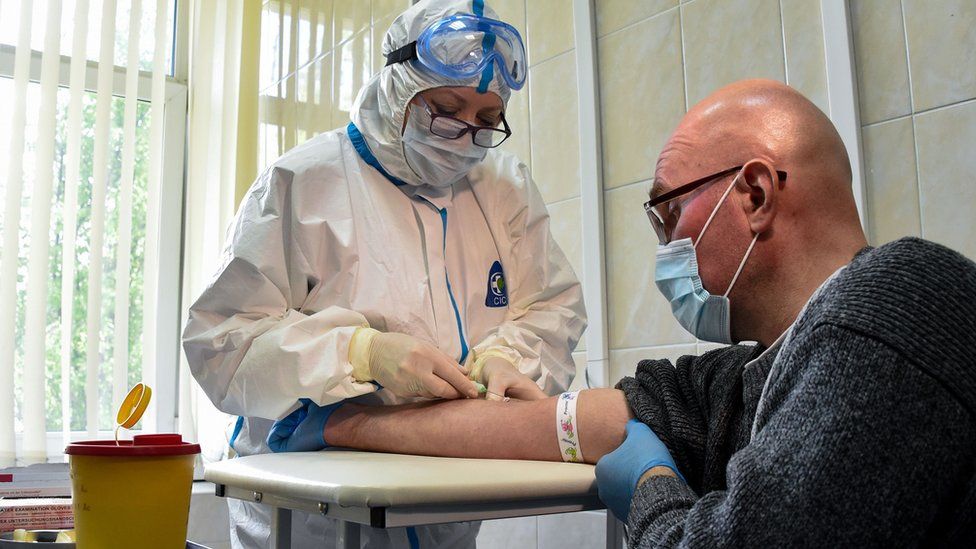 Health and care staff will be the first to receive antibody tests to check if a person has had coronavirus, after the government agreed a deal with a large pharmaceutical company.
The tests will be available on the NHS for "those who need them", No 10 said.
At the moment, the only testing available are swab tests to check if someone currently has Covid-19.
The UK-wide antibody tests will help scientists with virus research, BBC health correspondent Nick Triggle said.
The deal follows talks between the government and Swiss firm Roche.
The prime minister's official spokesman said: "The tests will be free for people who need them, as you would expect. NHS and care workers will be prioritised for the tests."
The Health Secretary Matt Hancock is expected to give more details this evening.
The coronavirus tests already available to all adults and children aged over five on the NHS involve taking a swab up the nose or from the back of the throat. These tests tell you if you currently have Covid-19.
The antibody test is a blood test that looks for antibodies in the blood to see whether a person has had the virus. Antibodies are made by our immune system as it learns to fight an infection.
However, having antibodies does not automatically mean you cannot get sick or harbour the virus and pass it on to others, says BBC health correspondent James Gallagher.
Antibody testing attracts huge attention. But this development needs to be kept in context.
We still do not know how strong any antibody response is and therefore the potential for long-term immunity.
So the logic in offering it to health and care workers is to help with that research.
They will not suddenly be casting aside their PPE at work.
Instead, officials will be keeping an eye on whether those who have antibodies are at lower risk of re-infection.
The test may also help with surveillance in time.
A large sample of the population could be tested to look for signs of antibodies.
One of the great unknowns is just how many people have been infected but have not developed symptoms.
On Wednesday, Superdrug became the latest business - and first High Street retailer - to offer the antibody test. The kit costs £69 and buyers need to take a blood sample at home, which is sent off to a lab for testing.
The government previously spent a reported £16m buying antibody tests which later proved to be ineffective.
Public Health England said experts at the government's Porton Down facility had evaluated the Roche test.
Roche found that if someone had been infected, it gave the correct result 100% of the time.
If someone had not caught coronavirus then it gave the correct result more than 99.8% of the time.
It means fewer than two in 1,000 healthy people would be incorrectly told they had previously caught the coronavirus.
Health minister Edward Argar previously said the tests would mainly be used on those in the NHS and social care settings to begin with.
It comes as the NHS Confederation, which represents health service trusts, warned that time was running out to finish a test, track and trace strategy. It warned a contact tracing system was critical to prevent a second wave of the virus.
In England, Prime Minister Boris Johnson said 25,000 contact tracers, able to track 10,000 new cases a day, would be in place by 1 June.
Contact tracing identifies those who may have come into contact with an infected person and warns them via phone, email or an app.
First Minister Nicola Sturgeon said the first phase will include allowing people to meet outside with people from one other household.
But schools - which are planned to begin a phased reopening from 1 June in England - will not reopen until the school new year begins on 11 August.
Content available only in the UK