Coronavirus: Risk in UK lockdown easing too soon, warn scientists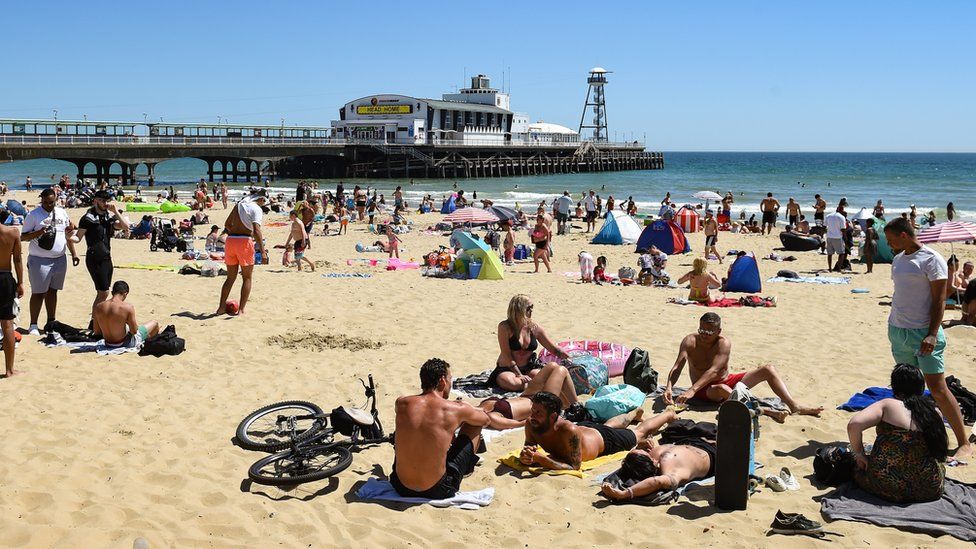 Scientific advisers to the government have warned of the risk of lifting the lockdown in England, as sunshine marks the final weekend before rules change.
Professor John Edmunds said it was a "political decision" to ease measures; Sir Jeremy Farrar said the NHS test and trace system should be "fully working".
From Monday schools will reopen and up to six people can meet in England, with other nations also easing measures.
The government said it had followed the data and evidence at all times.
Another 215 people across the UK who tested positive for coronavirus have now died, taking the total death toll to 38,376.
The Scientific Advisory Group for Emergencies (Sage), which advises the government, has published details of its confidential meetings.
It includes minutes of 34 Sage sessions, going back to 22 January, and a series of scientific reports.
They show one Sage meeting on 23 April estimated there would be only 1,000 cases per day by mid-May.
Prof Edmunds, from the London School of Hygiene and Tropical Medicine and a member of Sage, said the levels of coronavirus were still "very high" and many scientists would rather the number of cases declined before measures were relaxed.
Sir Jeremy Farrar, director of the Wellcome Trust and a member of Sage, said on Twitter that Covid-19 is "spreading too fast to lift lockdown in England" and NHS test and trace "has to be fully working and infection rates have to be lower".
Speaking on BBC Radio 4's Today programme, Prof Peter Horby, who sits on Sage and chairs its NERVTAG subcommittee, agreed, saying the R number was still close to one and it was important we "don't lose control".
"What I would say is that returning to a situation where we lost control again is far worse than another week or two of social measures," he said.
A fourth Sage member, Prof Calum Semple, said a "brave" political decision had been made to coincide with when schools were due to reopen "were everything normal", but warned that high levels of transmission were still being seen.
"Essentially we're lifting the lid on a boiling pan and it's just going to bubble over," he said. "We need to get it down to simmer before we take the lift off, and it's too early."
This is a significant moment.
Throughout the pandemic, the scientists and politicians have been following the same script.
Now there is a clear, loud and public split between some of those advising government and those "following the science".
They may not be household names, but those speaking out are big figures in their fields and sit on Sage for a reason.
On Thursday, Boris Johnson confirmed the relaxing of lockdown. At the same televised briefing, the PM's chief science advisor, Sir Patrick Vallance, warned there was "not a lot of room" for manoeuvre and the data "urges caution".
This is largely a disagreement about "when" to start lifting lockdown rather "how".
If you go early then we all get a bit of our lives back sooner, but it means we will stay close to that 8,000 cases a day figure and have less time to prevent the NHS being overwhelmed if a second wave comes.
If you wait longer, then cases are much lower and the virus easier to control, the price is keeping lockdown and all the pain it is causing.
The Sage documents warned there would be "little time" to reimpose stricter lockdown measures if the infection rate started to creep up again.
Epidemiologist Prof Sian Griffiths told BBC Breakfast that if scientists were in charge of decisions, lockdown would probably not be eased currently, but she said there were other factors to consider.
"I would say there is a huge amount of stress and strain which goes along with not being able to see your friends and your family and that to be able to see them, albeit at a distance, may actually help people's mental health and may help them live with lockdown better and may help them comply better," she said.
Prof Sally Bloomfield, of the London School of Hygiene and Tropical Medicine, warned against having a barbecue with guests, saying the virus could be present on bottles, cutlery and other objects. Picnics where people brought their own food were a better option, she said.
One method of managing the easing of lockdown would be to give people a Covid risk score which would account for age, gender, ethnicity and health conditions, according to Prof Sir David Spiegelhalter - chairman of the Winton Centre for Risk and Evidence Communication at the University of Cambridge.
"And that means I think we're going to need some sort of individualised Covid risk score that can be used in that way, to group people according to their risk, and then that would be advisory, and if people wanted to move, and they protected other people, then that would be open to them," he said.
A Number 10 spokesperson said the government had "at all times been informed by the data and evidence", and the measures has been carefully designed "so that we can ease the burdens of lockdown while expecting to keep that R below one".
It comes as police forces in England have warned people to take care in busy areas and beauty spots and as a fine weekend of weather is forecast.
The Rail, Maritime and Transport union blamed mixed government messaging for "chaos" on rail services in Bournemouth due to a surge in passengers.
Each of the UK's nations has a different approach - and timescale - to lifting the lockdown on Monday.
England is the only nation to reopen primary schools to selected year groups on Monday and will allow groups of up to six to meet outside.
In Scotland, two separate households - up to a maximum of eight people - can meet outdoors and in Northern Ireland, groups of up to six people who do not live together can meet outdoors.
In Wales, any number of people from two different households will be able to meet each other outside from Monday, but beauty spots will remain closed.
England remains at level four on the government's Covid-19 alert system, which means transmission of the virus is high or rising exponentially.
When the system was introduced the prime minister said the country was heading towards level three - at which there can be a relaxation of the rules.
Mayor of London Sadiq Khan said he was "deeply concerned" that the government was rushing too fast to lift lockdown measures as the Joint Biosecurity Centre, which sets the alert level, had not said the country was ready to move to level three.
"I urge Londoners to act with caution - lives depend on it," he tweeted.
How have you been affected by the issues relating to coronavirus? Share your experiences by emailing haveyoursay@bbc.co.uk.
Please include a contact number if you are willing to speak to a BBC journalist. You can also contact us in the following ways: