Brexit: Checks on EU imports to be phased-in amid coronavirus crisis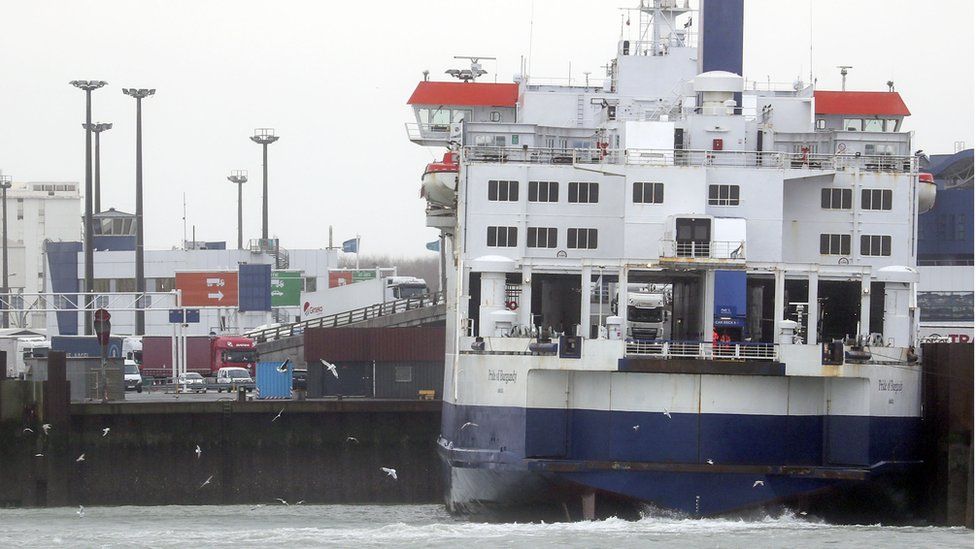 Checks on EU goods coming into the UK will be phased in next year to give firms "time to adjust", as ministers formally ruled out extending the Brexit transition period beyond 31 December.
But coronavirus has forced a rethink, with firms able to defer customs forms and tariff payments for six months and some physical checks delayed to July.
Business welcomed what ministers said was a "pragmatic and flexible" step.
But, in response, the EU said it would implement full checks on UK exports at the start of 2021.
The BBC's Europe editor Katya Adler said the EU would not see the UK's move as a "concession but rather a pragmatic move by a country that's not ready to implement full checks by then".
Skip twitter post by katya adler
Big EU trade partners like NL and France day they have prepared and have personnel/infrastructure in place to deal with checks/controls needed on incoming UK goods whether or not a deal is in place /3

— katya adler (@BBCkatyaadler) June 12, 2020
The BBC is not responsible for the content of external sites.
End of twitter post by katya adler
The UK left the European Union at the end of January, but the transition period - during which existing trading rules and membership of the single market and customs union apply - lasts until the end of the year.
Opposition MPs have been pushing for it to be extended, with the Scottish and Welsh first ministers warning that exiting the current trading arrangements in just over six months time would be "extraordinarily reckless" given the economic damage and uncertainty caused by the coronavirus epidemic.
Ministers from the two devolved administrations withdrew from a scheduled conference call with UK ministers on Friday evening in protest at their decision to rule out a delay, saying their views had been "dismissed".
Earlier, Cabinet Office minister Michael Gove said he had "formally confirmed" to the EU that the transition period will not be extended, adding that the "moment" for such a move had "now passed".
However, there will be an about turn, in the short term at least, on the checks carried out on imports.
In February, Mr Gove said full import controls were "necessary" from 1 January to keep UK borders "safe and secure" and to collect the appropriate taxes.
Under the revised plan, checks on goods entering Britain will be phased-in in three stages up to the summer of 2021, regardless of whether a deal is done with the EU or not.
From 1 January, there will be checks on controlled substances, such as alcohol and tobacco, while standard goods, such as clothes and electronics, will be subject to basic customs procedures. But firms will have up to six months to complete customs declarations and pay relevant tariffs
From 1 April, those importing products of animal origin, including meat, milk or egg products, will have to pre-notify officials and provide the relevant health paperwork
By 1 July, all goods will be liable for relevant tariffs and customs declarations as well as full "safety and security" declarations. From this moment, there will be an increase in physical checks on livestock, plants and other sanitary and phytosanitary products at ports and other entry points
New border facilities will be built in order to process the required checks either at ports, or where there is not enough space, at "inland sites".
Ministers said they would consult with ports about what new infrastructure was needed and where it should be located.
The proposals only apply to rules on imports, with checks on exports to the EU being determined by Brussels.
Mr Gove said the arrangements would be introduced in a way that gives businesses affected by coronavirus "time to adjust" but conceded "more work" was needed to ensure the UK was ready.
"From 1 January we will be outside the customs union and outside the single market so it's appropriate we have checks on goods coming in to the UK," he said.
"But it also appropriate that we take account of what's happening with the coronavirus. And we want to make sure business has an opportunity to adjust in a pragmatic and flexible way."
Firms are expected to have to fill in 200 million extra customs declarations every year and industry experts have said an extra 50,000 customs officials will need to be hired to deal with the extra paperwork.
Ministers have announced £50m in extra funding to support the new customs infrastructure, for IT systems and for recruiting and training new customs brokers and freight forwarders.
Michael Gove was a prominent figure in the Leave campaign, and in charge of preparations for a no-deal Brexit.
It was no surprise, then, that he announced in February that full border controls would be implemented at the end of the transition period.
But now the new system will be "phased in" - with some companies having up to six months to complete customs declarations.
The government maintains that this is a "pragmatic" way to help businesses which have struggled under the coronavirus yoke.
But his critics say that it is a sign of Mr Gove's dogmatism, not pragmatism - that he is determined to end, rather than extend, the transition period.
Critics in his own party are far more concerned about what they see as a lack of preparedness. Only today did the government commit to building new border facilities.
That, in itself, may be a further sign that trade talks with the EU are not making good progress.
A leading figure involved in the negotiations last week conceded that a completely tariff-free deal may elude them.
And some say the government, practically rather than philosophically, isn't yet fully prepared for the reality of life outside the EU.
The Freight Transport Association said ministers had listened to its "concerns" while business lobby group, the CBI, said the move was "pragmatic and sensible".
"It will be welcomed by Britain's manufacturing and food businesses, which simply aren't ready for chaotic changes with our biggest trading partner at the end of the year," said its deputy director general Josh Hardie.
The negotiating teams have also agreed to "an intensified timetable" for July after the fourth round of negotiations last week failed to reach a breakthrough.