Coronavirus: GPs to prescribe cycling in new obesity strategy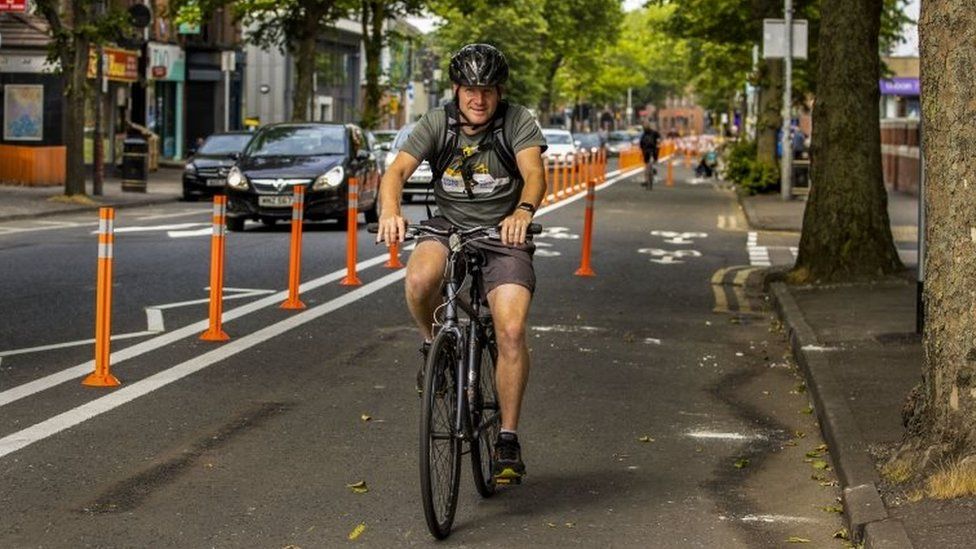 Boris Johnson will set out his strategy to tackle obesity on Monday - including a 12-week plan for people to lose weight and GPs prescribing cycling.
Ministers estimate that about two-thirds of adults in the UK are above a healthy weight.
Labour said "radical action" on obesity was long overdue.
It is not yet clear how much new money will be allocated to the anti-obesity drive.
Mr Johnson has admitted that his own weight was a factor in how badly he suffered from coronavirus.
The government estimates that overweight and obesity related conditions are costing the NHS more than £6bn each year.
There were nearly 900,000 obesity related hospital admissions in 2018/19, with obesity a risk factor for chronic diseases including type 2 diabetes, some cancers, liver and respiratory disease.
The "Better Health" campaign will aim to reach 35 million people in a bid "to help them lose weight and live healthier lives", the government said.
This will be supported by a 12-week plan that people can use to develop healthier eating habits, get more active and lose weight.
How big a problem is obesity in the UK?
It's an issue that has grown in the last two decades - with obesity rates rising steeply in England between 1993 and 2000 and continuing to go up more gradually in the years since then.
In 2018 official statistics show around 36% of the adult population in England were overweight and 28% were obese. And the burden is not shared equally across society - people living in deprived areas are more likely to be admitted to hospital with a condition related to obesity.
What's clear is that it can start in childhood. In England one in ten children in reception year are obese and that rises to one in five by the end of primary school.
That's why the Royal College of Paediatrics and Child Health has described obesity as "one of the greatest threats" to children and society as a whole.
And these problems are not unique to England - with Scotland, Wales and Northern Ireland experiencing very similar levels. But around the world the picture does vary. Less than 10% of adults in South Korea and Japan are obese, compared to 40% in the US.
Boris Johnson will be hoping that his new measures will move the UK closer to healthier nations.
A government spokesman said: "Covid-19 has given us all a wake-up call of the immediate and long-term risks of being overweight, and the prime minister is clear we must use this moment to get healthier, more active and eat better.
"We will be urging the public to use this moment to take stock of how they live their lives, and to take simple steps to lose weight, live healthier lives, and reduce pressure on the NHS."
Under the plans, NHS weight loss services will be expanded so more people get support, and GPs will be encouraged to prescribe cycling in pilot areas identified as having poor health outcomes.
Surgeries will provide access to bikes and ministers are promising local cycling infrastructure will be improved.
This may include segregated cycle lanes, low traffic neighbourhoods and secure cycle parking.
The government is also expected to ban junk food adverts online and before 21:00 on TV, while promotions on snacks will be curbed.
According to the Daily Mail, restaurant and takeaway chains will have to publish the number of calories in the meals they serve - while shops will have to do the same with any alcohol they sell.
'Personal responsibility'
Foreign Secretary Dominic Raab said we could all think a bit more about our lifestyles - himself included.
"I seemed to eat my way through the first half of lockdown and then I lost a bit of weight in the second half when I started to think about it more.
"But I think more generally we need to take some personal responsibility," he said on Sky's Sophy Ridge on Sunday programme.
Meanwhile, Labour's shadow health secretary Jonathan Ashworth, said tackling obesity needed a much wider approach than focusing on diet and exercise.
On the same programme, he said: "We need action around accessing nutritional food, we need to ban junk food advertising…and also these high energy drinks we can we buy in shops - why aren't we banning them?
"Kids shouldn't be buying energy drinks in shops. I'm looking for decisive, radical action from government, not more backsliding."