UK weather: Coastguard issues new warning after busiest day in four years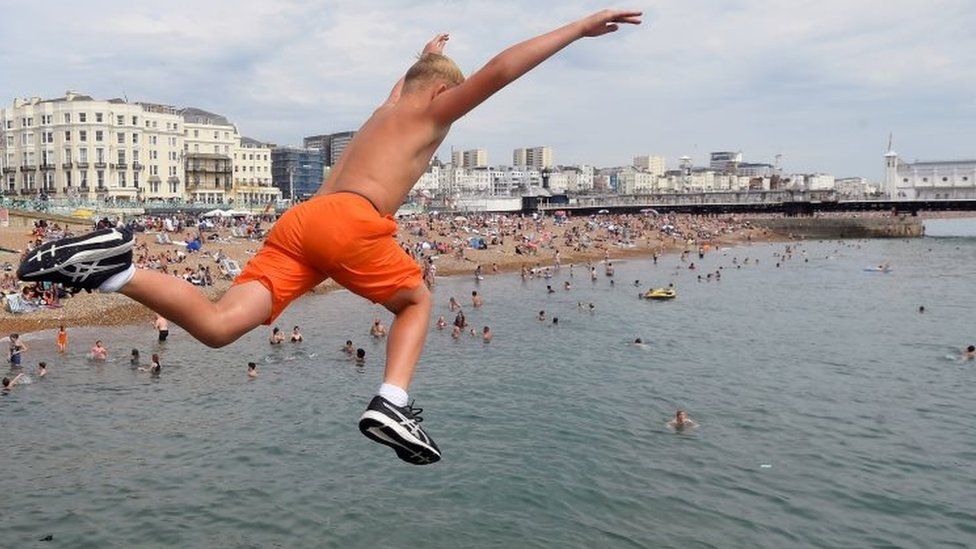 The UK's coastguard has issued a new warning urging people to be careful in the sea, after recording its highest number of call-outs in a single day for more than four years.
Its teams dealt with 340 incidents and rescued 146 people on Saturday.
Saturday was the second day of a mini-heatwave for parts of the UK, with temperatures hitting 34.5C (94.1F).
A woman in her 30s died on Sunday after getting into difficulties in the sea off the coast in Waxham, Norfolk.
She was recovered from the water but was pronounced dead on arrival at hospital, said Norfolk Police, adding that the death was being treated as unexplained but not suspicious.
HM Coastguard's head of coastguard operations, Richard Hackwell, said there had been "a big rise" in incidents this weekend "as more people visit coastal areas and head to the beach".
"We understand that people want to have fun at the coast and enjoy the heatwave but we urge everyone to respect the sea and take responsibility in helping to ensure the safety of themselves, friends and family," he said.
The warnings came on another sweltering day for many Britons on Sunday, with a high of 34C recorded in East Sussex, according to BBC Weather.
Earlier, it reached 24.3C in Scotland (Achnagart), 23C in Wales (Hawarden) and 21.6C in Northern Ireland (Ballywatticock), BBC Weather said.
There will also be little relief from the warm weather overnight, particularly in south-east England, where some face a so-called tropical night - when temperatures stay above 20C.
Crowds packed out beaches along the coast for the third day in a row on Sunday as the hot weather continued.
Thanet District Council warned four of its beaches in Kent - Margate Main Sands, Viking Bay, Joss Bay and Ramsgate Main Sands - were "extremely busy", with high tide likely to make social distancing difficult.
And Dorset Council urged people to avoid Lulworth and Durdle Door by midday due to large numbers in the area.
Some seafront car parks in Dorset were full by mid-afternoon, and Bournemouth, Christchurch and Poole Council warned beachgoers - via a new mobile app - of congestion on much of its 24 beaches.
The coastguard co-ordinated search and rescue responses to a wide range of incidents on Saturday, including people being cut off by the tide and children swept out to sea on inflatables.
In total, the service responded to 186 emergency 999 calls, rescued 146 people and assisted a further 371.
Saturday's incident count represents a "significant" 145% increase compared to the average number of call-outs recorded throughout August 2019, the coastguard said in a statement.
Mr Hackwell stressed that beachgoers should "check and double check tide times as even the most experienced swimmer or keen watersports enthusiast can get caught out by currents and tides".
And he encouraged people to plan their days out, "always exercise caution" and to make sure they have a way of contacting the coastguard if they get into trouble.
The hot weather is likely to continue into next week, with humid nights, according to BBC Weather.
Forecasters have predicted "oppressive" highs of 34C in the south-east during the day on Monday, with sunny spells expected elsewhere in the UK.
However, there is a growing risk of thunderstorms. There is a chance of sharp showers that could turn thundery for some areas in western England and Wales on Monday.
Yellow thunderstorm warnings have been issued for all parts of the UK for Monday through to Thursday, with the Met Office stating "not everywhere will see them, but where they do occur they could be significant and disruptive".
Large parts of England and Wales have been warned there may be torrential rain, large hail, frequent lightning and strong gusty winds.
Downpours could see rainfall of 20-30mm in an hour, with some locations potentially receiving 40-60mm in three hours. These would be fairly isolated instances, according to the Met Office.
Its annual UK report confirmed that 2019 was the 12th warmest year in a series from 1884, and described the year as remarkable for high temperature records in the UK.