Coronavirus: 'Covidiots' criticised on Tui quarantine flight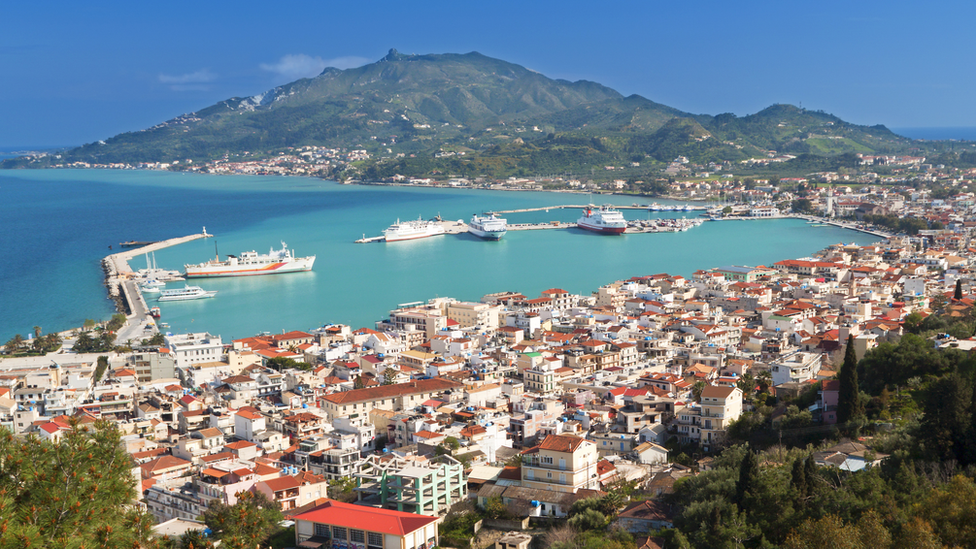 A flight from Zante which left nearly 200 people facing two weeks' self-isolation was a "debacle" and a "free-for-all", passengers say.
One traveller said the Tui flight was full of "covidiots" and "inept crew who couldn't care less". Another claimed there "wasn't much" policing of rules.
Sixteen passengers on flight TOM6215 from the Greek island to Cardiff have now tested positive.
Tui said safety was a priority and it was concerned by the claims.
"Our crew are trained to the highest standards," the airline said. "A full investigation is now under way as these concerns weren't reported during the flight or before today."
The 193 passengers and crew who were on board the flight on 25 August are being asked to self-isolate for a fortnight.
Health officials said seven people from three different parties are believed to have been potentially infectious on board the aircraft.
Public Health Wales' Dr Giri Shankar told BBC Radio Wales people returning from Zante in particular are "picking up the infection and are coming to our attention".
But the Foreign and Commonwealth Office (FCO) updated its travel advice for Zante on 29 August to reflect local coronavirus restrictions put in place on the island.
Stephanie Whitfield said she and her husband had decided to self-isolate before they had even learned about the positive cases.
"This flight was a debacle. The chap next to me had his mask around his neck. Not only did the airline not pull him up on it, they gave him a free drink when he said he knew a member of the crew," Ms Whitfield said.
"Loads of people were taking their masks off and wandering up and down the aisles to talk to others.
"As soon as the flight landed, a load of people took their masks off immediately. The flight was full of selfish 'covidiots' and an inept crew who couldn't care less."
Ms Whitfield told BBC Radio 4's Today programme she noticed a crew member ask one woman to put her mask on.
"But the vast majority of people weren't being spoken to, and there was a chap sat next to me who had his mask around his chin for the full flight, and the stewardess was talking to him and she didn't say anything to him [about the mask]," she said.
The couple have now sent off for a test as they are experiencing mild symptoms, she added.
Victoria Webb was also on the flight and said she only became aware of the outbreak when her mother sent her a link to the BBC News story as she travelled home to London from Cardiff.
"I was surprised and slightly at a loss as to what the best course of action was as I was mid-journey," she said.
"I spoke to the train manager who was concerned but professional and eventually, after some discussion with his head office, moved me to a carriage where I was alone for the remainder of the journey.
"We also swapped details so I could inform him when I had my test result back."
She has now quarantined in line with government advice, but said she has received no communication from health bodies, such as track and trace.
"The contact forms are there to be used and communication should be swift and thorough so we know process is being followed and can measure its effectiveness," she added
Passengers should remain seated "as much as possible" and "follow instructions and guidance from crew", it adds.
The International Air Transport Association (Iata) recommends mandatory face-coverings for passengers and masks for crew as one of several actions to reduce what it says is the already low risk of contracting Covid-19 on board aircraft.
Additional measures proposed:
Temperature screening of passengers, airport workers and travellers
Boarding and alighting processes that reduce contact with other passengers or crew
Limiting movement within the cabin during flight
More frequent and deeper cabin cleaning
Simplified catering procedures to lower crew movement and interaction with passengers
Iata does not recommend restricting the use of the middle seat to create social distancing while onboard aircraft.
Another passenger on the flight, Lee Evans, described chaotic scenes at Zante airport where he said staff members handled passengers' phones to check boarding passes.
"It was a free-for-all to get on the plane," he told the BBC. "There were people switching seats."
While the requirement to wear masks was reinforced on board, Mr Evans added: "There wasn't much in terms of policing what customers were doing on the aeroplane."
He described an email telling him and his family to self-isolate - which came almost a week after the flight - as a "shock". "Someone needs to be held to account," he said.
Another passenger, who only wanted to be identified as Lewis, said he had flown 11 times in the last six weeks with various airlines and all other flights were fine except for the Tui one.
"The flight was poorly managed by Tui," he said.
"Tui did announce that it was a requirement that the masks where kept on. It was said about four times.
"We made cabin crew aware that people were constantly removing their mask. No cabin crew approached those people. I've not experienced that from any flight I have had elsewhere."
He said people responded to requests from staff to make it known if they thought they had symptoms - and those were moved to the front where the curtain was closed.
"There were used wipes in my seat pocket when I got on, so the plane wasn't as clean as they said," he added.
"We should have been told to isolate before we got off the plane. We only found out from the news that this had happened.
"Five days later, I can't tell you how many people I have had contact with."
Travel expert Simon Calder said he was concerned about the length of time taken to contact people.
"It's absolutely imperative that people follow the rules," he said.
"By way of mitigation, speaking for cabin crew in general rather than for Tui who say they've got an investigation in place, it's very tough to police a late evening flight from a party island like Ibiza - or in this case Zante.
"They have to have regard for their own safety. Add to that there are legal exemptions for mask-wearing and it all becomes quite complicated.
"But what really worries me is the timing of all this. It's six days since that flight landed.
"We're supposed to fill in passenger locator forms with all our details and one would assume that as soon as any case is identified Public Health Wales would be on the case with everybody rather than leaving the best part of a week."
Tui said in a statement on Monday: "Passengers are informed prior to travel and via PA announcements on the flight that they have to wear masks throughout and are not allowed to move around the cabin.
"Masks can only be removed when consuming food and drink."
Dr Shankar, PHW's Covid-19 incident director, told BBC Breakfast that public health officials initially identified seven people who had tested positive and were potentially infectious on the flight.
He said since they began alerting passengers, the number of confirmed cases has risen to 16, but it was unclear where they had contracted the virus.
He said that any of the 187 passengers and six crew on board the three-and-a-half hour flight from Zakynthos to Cardiff Airport on Tuesday that had symptoms "should book a test without delay".
Cardiff Airport, which is owned by the Welsh Government, said it was working closely with airlines to "facilitate passenger travel throughout this challenging time for the industry".
"Tui is taking every necessary measure following today's report," said Spencer Birns, Cardiff Airport's interim chief executive.
"Cardiff Airport is closely following guidelines set out by Public Health Wales, FCO and UK government and has already taken a number of measures to ensure the safety and security of our team and customers, which is our number one priority."
Were you on Tui flight TOM6215 from Zante to Cardiff on Tuesday?
Please include a contact number if you are willing to speak to a BBC journalist. You can also get in touch in the following ways:
If you are reading this page and can't see the form you will need to visit the mobile version of the BBC website to submit your question or comment or you can email us at HaveYourSay@bbc.co.uk. Please include your name, age and location with any submission.