Coronavirus: Care homes in England to get £546m extra funding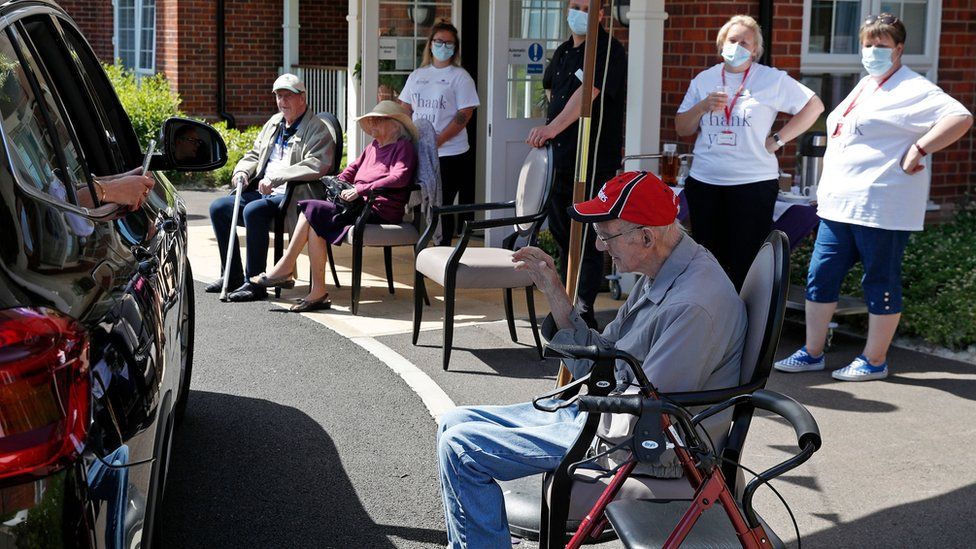 Care homes in England will receive extra funding of £546m to try to reduce transmission of coronavirus during the winter, the government has announced.
The money helps to pay workers full wages when they are self-isolating, and ensures carers only work in one care home, reducing the spread of the virus.
The fund was set up in May and has been extended until March 2021.
"I'm afraid it's an incredibly difficult thing, but we are going to have to place some restrictions on people - visitors - being able to go into care homes," Boris Johnson said.
The funding allows for money to be made available to help care workers reduce their use of public transport, and stock up on personal protective equipment, according to Mr Johnson.
Health Secretary Matt Hancock told the House of Commons the government would do "whatever is humanly possible" to protect care homes "so they are a place of sanctuary this winter".
In an earlier statement, he said that the extra funding would bring "peace of mind" to many in the social care sector.
The most recent figures show there were 35 homes that were dealing with coronavirus outbreaks - defined as having at least one positive case - during the first week of September. During April, the number of homes with outbreaks was about 20 times that rate.
The announcement brings the total funding for infection control measures in care homes in England to more than £1.1bn, after the sector received £600m in May.
The devolved nations were each allocated funding for care homes in May totalling £113m.
Later in the Commons, Labour's shadow health secretary Jonathan Ashworth asked Mr Hancock to guarantee care homes "won't face the same shortages" of personal protective equipment (PPE) and raised concerns about the "huge harm" caused to residents by restrictions on family visits.
The health secretary said the government had a plan to ensure care homes can get PPE, which would be set out in its Adult Social Care Winter Plan this week.
In July, care homes in England were allowed to reopen again for family visits - as long as local authorities and public health teams said it was safe. There went on to be a similar reopening of homes in Scotland, Wales and Northern Ireland.
However, many care homes have not yet fully reopened - including with strict rules over visitors and or banning them completely.
The large Lighthouse laboratories, run by the government to analyse test swabs from all the UK nations, have been under strain to process them all.
Mr Hancock will announce who will be prioritised for tests in the coming days.
His government colleague, health minister Edward Argar, told BBC Radio 4's Today programme that the official guidance "will prioritise frontline NHS care workers, teachers and similar".
"It is possible that there are people with symptoms who apply for a test who have to wait longer because we are prioritising those key frontline workers we need to keep our NHS and care system working," he said.
There has been a sharp decline in test turnaround speed in England, the latest Test and Trace figures show, with only a third of people (33%) getting their results back within 24 hours of taking a test - down from two-thirds last week.
A total of 18,371 new people tested positive for coronavirus in England in the week to 9 September.
Almost 30,000 more care home residents in England and Wales died during the coronavirus outbreak than during the same period in 2019, Office for National Statistics figures published in July show. But only two-thirds were directly attributable to Covid-19.
According to the figures, there were just over 66,000 deaths of care home residents in England and Wales between 2 March and 12 June this year, compared to just under 37,000 deaths last year.