Covid: Poland and Turkey added to UK's quarantine list as fines rise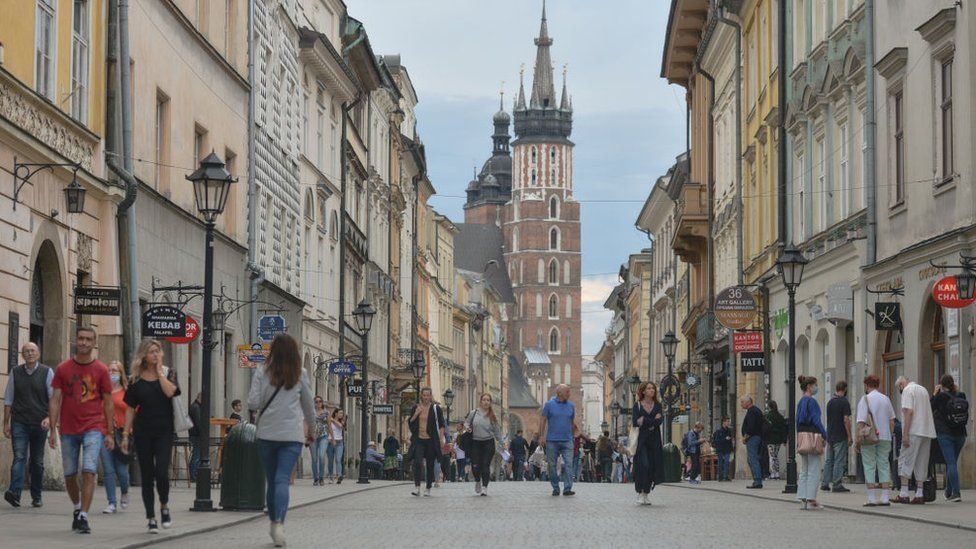 Travellers arriving in the UK from Poland, Turkey and three Caribbean islands will have to self-isolate for 14 days from 04:00 on Saturday.
Poland's infection rate has risen, while the UK government said it removed Turkey over concerns about the way the country reports its data.
There will also be tougher fines for those who fail to self-isolate - up to a maximum of £10,000 in England.
One airport group says it is a "further blow" to a "struggling" sector.
The UK reported a further 6,914 coronavirus cases and 59 deaths on Thursday, and stricter measures have been announced to control a spike in areas of northern England.
Announcing the changes to the quarantine list, Transport Secretary Grant Shapps said data from Poland showed that "test positivity has nearly doubled increasing from 3.9% to 5.8% alongside a rapid increase in weekly cases".
Poland is reporting 25.9 coronavirus cases per 100,000 people, up from 15.6.
Arrivals from the Caribbean islands of Bonaire, St Eustatius and Saba will also have to quarantine from Saturday, he added.
Those islands reported 142.4 new cases per 100,000, unchanged from 142.4 the previous week.
Meanwhile, the Scottish Government announced that those arriving from the Portuguese islands of the Azores and Madeira will no longer need to quarantine in Scotland "due to the low number of cases".
The Azores and Madeira were already on the "exempt" list for the rest of the UK.
The Scottish government's statement added that it was "clear that case numbers in Turkey have been under-reported".
Turkey's reported infection rate has dropped to 12.9 cases per 100,000, down from 14.2 in the week prior.
It has also been announced that in England, fines for the first offence of failing to self-isolate when required will start at £1,000, before increasing to £2,000, then £4,000 up to a maximum of £10,000.
The upper limit for repeat offences was previously £3,200. The increase in fines will come into force from Friday.
You MUST self-isolate if you enter the UK from a non-exempt country - from tomorrow, we're increasing the penalties for people who refuse to do so to a maximum of £10,000 for repeat offenders.

— Rt Hon Grant Shapps MP (@grantshapps) October 1, 2020
Since the introduction of the travel quarantine regime in the summer, police officers have investigated more than 4,000 alleged breaches of the rules.
More than 200 people were found to be ignoring the quarantine requirement, but escaped a fine because they listened to the officer on their doorstep.
Overall there were just 38 penalties for breaching holiday quarantine.
If you look at the official data coming out of Turkey then it sits comfortably below the UK's benchmark for applying the quarantine of 20 cases for every 100,000 people.
But revelations that the number of cases in Turkey has been under-reported has put the country onto the "red" list.
Turkey and Poland are key destinations for airlines and airports so it's another blow for the travel sector.
The Department for Transport is still looking at whether testing can be used at airports to reduce the quarantine period from 14 to seven days.
It is almost impossible for the police to enforce quarantine rules so it is hoped heavier fines for repeat offenders will mean fewer people will break the rules.
Air industry calls for testing
The Manchester Airports Group, which owns and operates Manchester, London Stansted and East Midlands airports, said Poland and Turkey's removal from the travel safe list "means that a large proportion of the markets our passengers usually travel to are now effectively closed-off, despite many of them having much lower infection rates than the UK".
The announcement "is a further blow to the already struggling aviation sector", a statement said.
The group said it was "vital" for the government to establish a testing regime "which would allow for a safe reduction in quarantine periods for passengers arriving from abroad".
Tim Alderslade, from Airlines UK, the trade body for UK registered airlines, said a testing regime was "the only way we can reopen international travel".
"Without testing aviation cannot recover and we will miss the opportunity to get the economy moving again," he said.
The Association of British Travel Agents (ABTA) also said it was a "massive blow for the travel industry".
"This coupled with popular winter-sun destinations, like the Canary Islands - still on the quarantine list - only piles the pressure on a struggling sector," the travel industry trade body said.
"Many travel businesses are in precarious position and will find it difficult to survive unless the government acts now with tailored support to assist the travel industry."
Tomasz Lis, who lives in London after moving to the UK from Poland 23 years ago, runs a travel company offering tailored trips to his home country. He says the new rule will cost him thousands of pounds.
The 43-year-old said: "It's been an impossible year already and the government would do much better by checking temperatures at the airports, for instance, and test people who may have it rather than introduce those absurd rules."
Mr Lis is also a concert pianist and has cancelled a performance in Poland on Sunday because of the rules - meaning he will lose £3,000 and the cost of his flights.