Coronavirus: Cases in north of England 'getting out of control', minister says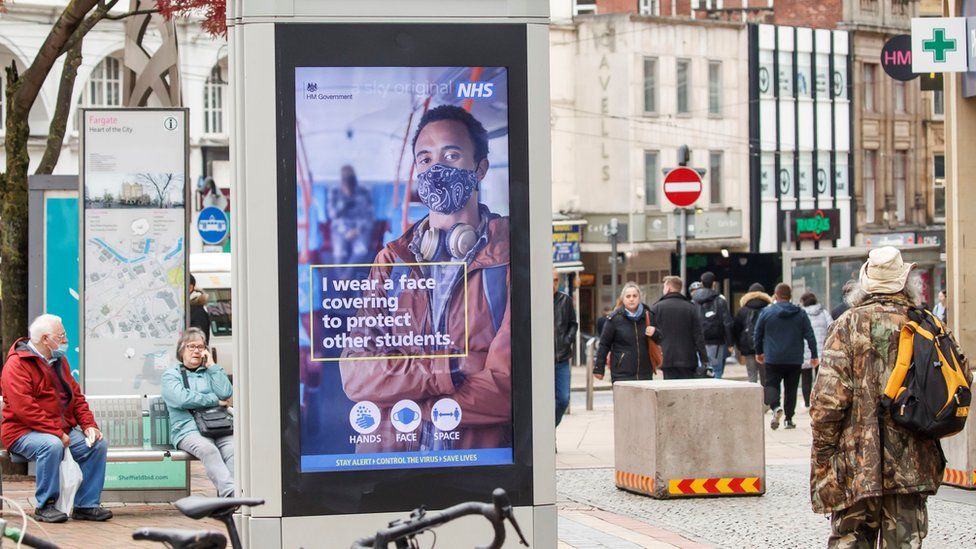 Coronavirus is "getting out of control" in the north of England, a minister has said, as she defended government plans to bring in new restrictions.
Gillian Keegan said the country was in an "unbelievably serious situation", but added that communication with areas facing new rules needed to be clearer.
It comes as Labour's Sir Keir Starmer called for local leaders to be "in the room" and included in decisions.
The chancellor will set out support linked to the new restrictions later.
A Treasury spokesperson said Rishi Sunak's latest move as part of the Jobs Support Scheme would help to "protect jobs and provide a safety net for those businesses that may have to close in the coming weeks and months".
It has already been announced that the scheme, which will replace the furlough scheme when it ends this month, will see workers get three quarters of their normal salaries for six months.
Under the new system - which will replace the patchwork of existing rules - pubs and restaurants could be closed in the worst-affected areas, while a ban on overnight stays is also being considered.
But there has been growing anger among MPs and local leaders about the way the government has communicated the proposed changes with them.
Greater Manchester mayor Andy Burnham accused the government of treating the north of England with "contempt" after he learned ministers were considering shutting hospitality venues in the worst-affected areas in a newspaper report.
Mr Burnham said he would challenge the closure of pubs, bars and restaurants if the measure did not come with financial support.
He told BBC's Question Time: "The message I've given to the government is a pretty clear one - there can be no restrictions without support.
"And if it's going to be the tier three restrictions - effectively a national lockdown - we have to go back to a full furlough scheme for those staff, support for those businesses, otherwise the north of England is going to be levelled down this winter and I won't accept it."
In response, Gillian Keegan, minister for skills and apprenticeships, said the government had to act to stem the rise in cases.
"This is serious - it is getting out of control, and we have to do something to bring it back under control," she said.
But she acknowledged that communication with the worst-hit areas needed to improve.
"We definitely need to work locally and we definitely need to make sure that the communications are much clearer."
Ms Keegan also said she understood how "very frustrating" it must be for local leaders "if leaks are made or there is speculation in the press".
"But clearly we have to do something if we're going to bring those cases back under control."
Writing in the Daily Telegraph, Labour leader Sir Keir Starmer accused the government of "operating under the misguided, arrogant and counterproductive view that 'Whitehall knows best'".
He said the government had "lost control of the virus" and urged ministers to "get a grip".
"It was an act of gross irresponsibility for anonymous No 10 sources to tell a few newspapers on Thursday about plans to impose further restrictions on millions of people, without any detail, without any consultation and without any statement from the prime minister.
"This has significantly added to the sense of confusion, chaos and unfairness in the approach that is being taken."
In response, a government source said Sir Keir should "be supporting measures to protect the NHS and save lives - instead of playing politics in the middle of a global pandemic".
Earlier, Health Secretary Matt Hancock warned the country was facing a "perilous moment" in the pandemic, with cases continuing to rise.
There were 17,540 new cases of coronavirus recorded in the UK on Thursday, up from the 14,162 reported the day before, government data showed. A further 77 people died after testing positive for the virus within 28 days.
Mr Hancock said the situation was becoming "very serious", and that he was most concerned about parts of Yorkshire, the North West and North East of England, as well as areas of Wales, Scotland and Northern Ireland.
Fears have been raised that NHS services could be overwhelmed if the virus gets out of control.
Prof John Edmunds, a member of the government's Scientific Advisory Group for Emergencies (Sage), said the virus was "holding a gun" to Prime Minister Boris Johnson's head over the restrictions being introduced.
The nation faces an anxious wait to see the full impact on the NHS, he said.
"In the north of England now, we are not that far away from the health service being stretched.
"Because even if we turn the epidemic around now, infections that occur today won't go to hospital for another week or two," he said.
Dr Stephen Griffin, associate professor in the School of Medicine at the University of Leeds, said the increase in cases should "serve as a warning to the government to take further action without delay".
"It is clear that the consequences of not suppressing infections sufficiently over the summer may be severe if we cannot get on top of this increase," he said.