Covid: Second national lockdown possible, says top UK scientist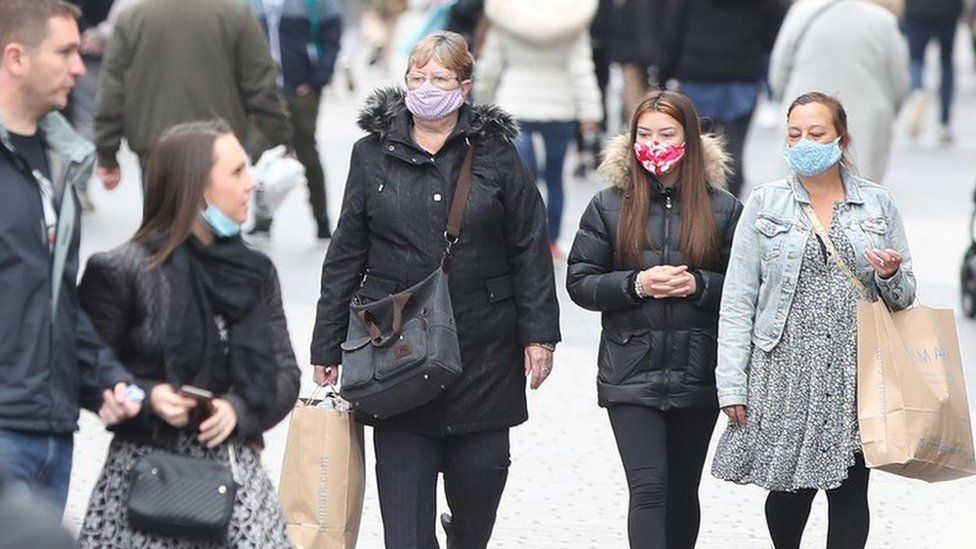 Another national coronavirus lockdown is a possibility and we have to do what we can to avoid that at all costs, a leading UK scientist has said.
Prof Peter Horby said the UK was at a "precarious point" as Covid cases and hospital admissions continue to rise.
His comments echo those of England's deputy chief medical officer, who said more deaths would follow and urged people to limit social contact.
Ministers say their local approach to restrictions is the right way forward.
The prime minister is expected to announce tougher local restrictions on Monday.
In a statement to MPs, Boris Johnson will outline plans for a three-tier system, where each region in England is placed into a tier based on the severity of cases in the area.
He has spent Sunday afternoon updating cabinet ministers on the next steps.
On Sunday, 12,872 people in the UK were reported to have tested positive for coronavirus - some 2,294 fewer than on Saturday - according to the latest figures on the government's dashboard. There were a further 65 deaths - down from 81 on Saturday.
Prof Horby, chair of the New and Emerging Respiratory Virus Threats Advisory Group (Nervtag) and a government adviser, said the "critical mission" now was to protect the NHS to avoid non-essential hospital services being cancelled, as many were when the UK went into its first nationwide lockdown in March.
"We really need to provide care to everybody - those with Covid and those without," he said. "The way to do that is to keep the numbers down."
He warned that some hospitals in the north of England were already coming under pressure and it might not be long before intensive care beds fill up.
"I am afraid we are going to have to make some very difficult choices and act very quickly," he added.
Prof Horby said a surge in cases in the North was partly because people were coming into contact with more people than in other parts of the country.
He also told the BBC's Andrew Marr Show that in the months before the increase in cases, numbers had not dropped to as low a level in the North as in other parts of England.
Prof Horby said the country must accept more stringent measures to drive down transmission of the virus.
The seasons were "against us" and the country was running into a "headwind" ahead of the winter months, he warned.
It is expected that parts of the north of England and the Midlands will be placed under tougher measures as part of the prime minister's announcement.
Liverpool, where there are currently 600 cases per 100,000 people, is expected to be placed under the most severe set of restrictions, with all the city's pubs forced to close.
There is growing concern about the pressure on hospitals. But just how busy are they?
There are more than 600 new admissions for Covid each day in the UK with close to 4,000 patients in hospital. That means about 3% of beds are occupied by Covid patients overall.
At the peak, the numbers topped 20,000.
That may not seem too worrying, but the national picture masks the real pinch being felt in particular areas.
Hospitals in north-west England are caring for more than a quarter of those patients, including 132 in intensive care. On current trajectories they could hit the numbers seen during the spring peak within three weeks.
But what none of this tells us is what free capacity the NHS actually has, because neither the government nor the NHS is publishing this on a regular basis.
There were 30,000 beds free in the middle of summer - three times more than is normally the case, due to the slowdown in non-Covid care.
More detail about the current situation would allow us to properly judge the comments being made by ministers and their advisers.
Political leaders in the north of England fear harsher measures in their regions could damage local economies and leave some people struggling to survive.
David Greenhalgh, Conservative leader of Bolton Council, said: "The North feels like they are being treated differently.
"We know our rates are high, we are not underestimating that, but we cannot throw our local economy to the wall. I urge government to respect that."
Five Labour MPs in Greater Manchester have written to the prime minister, arguing pre-emptively against being placed in tier three, which will have the harshest restrictions.
They said in their constituencies, the virus was spreading among students and in private homes, and less so in the hospitality sector.
Closing all restaurants and pubs would therefore not have a "sizeable effect" on transmission rates yet would devastate businesses and livelihoods, they added.
Shadow foreign secretary Lisa Nandy, who is MP for Wigan, agreed further restrictions were needed in many areas, but accused the government of treating people with contempt.
"I haven't felt anger like this since I was growing up in the 1980s. People feel that they haven't just been abandoned, they now feel that the government is actively working against us."
She said Labour would try to force a House of Commons vote on Mr Sunak's plans "so there is an opportunity to put forward an alternative support package".
Housing Secretary Robert Jenrick said the chancellor's proposals provided a "fair safety net" for people, but he accepted there were "hard choices" to be made.
"We can't do everything, there is a limit to what the state can do here but we are trying to support these communities," he added.
Responding to a question about anger in the North, Mr Jenrick told Andrew Marr the new measures would apply to the whole of the UK - and ministers would never bring in a change "that penalises one part of the country over another".
The huge variation in case numbers across the country meant a localised approach was right, he said, adding: "None of us want to see a return to blanket national measures."
How has coronavirus affected you? What have restrictions meant for you? Share your experiences by emailing haveyoursay@bbc.co.uk.
Please include a contact number if you are willing to speak to a BBC journalist. You can also get in touch in the following ways:
If you are reading this page and can't see the form you will need to visit the mobile version of the BBC website to submit your question or comment or you can email us at HaveYourSay@bbc.co.uk. Please include your name, age and location with any submission.