Brexit: UK to ban more EU citizens with criminal records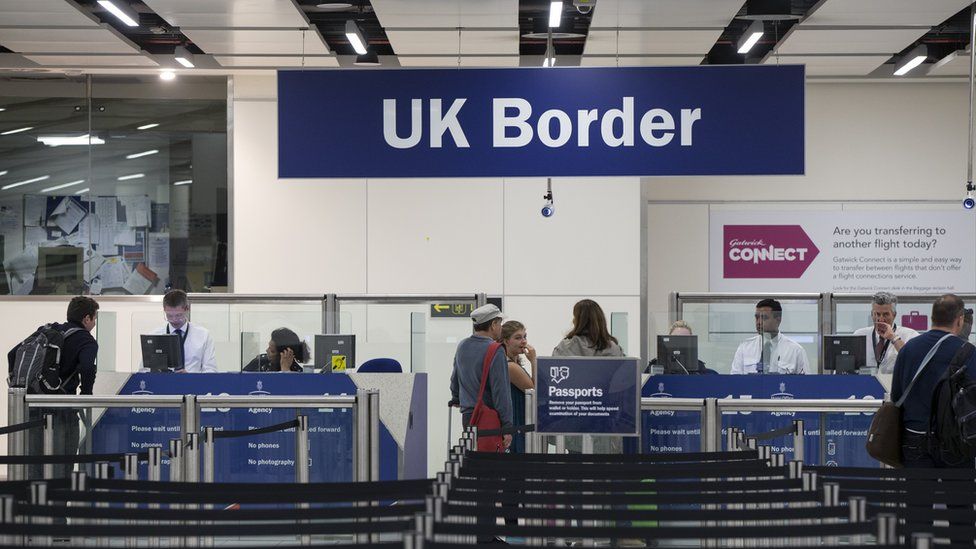 Many more EU citizens with criminal records will be barred from entering the UK from January, the Home Office has said.
People sentenced to more than a year in prison will be turned away, in line with other foreign nationals.
Previously, officials had to show EU offenders presented a serious threat.
But there are concerns a no-deal Brexit could make it harder to identify foreign criminals, BBC home editor Mark Easton said.
With the UK in a transition period since it formally left the EU in January, an EU citizen can currently only be refused entry if they present a genuine, present and serious threat.
Regulations being laid in Parliament on Thursday set out the new rules for when the transition period ends, which treat EU and non-EU citizens the same.
The new rules mean from 1 January:
Any EU citizen sentenced to at least a year in prison will be barred
EU citizens who have committed any criminal offence in the past year could also be barred
EU citizens could also be banned if they were sentenced to less than a year in jail, with officials reviewing their full criminal history and links to the UK
Offenders who have not served a prison sentence could still be barred if there is evidence they are "persistent" criminals, they cause "serious harm" or their presence in the UK is not "conducive to the public good"
People involved in a sham marriage could be banned from entry, and anyone breaching customs regulations could also be turned away.
The changes also mean EU citizens found rough sleeping could be deported if they refuse support from authorities, such as the offer of accommodation, as is already the case for non-EU citizens.
Officials said this could apply to people living on the streets who commit crimes or act in anti-social ways, such as aggressively begging.
But they said it would be a last resort and checks would be carried out to ensure the rough sleepers were not victims of modern slavery or trafficking.
The regulations could mean tens of thousands of people from Europe can no longer enter the UK.
But with no long-term agreement on trade and other areas of co-operation with the EU when the transition agreement expires, the UK faces losing access to the European Criminal Records Information System and the EU's passenger database.
That could make it harder to identify arrivals with a criminal history.
Home Secretary Priti Patel said the rules would be "firmer and fairer", applying the same rules on criminality to people from all countries.
EU citizens living in Britain who have immigration status under the EU Settlement Scheme, or any others who are protected by the Withdrawal Agreement, are exempt from these rules.
However, the Home Office said that their status could be revoked if they commit a crime after 1 January if it results in a prison sentence of more than a year.