Prof Sarah Gilbert: The woman who designed the Oxford vaccine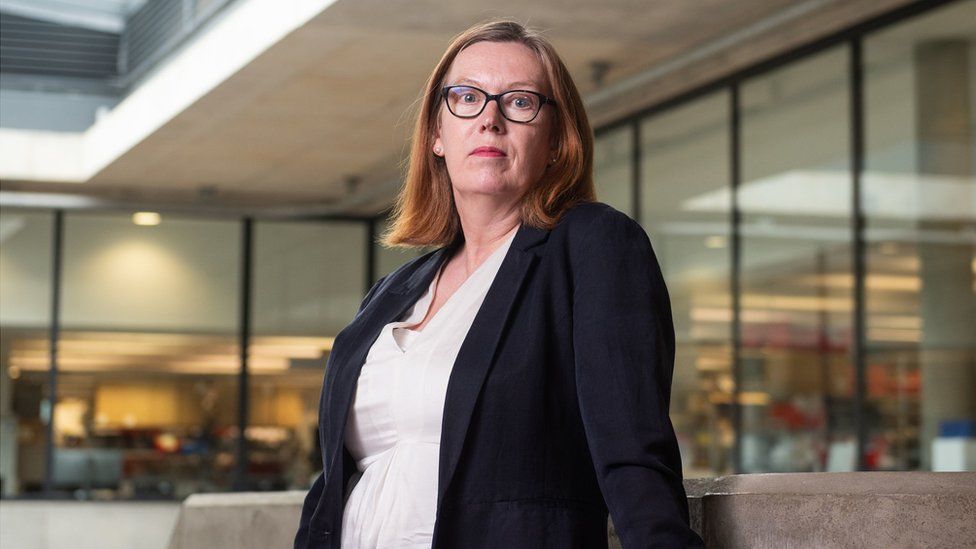 If Prof Sarah Gilbert had gone with her instincts, the latest coronavirus vaccine to show highly promising results might never have been.
Years ago, studying for her PhD, she considered packing in science altogether. As a young student in biological sciences at the University of East Anglia, she was energised by the diversity of thought and experience in the department.
But when she progressed to her doctorate, at the University of Hull, she found the tunnel-like focus was not to her liking.
"There are some scientists who will happily work more or less on their own on one subject for a very long time… That's not the way I like to work. I like to try to take into account ideas from lots of different areas," she told BBC Radio 4's The Life Scientific, earlier this year.
"I did consider leaving science at that point and doing something different."
Eventually though she decided to have "one more go at a scientific career… I needed the income".
It was a decision that led us to the announcement on Tuesday morning that, according to the results of late stage trials, the University of Oxford's coronavirus vaccine is highly effective at stopping people developing Covid-19 symptoms. Interim data suggests it affords 70% protection, but researchers say the figure may be as high as 90% by tweaking the dose.
Born in Kettering, Northamptonshire in April 1962, Sarah Gilbert's father worked in the shoe business while her mother was an English teacher and member of the local amateur operatic society.
Speaking to Radio 4's Profile, one school friend recalled Sarah's silent steeliness - a trait which perhaps explains her decision, years later, to stick with her PhD despite her doubts.
Having completed her doctorate, she got a job with a brewing research centre, looking at how to manipulate brewing yeast, before moving on to work in human health. She had never meant to be a vaccine specialist. Yet by the mid-1990s, she was in an academic job at the University of Oxford, looking at the genetics of malaria. And that led to work on malaria vaccines.
Her life became a little more complicated when she gave birth to triplets. Raising them is an experience which one friend suggested explains her "no nonsense approach".
Her son Freddie describes his mother as always being supportive and having the children's best interests at heart. All three children chose to follow their own path, he says - although all ended up choosing to study biochemistry at university.
Meanwhile, at Oxford, Dr Gilbert rose through the ranks, becoming a professor at the university's prestigious Jenner Institute. She set up her own research group in a bid to create a universal flu vaccine, meaning a vaccine which would be effective against all the different strains.
In 2014, she led the first trial of an Ebola vaccine. And when the Mers - Middle East respiratory syndrome - virus struck, she travelled to Saudi Arabia to try to develop a vaccine for this form of coronavirus.
The second trial of that vaccine was just beginning when, in early 2020, Covid-19 emerged in China. Prof Gilbert quickly realised she might be able to use the same approach.
"We were quick," says her colleague at Oxford, Prof Teresa Lambe. As Chinese scientists published the genetic structure of the new virus "over the weekend, the vaccine was pretty much designed. We went pretty fast with it."
Her urgency, in the face of Covid's death march around the world, might explain some of her more unorthodox working practices. Emails come in as early as 4am, says Prof Lambe, who, explains that Prof Gilbert tends to work from very early in the morning until the late evening.
It took a few weeks to create a vaccine that worked against Covid in the lab. Then the first batch went into manufacture by early April, as the rigorous testing regime expanded. Prof Gilbert described the process as a series of small steps - rather than there being a big breakthrough moment.
"From the beginning, we're seeing it as a race against the virus, not a race against other vaccine developers," she said earlier this year. "We're a university and we're not in this to make money."
School, university friends and colleagues describe a conscientious, quiet and determined person and someone with "true grit".
"Sometimes I think she can be quite shy and reserved to people," one of her PhD students, told Profile. "Some colleagues I had at the Jenner Institute always were a little bit intimidated by Sarah. But when you get to know her and you spend time with her, that's not the case at all."
The gaze of the world is now on Prof Gilbert and the world's handful of other Covid vaccine architects, as they race against the clock.
"She's gonna hate it, absolutely hate it," says her friend, biochemist Dr Anne Moore. "I mean, Sarah is the person in the room who does not want to be in the limelight."