Shakespeare gets Covid vaccine: All's well that ends well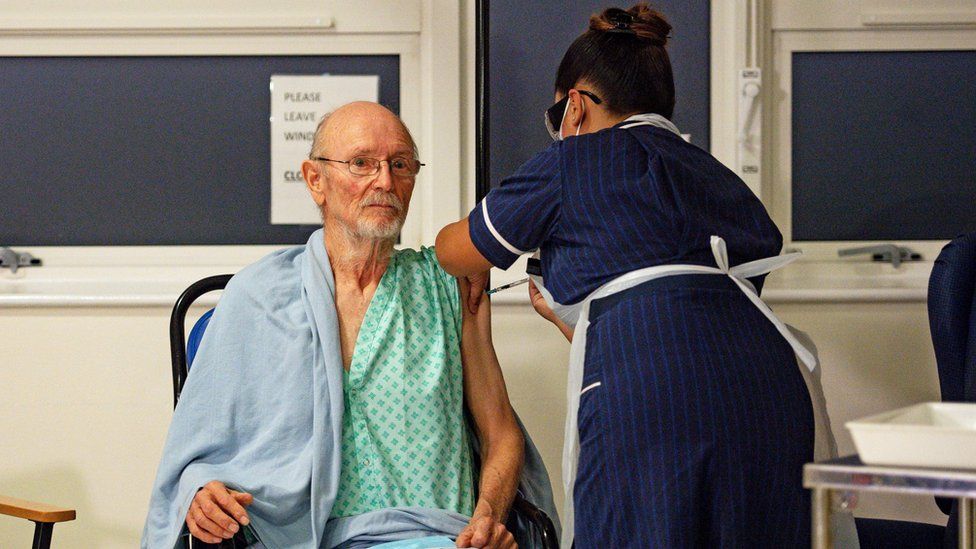 Margaret Keenan has made history by becoming the first person in the world to get a Covid-19 vaccine outside of a clinical trial, but if there's one name you'll associate with this day, it may not be hers.
Enter, pursued by puns, William Shakespeare.
Not the writer, poet and playwright, but his 81-year-old namesake. This Mr Shakespeare was the second person to be given a jab - and, guess what, he also comes from Warwickshire.
"Much ado about nothing?" It doesn't matter - "all's well that ends well".
"Is this a needle which I see before me?" the present-day Shakespeare could have asked, but his reaction was a little bit less, well, dramatic: he said he was "pleased" to be given the jab, and staff at University Hospital in Coventry had been "wonderful".
So, if Ms Keenan was patient 1A, was Mr Shakespeare "Patient 2B or not 2B"?
Theirs were the first of 800,000 doses of the Pfizer/BioNTech vaccine that will be dispensed in the coming weeks in the UK.
The vaccine is given as two injections, 21 days apart, with the second dose being a booster. Immunity begins to kick in after the first dose but reaches its full effect seven days after the second dose.
"Two doses, both alike in quantity," if we're allowed another pun - but here are some others on the day "the taming of the flu" began.
Love the fact that the 2nd person to have the vaccine was William Shakespeare from Warwickshire. How late am I with "Two Gentlemen of Corona?"

— john graham (@spinnerjohn) December 8, 2020
People are making a big thing about the second man to receive the Covid-19 vaccine being called William Shakespeare, but I think it's much ado about nothing.

— Amanda (@Pandamoanimum) December 8, 2020
I'm surprised they let William Shakespeare have the vaccine. I thought he was Bard.

— Oonagh (@Okeating) December 8, 2020