Covid: Fake news 'causing UK South Asians to reject jab'
Fake news is likely to be causing some people from the UK's South Asian communities to reject the Covid vaccine, a doctor has warned.
Dr Harpreet Sood, who is leading an NHS anti-disinformation drive, said it was "a big concern" and officials were working "to correct so much fake news".
He said language and cultural barriers played a part in the false information.
A GP in the West Midlands told the BBC some of her South Asian patients had refused the vaccine when offered it.
Dr Sood, from NHS England, said officials were working with South Asian role models, influencers, community leaders and religious leaders to help debunk myths about the vaccine.
Much of the disinformation surrounds the contents of the vaccine.
He said: "We need to be clear and make people realise there is no meat in the vaccine, there is no pork in the vaccine, it has been accepted and endorsed by all the religious leaders and councils and faith communities."
"We're trying to find role models and influencers and also thinking about ordinary citizens who need to be quick with this information so that they can all support one another because ultimately everyone is a role model to everyone", he added.
"There's a big piece of work happening where we're translating information, we're making sure the look and feel of it reaches the populations that matter."
Some of the disinformation seen by the BBC on social media and on WhatsApp is religiously targeted. Messages falsely claim the vaccines contain animal produce - eating pork goes against the religious beliefs of Muslims, as does eating beef for Hindus.
Dr Samara Afzal has been vaccinating people in Dudley, West Midlands. She said: "We've been calling all patients and booking them in for vaccines but the admin staff say when they call a lot of the South Asian patients they decline and refuse to have the vaccination.
"Also talking to friends and family have found the same. I've had friends calling me telling me to convince their parents or their grandparents to have the vaccination because other family members have convinced them not to have it".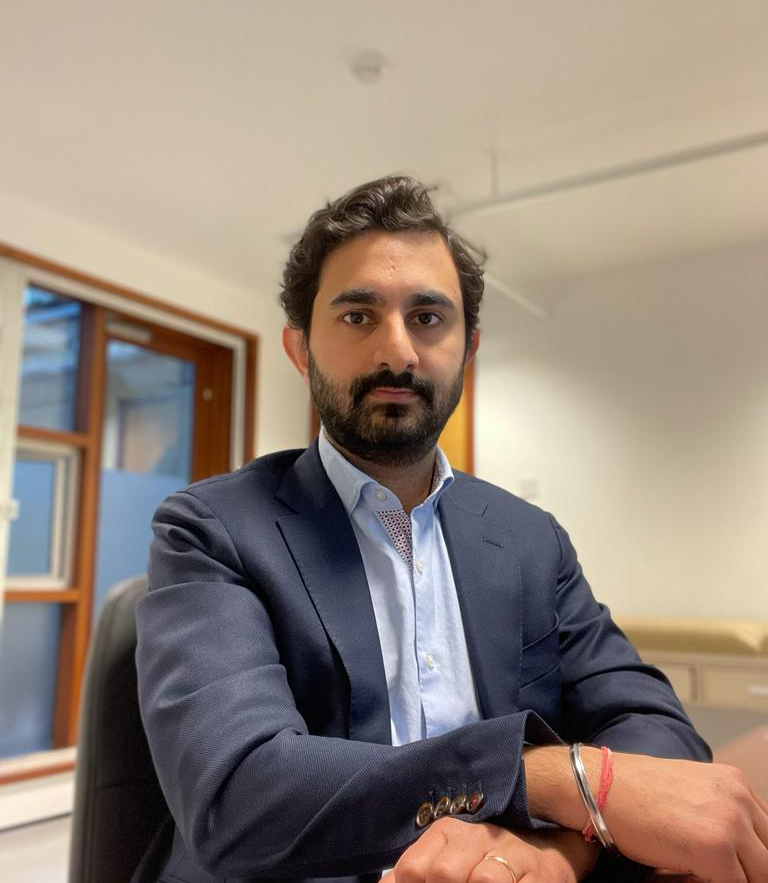 Dr Harpreet Sood
We need to be clear and make people realise there is no meat in the vaccine, there is no pork in the vaccine, it has been accepted and endorsed by all the religious leaders
Reena Pujara is a beauty therapist in Hampshire and a practising Hindu. She said she's been bombarded with false information.
"Some of the videos are quite disturbing especially when you actually see the person reporting is a medic and telling you that the vaccine is going to alter your DNA," she said.
"For a layman it is very confusing. And also when you read that the ingredients in the vaccine derive from a cow - and as Hindus the cow is sacred to us - it is disturbing."
About 100 mosques have a joined a campaign to counter vaccine disinformation and persuade their communities to take the vaccine. They've said they'll use their Friday sermons to urge people to have the jab.
"There should be no hesitation in taking [the vaccine] from a moral perspective," said Qari Asim, chair of the Mosques and Imams National Advisory Board (MINAB), which has organised the campaign. "It is our ethical duty to protect ourselves and others from harm."
Vaccines minister Nadhim Zahawi told the BBC's Asian Network that faith and community leaders had a big role to play in ensuring a high take-up of the vaccine. He said he had met with more than 150 leaders from Sikh, Hindu, Jewish and Muslim communities who were taking the message out "that it's the right thing to do".
He added that the government was taking steps to tackle online disinformation around the vaccine, as well as making sure vaccine guidance was available in many different languages.
A recent poll, commissioned by the Royal Society of Public Health, suggested just over half of black, Asian and minority ethnic (BAME) people would be happy to have the coronavirus vaccine.
It found 57% said they would take the vaccine - compared with 79% of white people.