Covid: House hunters travelling 'hundreds of miles' to view homes
By Hazel Shearing
BBC News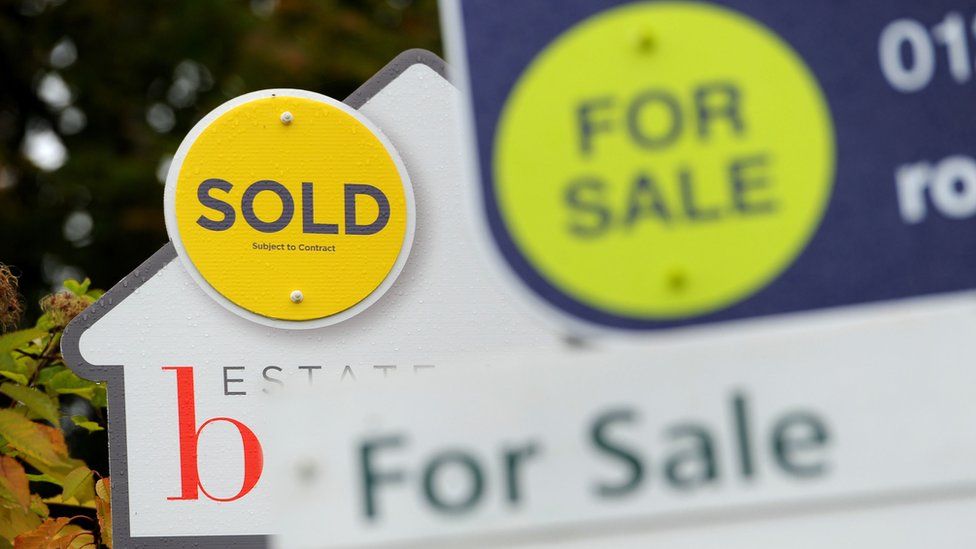 House hunters are taking advantage of lockdown rules to travel hundreds of miles to view homes, estate agents say.
In-person viewings are allowed in England, but estate agents have raised concerns about their safety and say some buyers are travelling across the country to look at second homes.
Firms have said they are also currently facing increased demand before the stamp duty holiday ends on 31 March.
The government said the housing market is "a key part of our economy".
It has said the housing market in England will remain open during the national lockdown - but advises that initial viewings should be done virtually "wherever possible".
One estate agent who works in Yorkshire, who asked not to be named, said she knows colleagues who are "ready for a complete nervous breakdown" because they are being asked to book more in-person viewings and valuations.
She said people are travelling hundreds of miles to view properties "because they can" and some often "don't social distance" when they get there. She said many virtual slots go unused because "people want physical viewings".
"I was in one the other day and there's a three-year-old that comes and sits next to me… bringing me a doll. How can you say 'back off?' You can't," she said.
"I just think it's bonkers. I want to earn money, I want to earn commission, but not under these circumstances," she added.
Paul Le Bas, regional director of a family-run estate agency in Hayle, Cornwall, said he would like the government to ask people not to travel to estate agents outside their local areas for non-essential purposes.
He said he turned down one person who wanted to travel about 400 miles from Bradford to look at a potential second home.
"We've taken the view as an agency that if it's just for a second home we don't deem that as essential travel, you can do that when lockdown's been lifted," he added. "We weren't prepared to put ourselves at risk or our clients at risk. They got a bit shirty with us."
Roly Matthews, director of an independent agency in Elmbridge, Surrey, said most of his clients want in-person viewings and estate agents have had to "feel their way a bit as to what they think is essential or not".
He knows some agencies are not screening their clients, giving members of the public "a mixed signal" and said the government would be "sensible" to consider further restrictions.
Can you view houses in lockdown?
The government says people are allowed to view properties during the lockdown in England.
It encourages buyers to do their initial property searches online and advises that initial viewings should be done virtually wherever possible.
For viewings taking place in person, the government says these should be arranged by appointment only and "open house" viewings should not take place.
It advises people who are viewing properties in person to wear a face mask, avoid touching surfaces wherever possible, wash their hands regularly and/or use hand sanitiser.
The government says people should also observe social distancing and stay two metres apart where possible.
It does not specify how far prospective buyers can travel to view a property.
Mark Hayward, chief policy advisor at NAEA (National Agency of Estate Agents) Propertymark, said estate agents are under additional pressure to complete deals with the stamp duty deadline approaching.
"We've seen levels of sales on a monthly basis not seen since 2004," he said. "We know the volume of sales that has to go through to qualify for that stamp duty holiday is large."
He urged estate agents to follow NAEA guidelines for house viewings, such as sanitising surfaces and limiting time in the property. The organisation also recommends people seeking to view property "must be in a position to proceed".
"In other words, they've either got cash or they've sold their own property so they're not having to go and put the house on the market and create huge delays."
The Ministry of Housing, Communities and Local Government said the housing market has been allowed to remain open as it creates "jobs as well as homes".
"But all parties involved must continue to play their part in reducing the spread of the virus, by following our guidance to be Covid secure," a spokesman said.
A petition calling for the stamp duty holiday to be extended by six months has gained over 115,000 signatures, meaning it will be considered for debate in Parliament.