Covid hotel quarantine: 'It's the luck of the draw'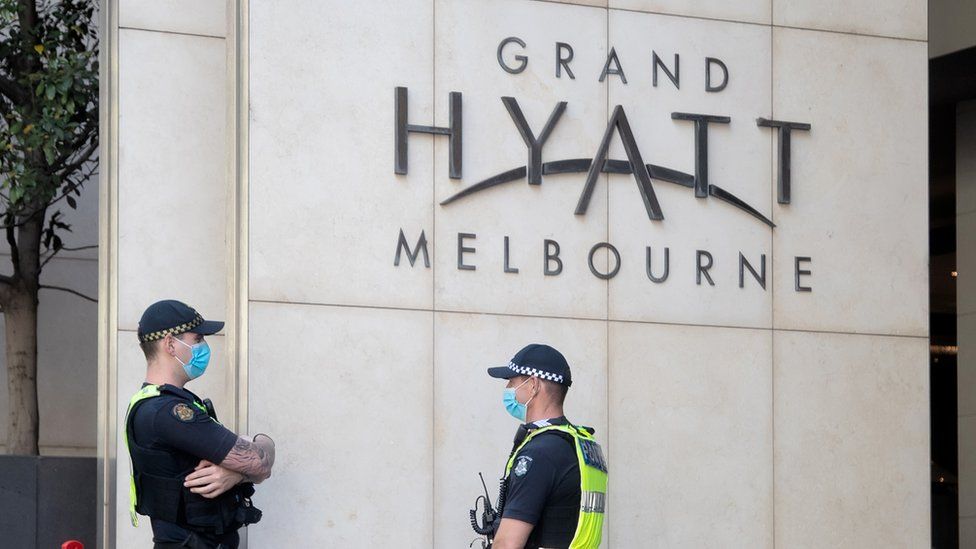 UK nationals and residents returning from "red list" countries will be made to quarantine in accommodation such as hotels for 10 days, Boris Johnson has said. While exact details of the policy remain unclear, similar schemes are already in place elsewhere, including in Australia and New Zealand. So how does it work?
After finally securing her family's place in Australia's quarantine system, Keri McMenamin prepared for the worst - and ordered a vacuum cleaner.
The 38-year-old was returning to the country with her husband and two children after securing a job offer - leaving the UK in the middle of the coronavirus pandemic last year.
"It is literally luck of the draw," she says of where her family would spend 14 days together once they arrived. "You didn't know what to expect." Having done some research, Keri discovered Facebook groups busy with people relaying their experiences of quarantine.
"A lot of people were saying, 'Look, just expect the worst and then whatever you get is a bonus.'"
"There were people who had, like, filthy hotel rooms, appalling food, you know, really sort of tiny spaces, no opening windows, no balconies," she adds.
That's when she ordered the vacuum for a friend to deliver when the time came.
In the end, the family was taken to a hotel in Surfers' Paradise on the Gold Coast and given an interconnecting room. But still, the windows were sealed and their only time outside was 20-minute stints every two to three days.
"I think what kept us sane was having a routine," she adds. "Joe Wicks in the morning and our yoga in the evening and sort of keeping up your 12,000 steps a day walking around in loops." The vacuum came in useful.
There are strict caps on the numbers travelling to countries using hotels to quarantine arrivals.
Between July and October 2019, 7.5m people arrived into Australia to live, work and visit. But over the same period last year, when enforced quarantine was in place, just 72,111 people arrived, according to government figures.
People like Keri who have been through quarantine in Australia told BBC News that airlines will only confirm seats once a spot in a hotel is secured - leading to last-minute scrambles.
Online forums suggest expats desperate to get home are facing months of delays, cancellations and uncertainty - around 39,000 have said they want to return.
Quarantine hotel stays themselves are costly - with fees paid for by travellers.
In New South Wales, it costs the equivalent of around £1,700 per adult and £2,800 for a family of two adults and two children - billed after the quarantine is completed.
Arrivals into New Zealand are charged £1,630 for the first adult, with an extra £500 for each additional adult and £250 for each child.
The costs include the accommodation and a basic food service and even more basic cleaning - perhaps once per week, or not at all, with one change of linen and towels, depending on the facility.
But it comes on top of airfares, which have increased due to the pandemic. Fees can be waived for those who cannot pay and there are some exemptions.
Each region has its own rules. In Australia, packages can be brought in from outside, and in New Zealand some of those in quarantine are taken to fields to exercise.
Mark Dickinson, from Liverpool, has lived in New Zealand with his wife Lisa for four years but returned to the UK to see their newborn granddaughter in December - he spoke to the BBC 10 days into a 14-day isolation near Auckland.
"We had to have a test on day zero, then day three, then we're having a test tomorrow on day 11," Mark says.
"The area at the front of the hotel is surrounded by a double-guarded fence. It may have cost us £2,000 but if that means New Zealand stays safe, then we're happy doing it."
Many of those isolating found life does not stop in quarantine. Australian Brad Thiele started a new job and celebrated his 51st birthday alone in a 300 sq ft room at the Novotel in central Sydney.
After being asked by a person wearing a full hazmat suit at Sydney airport whether he had any concerns about being held in a room for 14 days, Brad was taken to the hotel with a blue-light police escort. On arrival, the military were on hand to ensure he checked in.
"I quite like practising meditation. So I was able to just sort of just sit and be at peace with the fact this was the first two weeks of the rest of my life having lived abroad in Britain for the past 23 years," he says.
"I had some regimen, it was important to get up in the morning, make the bed, shower, iron a shirt and be smart casual for work. Just finding a rhythm and a pattern in the day."
He's yet to decide whether to take the Novotel up on an offer of a 30% discount on a future stay.
Other countries' experience of setting up a hotel quarantine system provides an insight into the sort of challenges politicians and civil servants in the UK may soon be grappling with.
Then outbreaks at just two hotels in the Australian state of Victoria were traced to 99% of cases in a second wave across Melbourne that led to around 750 deaths.
A public inquiry found a lack of training, cleaning and contact tracing seeded infections into the local community.
Reports at the time suggested encounters between private security staff and those staying in quarantine caused the virus to spread. The inquiry did not find evidence to back up the claims.
But former judge Jennifer Coate criticised a lack of "health focus" in the quarantine system in Melbourne, saying risks "were foreseeable and may have actually been foreseen".
The 56-year-old woman had recently returned from Europe and is said to have visited almost 30 places in New Zealand before her case was detected. Local officials say she is likely to have been infected by a fellow returnee.
Back in Australia, knowing why the quarantine system is in place and the benefits it brings - the country has largely eradicated the virus - helps motivate people to keep to the rules, Keri McMenamin says.
She has just spent a public holiday going about the sort of activities many of us in the UK can but dream of - and her children will be in school this week.
"We went to a local gym and had a group workout with 30 people," she says.
"And then we went to the countryside, and the kids built little boats out of wood and mingled around and there were families picnicking.
"I almost feel guilty for having gone through this process and now living a normal life," she adds. "I feel like I don't want to talk to my friends in the UK about how easy our life here is and how normal it is."