Rape prosecution changes by CPS unlawful, court told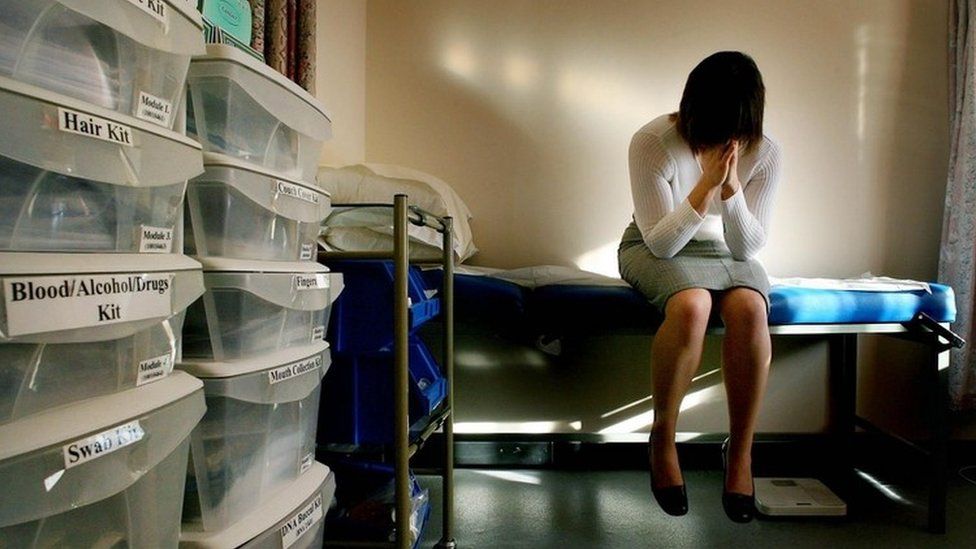 Changes were made to rape prosecution policy that led to a "shocking" fall in offences before courts in England and Wales, the Court of Appeal has heard.
The End Violence Against Women (EVAW) coalition is challenging what it said was an "unlawful" move by the Crown Prosecution Service in 2016-18.
The CPS said there was no "substantial change" in how cases were treated.
And it denied the coalition's claim it had been taking on only "strong cases" to keep conviction rates up.
According to the EVAW, the CPS adopted what is known as the "bookmaker's approach" to cases, which saw prosecutors considering what may happen based on past experience of similar cases, rather than its earlier "merits-based approach" based on objective assessment of the evidence.
In documents before the court, Phillippa Kaufmann QC said that from September 2016 prosecutors were "trained away" from the former CPS policy, including through a series of roadshows.
In 2017 legally binding guidance on the old approach was removed, and the CPS introduced a 60% conviction rate target in relation to rape cases.
Ms Kauffmann said both the volume of cases and the charging rate fell.
She cited figures showing an average of 3,446 rape cases were charged per year between 2009 and 2016, compared with 2,822 in 2017, a fall of 23%.
At the same time the charging rate "declined precipitously" from 56% in 2016, to 47% in 2017 and 34% in 2018.
The court documents note the conviction target was removed at some point between 2017 and 2019, and guidance relating to the "merits-based approach" to prosecutions was reintroduced.
The campaigners are aiming to show there was a policy change and the way the CPS went about it was unlawful.
If a ruling goes in its favour, the EVAW hopes some cases could be looked at again by the CPS.
Lawyers for the CPS argue the case was not suitable for a legal challenge.
In written submissions, Tom Little QC, says the move away from a "merits-based approach" was out of a concern that "some people were being prosecuted when the case ought not to have been charged".
He added the decision to initiate the roadshows and remove the guidance "did not result in any substantial change in the application of the evidential test in the code for Crown prosecutors".
In a statement, the CPS said: "Independent inspectors have found no evidence of a risk-averse approach and have reported a clear improvement in the quality of our legal decision-making in rape cases."
The judges are expected to give their ruling in the case at a later date.