Covid-19: 'No child's prospects should be blighted by pandemic'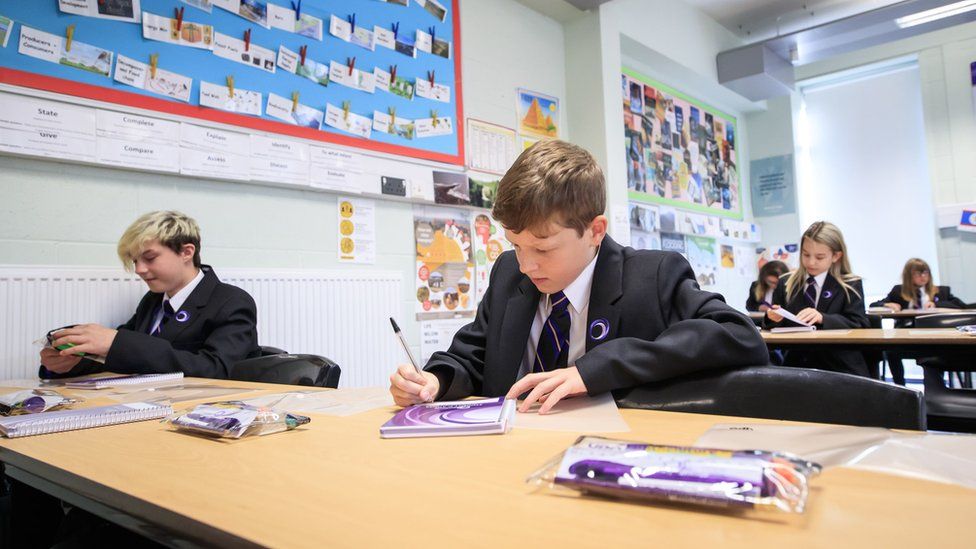 No child should have their prospects "blighted by the pandemic", the education secretary has said.
Gavin Williamson was speaking at a Downing Street briefing as he set out £700m in funding to help pupils in England catch up on missed learning.
Asked about what would replace exam grades this year, he said they were "putting trust" in teachers.
It comes as the number of people to receive one dose of the vaccine in the UK surpassed 18 million.
A further 9,938 coronavirus cases were recorded across the UK on Wednesday, as well as 442 deaths within 28 days of a positive test, according to government figures. It takes the death toll by that measure to 121,747.
Labour said the government should put forward a "long-term plan... not just a quick fix over the summer".
The government has confirmed that all schools will open from 8 March, as part of the first step of a roadmap for easing England's lockdown.
As part of the latest announcements, schools will have the option to run summer classes for pupils who need it most, potentially starting with those who will be moving up to Year 7 at secondary school this year.
The government says it will be up to schools to decide how and if they run summer schools, how long they will be, and which pupils will be invited to attend.
Mr Williamson said the funding announcements were about offering "immediate" support for children and schools.
But the education secretary said many children would need longer term support, and "extensive work" was under way on plans for that.
He said: "We're going to make sure we do everything can do to make sure children reach their potential - while looking at all issues - and we're not going to be timid in aspirations for them and the actions we need to take."
The government's £700m education support package for England includes:
A one-off £302m "recovery premium" for state primary and secondary schools to boost summer schooling, clubs and activities
£200m to fund face-to-face secondary summer schools, with teachers in charge of deciding which pupils benefit
An expanded national tutoring programme for primary and secondary pupils and an extended tuition fund for 16 to 19-year-olds - also worth £200m
That includes £18m funding to support early-years language development
He also reiterated that there would be "no algorithms whatsoever" used in determining A-level, AS and GCSE grades, with marks "firmly in the hands of teachers".
It has already been announced that exams will not take place.
The minister said there would be a "clear and robust" appeals mechanism for students who are unhappy with their results.
Further details on how students in England will be graded this year will be set out on Thursday.
The challenge for the education secretary is to keep sounding as though he has a new plan for what everyone can see is a massive problem with no obvious easy answers.
Children have missed a huge amount of school and exams have been cancelled for two years running.
The latest announcement on catch-up has an extra £400m, but it's focused on a familiar check list - summer schools, tuition, after-school activities, much of which happens anyway and with schools deciding how it will be spent.
Gavin Williamson told Wednesday's press conference that the government was "not going to be timid", but the reports about radical plans such as longer school days and shorter holidays seem to have fizzled away.
The unshowy and highly-experienced school recovery tsar, Sir Kevan Collins, will be more interested in long-term results than show-boating headlines.
The education secretary ran through the plans for pupils going back to school - from 8 March with testing and masks - and that date offers families some certainty.
Although university students must think they are being kept in an expensive limbo, with no date yet set for when many of them can return.
The education secretary also defended the requirement for pupils in secondary schools to wear face masks in classrooms.
He said it was a "temporary" measure that would be reviewed over the Easter break.
Asked if the government was looking at lengthening the school day in the future, Mr Williamson said it was not part of the immediate plans announced, but it could be something considered as part of a wider consultation being led by education recovery commissioner Sir Kevan Collins into the longer term support and change needed within schools following the pandemic.
This week, the government announced that secondary school and college students in England will be asked to take regular coronavirus tests at home when they return to school next month.
Deputy chief medical officer for England Jenny Harries said more testing in secondary schools would mean that parents, teachers and grandparents could be reassured that schools would be as safe as they could be.
These measures would have a positive impact on breaking the chains of transmission, she said.
But she warned that "children should not go hugging grandparents too much" before the the impact of the vaccine rollout was felt.
Labour's shadow education secretary, Kate Green, said the impact of lost learning for children was now "baked in" and she was sceptical about whether the catch-up tutoring programme would reach many of the children who needed it most.
She also said there needed to be a "really robust moderation process to make sure that children are treated fairly... a robust appeals process" and time for schools and exam boards to assess pupils and standardise results.
In Scotland, younger primary pupils have gone back to school, along with some exam year students in secondary schools. A wider reopening has yet to be decided.
In Wales, younger primary years also returned on Monday - with older primary pupils set to go back on 15 March if Covid levels continue to fall.
In Northern Ireland, younger primary pupils will return to classrooms on 8 March.
Last year, Prime Minister Boris Johnson announced a £1bn catch-up fund for England, and later appointed Sir Kevan as education recovery commissioner.
In Scotland, the administration has promised £140m in funding to help disadvantaged pupils. Tens of millions of pounds have also been put into catch-up schemes in Wales and Northern Ireland.
The announcement comes as the Treasury has said its levelling-up fund will be extended to the whole of the UK to "help boost growth" in Scotland, Wales and Northern Ireland.