Football racism: Premier League and EFL asked to help tackle problem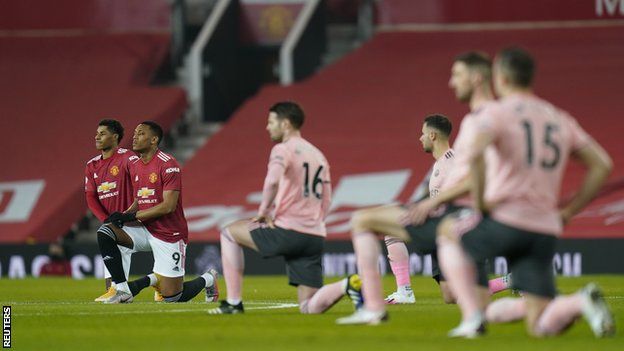 The Premier League and English Football League have been asked by a senior officer to work better with police to tackle racist abuse against players.
Deputy Chief Constable Mark Roberts, wrote to both in January, but only had replies to his letter this week.
With more online abuse against players, he wants leagues and clubs to use the time without fans in grounds to work out how to stop the problem growing.
Supporters could return in May, with some possible pilot events in April.
Mr Roberts fears that with some people thinking racism is acceptable online, there will be a new spike in hate crimes once fans are back inside stadiums.
"Before the lockdown we were already seeing a rise," he said. "So the plea to the leagues and the clubs is while we have got this short hiatus, where we don't have fans in the stadium, let's be ready."
The BBC obtained a copy of the letter sent to the English Football League (EFL) by Mr Roberts, who leads on football for the National Police Chiefs' Council, under Freedom of Information legislation.
In it, he calls for a single reporting mechanism for racist incidents both at grounds and on social media.
"Currently reports go to forces, leagues, Kick it Out, clubs and Crimestoppers to name the obvious ones," he writes.
"This inevitably leads to confusion on the part of the public, fragmentation of the information and inconsistencies in response."
The letter was emailed to EFL chairman Rick Parry, and a very similar one was emailed to Premier League chief executive Richard Masters.
The BBC contacted both organisations this week, and a few hours later, the EFL replied to the letter. It said it was working with stakeholders, including the police, to combat racism.
The Premier League said Mr Masters was only made aware of the letter after the BBC got in contact. However, it has now replied and said it had been involved in regular discussions with Mr Roberts and his colleagues, responding to the points he had raised.
Mr Roberts said: "It is disappointing it has taken so long to receive a response to the letter sent to the Premier League and English Football League as it outlines the positive action we can take together to deal with this."
He added that he wants better co-operation from clubs in getting access to players who have suffered abuse.
"We have had experiences where a force has been making real attempts to try to get to a player and they've hit this wall at a club.
"And publicly the player is saying: 'Where are the police, why are they not making contact?'."
Mr Roberts also described delays by social media giants, saying Twitter took nearly six months to respond to a request for information about one incident of racist abuse.
"Their answer was that the account had by then been deleted and they couldn't provide any information. That denies justice to the player, and it means that someone gets away with it."
There are currently 16 live investigations where police forces in England are awaiting details from Twitter, Facebook or Instagram, he said.
It is understood the majority involve Twitter but the platform declined to comment.
In a statement, Facebook, which also owns Instagram, said: "We do not want discriminatory abuse on Facebook or Instagram.
"We work closely with UK law enforcement and respond to valid legal requests for information in hate speech cases."
leagues to provide weekly updates of racist abuse and disorder to the UK Football Policing Unit
a member of the unit to be a point of contact for clubs on matchdays
This would not cost the leagues anything, he says: "The request isn't for cash, it's a request for focus and commitment and to back up all the things that people have been saying.
"Let's see some action as well and let's look after the players."
A Premier League spokesperson said: "We are doing everything possible to eradicate online racial abuse being experienced by players."
And the EFL said it had now written to DCC Roberts to suggest how football and policing could work together better to combat racist abuse.