Covid-19: Cyprus and Portugal want to welcome vaccinated UK tourists from May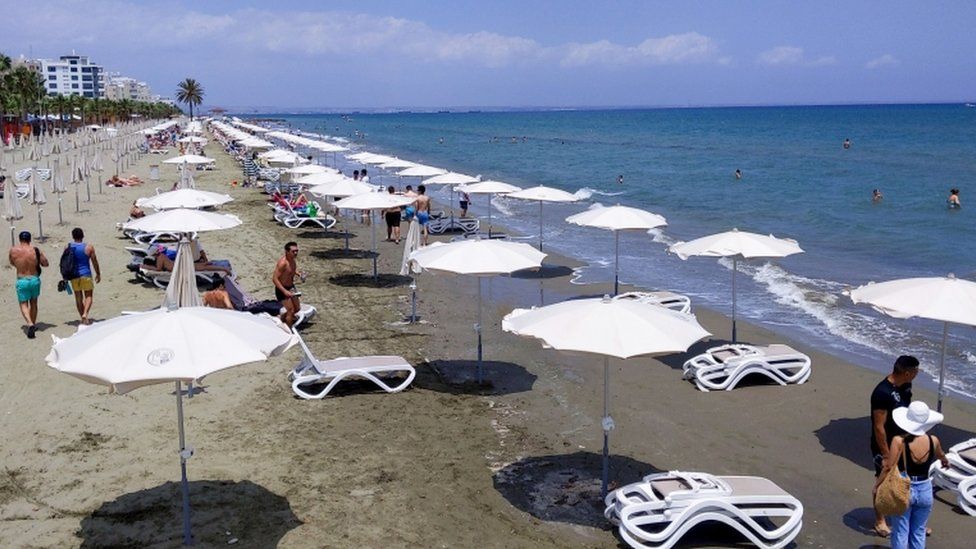 Cyprus and Portugal say they hope to welcome vaccinated British tourists from May - the month when travel restrictions may be lifted in the UK.
The Cypriot government said those who had two Covid jabs could travel, while Portugal said those who tested negative or were "immune" could also visit.
It is not known how vaccine status would be proved.
The earliest date those in England could go abroad for holidays is 17 May, following a review on travel rules.
Home Secretary Priti Patel has said it is still "too early" to book a foreign trip.
Under current rules, foreign travel from the UK is banned apart from for exceptional reasons.
From Monday, passengers travelling internationally from England will have to carry a form stating their trip is permitted, the Department for Transport has announced. It will be an offence to fail to produce a completed form. Those who do not have one could be fined £200.
But once travel is allowed again, the success of the UK's vaccination programme makes Britons especially attractive to countries wanting to attract holidaymakers, especially those European countries which are traditionally popular with British tourists.
'Everything will be ready'
Portugal is currently on the UK's red list, meaning travellers coming from there have to quarantine in the UK when they arrive.
Rita Marques, Portugal's secretary of state for tourism, told the BBC: "I do believe that Portugal will soon allow restriction-free travel, not only for vaccinated people, but those who are immune or who test negative. We hope to welcome British tourists from 17 May."
She added that the situation in Portugal was "stable" and said, "Everything will be ready by mid May."
The UK government says the red list remains under review, with public health the UK's top priority.
International travel from England will not start until 17 May at the earliest, with a global travel taskforce reporting in April. The UK government has not yet approved any kind of vaccination certificate but Cabinet Office minister Michael Gove is looking into possible measures.
The decision to lift restrictions on travel abroad still depends on vaccine rollout in the UK and abroad, the effectiveness of the vaccine, the prevalence of the virus and its variants.
Wales, Scotland and Northern Ireland have not set a date for the start of international travel.
Scotland's First Minister Nicola Sturgeon has said she hopes a certification scheme could allow vaccinated holidaymakers to journey abroad - but warned Scotland was still "some way away" from such a programme. She said she could not advise people to "fly off to the sun" before there was a degree of certainty it could be done without risk.
Going on holiday is currently still illegal, but the prime minister's roadmap last week has left many optimistic that that will change soon.
Although international travel is not guaranteed to start on 17 May, countries and companies are already gearing up to have British tourists back and making a bid for them to book.
When travel does restart, it's likely to be in tiers, with some countries more open than others.
Be warned, just because a country may say it is happy to have us, doesn't mean that they will be on that list; those discussions are still ongoing and will ultimately rest on how the vaccine, virus and variants look in the next few months.
Cyprus's deputy tourism minister, Savvas Perdios, said the country would allow Britons who had been given vaccines approved by the European Medicines Agency (EMA) to enter without the need for a negative test or to quarantine.
Currently the Pfizer-BioNTech, Oxford-AstraZeneca and Moderna jabs have been approved for use by the EMA.
Tourists would be required to have had their second dose at least seven days before travelling, the minister added.
British tourists make up the largest group of visitors to the island and made more than a million trips to Cyprus in 2019, according to the Office for National Statistics.
Other countries are optimistic they could be seeing British tourists back soon.
"We believe that summer has to be the beginning of the end of this bad experience," says Fernando Valdes, Spain's secretary of state for tourism. "I can't give a specific date, that will depend on how the pandemic evolves."
He said it depended how the vaccination programme was going in both countries - but noted "the UK is increasingly moving towards their goals".
Greece has also said it hopes to open this summer, saying its government is taking all the necessary actions for this to happen.
Simon Calder, travel editor at the Independent, said, with the UK's vaccine programme ahead of the rest of Europe, the British holidaymaker was going to become "quite appealing to countries who are working out how to rebuild their tourist industries while at the same time minimising risk".
Although family members might have different vaccination statuses, potentially meaning only some were able to travel unrestricted, he told BBC Breakfast he thought there would be "a way found".
Mr Calder said it was possible Cyprus would reflect its travel rules from last summer when visitors were able to get a test three days before their flight and noted that under-12s are excluded from the current travel restrictions.
Holidays in the UK could begin more than a month earlier, with people in England potentially permitted to stay in self-contained accommodation such as holiday lets from 12 April under Mr Johnson's road map for easing lockdown restrictions.
This has led to many people opting to plan a holiday at home, resulting in them becoming more expensive, according to researchers at Which.