Sarah Everard: How a woman's death sparked a nation's soul-searching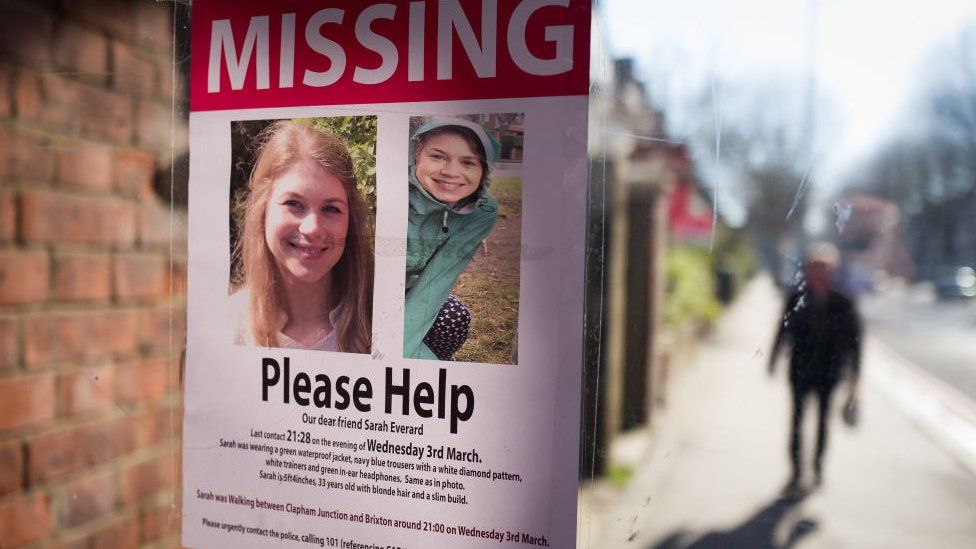 "Missing: Please Help Our dear friend Sarah Everard," read the posters that went up on south London streets and local social media forums in the days after the 33-year-old disappeared on her walk home in early March.
It was concerning but such appeals are not exactly a rare sight, and the hope was that she would soon turn up safe and sound.
But in the days that followed, as police put out a CCTV image of Sarah and gave details of her last known movements, concern grew to alarm, then dread, then fear, shock and sadness.
Sarah Everard's journey from Clapham Common to Brixton had taken her through some of the capital's most populated, brightly-lit, and well-walked parts. Hundreds of people - many of them young women - tread those pavements every day and consider the streets in and around them home.
As the police investigation ramped up, local women were warned to be careful about venturing out alone. When a police officer was arrested - and subsequently charged with Sarah's murder - the head of the Metropolitan Police Cressida Dick acknowledged that women in London and beyond "will be worried and may well be feeling scared", although she said for a woman to be abducted off the street was an "incredibly rare" event.
But the case had touched a nerve, particularly as walking is one of the few activities to have been allowed during Britain's coronavirus lockdown.
Helena Wadia was one of those. She told BBC Radio 5 Live she wanted to highlight how common it was for women to feel unsafe.
"The first time I was catcalled I think I was about 12 years old," she said.
"I have been self-policing since then. We moderate everything - our clothing, our drinking. We get taxis where maybe we can't afford it. We hold keys between our fingers. We don't wear headphones when we're jogging. We stick to well-lit areas. It's exhausting."
One tweet asking women if they have ever faked phone calls, changed route, or even run in fear after feeling threatened by men in public spaces was liked more than 120,000 times.
Anna Birley is one of many people in recent days to have underlined that the narrative around women's safety must change.
"What's so upsetting is it shouldn't be our problem," she told BBC Radio 5 Live. "It's not our fault. Women aren't the reason women get attacked."
Several hundred people had turned up despite being told it had to be cancelled because it breached lockdown restrictions. The organisers had criticised the police for failing to "constructively engage" with them on efforts to make the event Covid-safe, instead of urging mourners to hold candle-lit vigils at home.
The Metropolitan Police defended their actions at the Clapham vigil. They said they "were placed in this position because of the overriding need to protect people's safety", but have faced intense criticism from across the political spectrum.
'I'm aware how my silhouette looks in darkness'
On International Women's Day every year, British MP Jess Phillips reads out the names of all the women and girls killed over the previous 12 months, where a man has been convicted or charged as the main perpetrator.
This year it fell on the day remains were found in the hunt for Sarah Everard, and she read out 118 names. "Dead women is a thing we've all just accepted as part of our daily lives," Ms Phillips told Parliament. "Killed women are not vanishingly rare. Killed women are common."
In a separate debate in the Lords, Parliament's upper chamber, Baroness Jenny Jones of Moulescoomb called for an 18:00 curfew for men on the streets.
She later told Sky News that while she hadn't been "entirely serious", she wanted to make the point that "when the police victim-blame by asking women to stay home, we don't react. We just think it's normal."
The BBC is not responsible for the content of external sites.
So what has been the response of men?
As women took to social media to tell their stories, Stuart Edwards, who lives five minutes away from where Sarah went missing, tweeted: "Aside from giving as much space as possible on quieter streets and keeping face visible, is there anything else men can reasonably do to reduce the anxiety/spook factor?" The tweet received 27,000 likes and more than 3,000 retweets.
Among those who joined the conversation was food critic Jay Rayner, who also lives in south London. "If I find myself walking behind a single woman on a quiet street I always cross the road to the other side and ideally accelerate away as quickly as possible. I am a big man and absolutely aware what my silhouette looks like in the darkness," he tweeted.
Some however have been keen to point out that it's a tiny minority of men who are attackers - using the hashtag #NotAllMen.
But the issue of violence against women is not one for the UK alone.
WHO Director General Dr Tedros Adhanom Ghebreyesus said violence against women was "endemic in every country and culture", and had been exacerbated by the coronavirus pandemic.
"Unlike Covid-19, violence against women cannot be stopped with a vaccine," he said, as the WHO called for more investment in services to help vulnerable women.