Sarah Everard vigil: Hundreds at central London event despite Priti Patel plea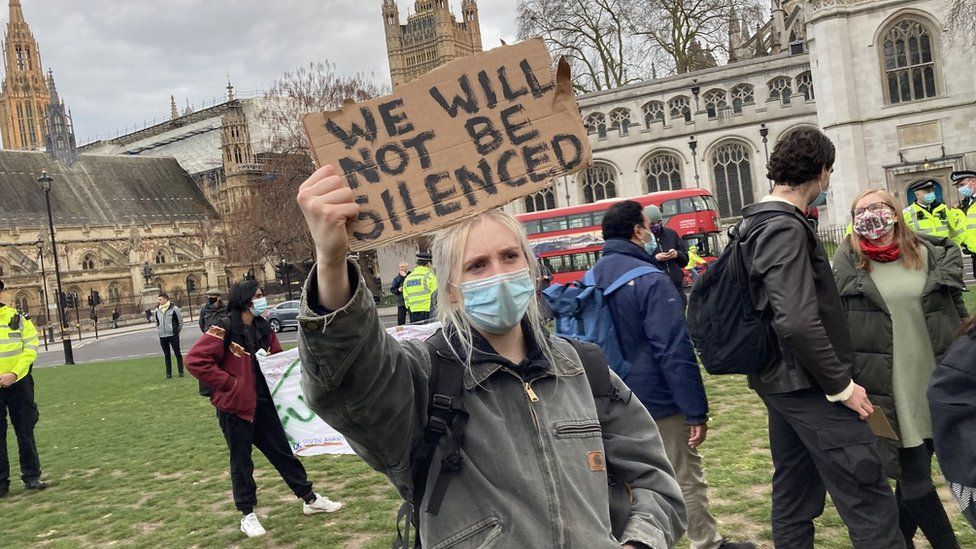 Hundreds of people joined a new vigil for Sarah Everard on Monday, despite the home secretary warning against such gatherings.
Priti Patel said she understood public anger over the 33-year-old's killing but urged people not to protest while Covid restrictions were in place.
Officers handcuffed and removed several women from Saturday's vigil in Clapham.
Speaking from Monday's event in Parliament Square, Dominic Casciani, the BBC's home and legal correspondent, said there were "far fewer" police than there had been at Saturday's vigil, adding that officers had taken a "hands-off" approach similar to that seen during the Black Lives Matter demonstrations last summer.
The Met faced widespread criticism for its handling of the Clapham vigil but the force's commissioner, Dame Cressida Dick, has rejected a call to step down.
Four people were arrested for public order and Covid offences on Saturday, after crowds gathered on Clapham Common to lay flowers and pay their respects to Ms Everard, who went missing while walking home from a friend's house on 3 March.
Her body was later found in woodland in Kent and Metropolitan Police officer Wayne Couzens, 48, has been charged with the marketing executive's kidnap and murder.
On Monday evening, police began to move in on protesters in central London, after urging crowds to "leave immediately" or face "enforcement activity".
Campaigners had marched from Parliament Square and through the Soho area chanting and waving banners.
Protesters could be heard urging others to run and "keep moving", with traffic in the surrounding areas brought to a stop.
A large police presence followed the demonstrators, along with police vans and motorbikes.
Speaking in the House of Commons, Ms Patel said: "Mr Speaker, I would like to take a moment to acknowledge why Sarah's death has upset so many.
"My heartache, and that of others, can be summed up in just five words: 'She was just walking home.'"
The home secretary also confirmed she had instructed the police watchdog, Her Majesty's Inspectorate of Constabulary, to review the policing of Saturday's vigil.
She said Ms Everard's killing had "rightly ignited anger at the danger posed to women by predatory men and anger I feel as strongly as anyone".
However, she urged people not to participate in large gatherings or protests, saying that while the right to protest was a "cornerstone of our democracy", the government's duty was still to prevent more lives being lost during the pandemic.
She stressed that the government had put in place measures to ensure women and girls felt safe, including tackling domestic abuse, female genital mutilation and upskirting.
The Domestic Abuse bill is on track to receive royal assent by the end of April, she said, adding that it would "transform our collective response to this abhorrent crime".
In response, Labour's shadow home secretary, Nick Thomas-Symonds, said: "Let me be clear, it is not women who should change their behaviour, it is men and wider society that needs to change.
"And at times like this it is vital people are able to have their voices heard, of course in a way that is lawful and Covid-secure. Yet this weekend in Clapham things clearly went very wrong and I share the anger about the policing and the scenes we saw."
He also accused the government of "a chronic failure" to address violence against women and girls, adding that "meetings and reopening surveys are not enough".
Police took a hands-off approach at the main demonstration in Parliament Square earlier this evening.
After that broke up, a few hundred protesters moved off and started randomly following a route through Westminster towards London's West End.
At first they tried to sit down and occupy roads - including outside Scotland Yard - but every time they stopped, they were told by police they needed to move on because of Covid regulations.
And so what began as a vigil in Parliament Square became a somewhat chaotic parade through Theatreland and the quiet, locked-down London streets.
Eventually teams of police officers began trying to pick off stragglers, instructing them to go home in line with the lockdown rules - or face fines.
Some left, some appeared to get tickets.
But the way they acted tonight is exactly the type of disruption that may in future be targeted.
Following a meeting of the government's Criminal Justice taskforce on Monday evening, Downing Street said it would take "immediate steps" to give "further reassurance" to women and girls in the wake of Ms Everard's death.
No 10 said it would be doubling the size of the Safer Streets fund - which provides local measures such as better lighting and CCTV - to £45m.
Pilots of so-called Project Vigilant will be rolled out across the country - with uniformed and undercover officers working to identify predatory and suspicious offenders around clubs and bars at night.
Prime Minister Boris Johnson - who chaired the meeting - said the government was bringing in "landmark legislation" to toughen up sentences and put more police on streets.
He said: "Ultimately, we must drive out violence against women and girls and make every part of the criminal justice system work to better protect and defend them."
Labour's Mr Thomas-Symonds said replacing "a tiny fraction of the cuts [the Conservatives] have made to local services is nowhere near good enough".
A spokeswoman for Reclaim These Streets, the group that initially organised the vigil, said they welcomed additional funding but did not believe funding alone would create the structural changes which were "so important".
"Women won't be able to trust that they are safe until misogyny and racism are tackled at an institutional level within government, police and the criminal justice system," she said.
What are the rules on gatherings in England?
Under the current lockdown rules two people can meet for recreation outside, which can include "coffee on a bench"
From 29 March people will be allowed to meet outdoors, either with one other household or within the "rule of six"
Police can break up illegal gatherings and issue fines of £10,000 to someone holding a gathering of more than 30 people
During last year's restrictions, when Black Lives Matter and anti-lockdown demonstrations took place, police took a hands-off approach to protests
On Monday, Reclaim These Streets said it had lost confidence in Dame Cressida after talks with her earlier, claiming that she left after 15 minutes.
Anna Birley of the group told BBC News: "To be honest, Cressida Dick has lost our confidence and the confidence of women in the capital. We didn't want to call on her to resign until we'd at least had a meeting and given her a chance to engage.
"We don't have great confidence in the Met Police's willingness to work with us, unless forced to."
Reclaim These Streets called off Saturday's vigil, saying police had failed to "constructively engage" on how it could be held in a Covid-secure way.
When people gathered anyway, the group pointed out that they did so without the marshalling and other safety measures that had been originally proposed.
On Sunday, there were protests outside the Met Police's headquarters at New Scotland Yard, Downing Street and in Parliament Square.