Ben Hannam: The neo-Nazi who joined the Metropolitan Police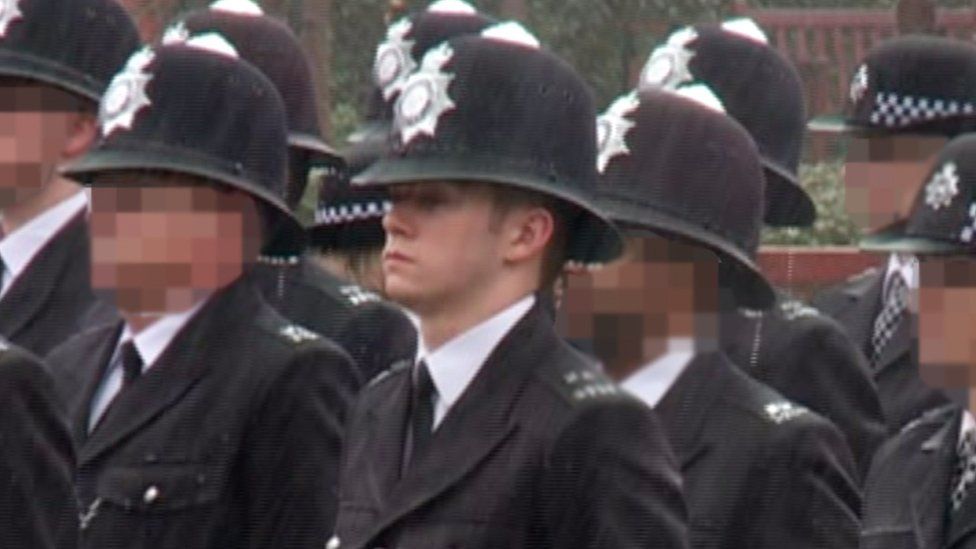 Metropolitan Police officer Ben Hannam has been convicted of membership of the banned neo-Nazi group National Action.
The deception was as easy as ticking a box.
In 2017, on his application form to join the Metropolitan Police, Ben Hannam was asked if he had ever been in the far-right British National Party or any organisations whose aims "may contradict the duty to promote race equality".
Once accepted, he spent two years in the force, working among communities in north London, even interviewing suspects on his own.
But, just two days before he applied to join the force, he had appeared in a neo-Nazi propaganda video.
Deceit had become normal.
At school he had a girlfriend of Mauritian and Muslim heritage, as well as friends from various ethnic backgrounds.
Several gave evidence at his trial, saying he never showed any prejudice towards them.
One grandparent is gay. Another step-grandparent is Jewish.
Yet Hannam spent his weekends with neo-Nazis and collected a library of fascist literature.
His beliefs were noticed by some.
A teacher told the trial she had been unable to mark one essay submitted by Hannam - the first time this had happened in 20 years of teaching - because of "concerning content" and his "intolerance" towards Islam.
He was also spoken to after students at his diverse school reacted to "anti-immigration" views he espoused during a debate.
The Met never took a reference from the school.
After he was charged, three experts agreed Hannam was autistic and that this was relevant to his interest in fascism, an ideology historically associated with order and structure.
One said Hannam was well aware of what National Action stood for. The others said his autism meant it took him some time to realise the group was "morally bad".
Prosecutors said his diagnosis did not excuse his conduct or explain why he sought friends in a neo-Nazi group.
Hannam had joined National Action (NA) in early 2016 while studying for his A-levels.
He was active online, including on the image board 4Chan, and was attracted to NA after watching videos of co-founders Alex Davies and Ben Raymond.
After writing to the group, Hannam was invited to meet older members in London and was soon travelling north to attend an annual conference in Liverpool, where he posed for a photo next to a man doing a Nazi salute which featured in a film of the event.
Using an alias, he joined a neo-Nazi web forum called Iron March, which spawned several extremist groups around the world.
In one forum thread started by Hannam, entitled "Muslim shoots white man in London", he asked for "thoughts and advice".
When one user replied by discussing how to get a firearm, Hannam wrote: "Care to help me out in this topic then? I don't know where to start with obtaining one besides a shotgun, and I don't think they'd be of much use".
He also used the website to help another student apply to NA.
He suggested the teenager tone down his application, as otherwise "you'll get the police knocking at your door".
During his trial, Hannam claimed "there are no pictures of me doing a Nazi salute".
But the BBC has identified him at a fight training event, filmed for an NA propaganda video, which he arranged to attend in August 2016 with the other teenager.
The film shows Hannam boxing with leading member Mark Jones, their faces blurred, with the whole group then saluting together for the camera.
That summer, NA - founded as a youth movement three years earlier - used social media to glorify the murder of the Labour MP Jo Cox by a neo-Nazi.
By the end of the year it was outlawed in the UK as a terrorist organisation, making it illegal to remain a member.
In 2017 the organisation re-emerged under new aliases, including NS131.
Hannam continued to meet other members, pose for propaganda images to promote the new brand, and attend fight training. Another event, not attended by Hannam, saw members practise knife combat in a forest.
Counter-terror police seized clear, raw footage of these events in September that year, when they arrested Mark Jones and the NA co-founder Alex Davies.
But, despite the small numbers at each gathering, Hannam was not identified.
Different counter-terror teams around the UK had responsibility for different group members, but some people - who may have appeared peripheral - were not a focus.
Investigations had already revealed several soldiers were members of an NA chat group.
One soldier, Mikko Vehvilainen, was stockpiling weapons and would later be convicted of membership
During exchanges with other senior figures, Vehvilainen said members should focus on gaining "military and key civil positions".
Hannam was only caught after anti-fascists leaked data online from the Iron March forum.
Detectives reviewed IP addresses for British forum users, tracing the account used by Hannam to his north London home.
The police investigation found no evidence he had been involved with NA after July 2017.
However, there are hints that he did not break all contact with his past.
Even before his arrest, people involved in the group knew that one of their former members had joined the police, the BBC has established.
Hannam also continued to access and save disturbing content, including an image glorifying the perpetrator of New Zealand's Christchurch massacre.
In court, Hannam claimed he simply chanced across it online, but how it actually came into his possession is unclear.
Commander Richard Smith, head of the Met's counter terrorism command, said he was "hugely concerned" that a serving officer had been a member of a banned group, but that he was identified at the "earliest" opportunity and officers then moved quickly to make an arrest.