Covid vaccine: UK supply hit by India delivery delay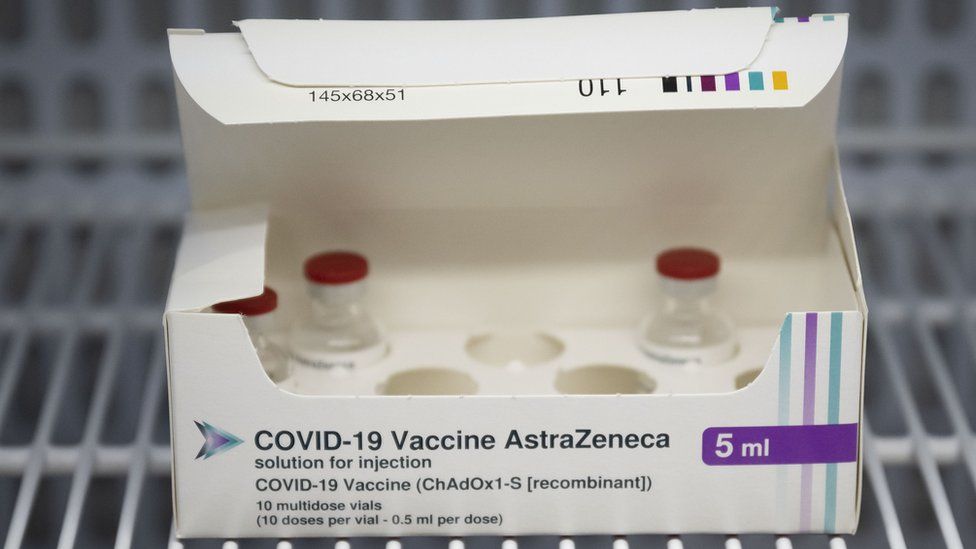 An expected reduction in the UK's Covid vaccine supply in April is partly due to a delay in a delivery from India of five million Oxford-AstraZeneca doses.
The shipment, produced by the Serum Institute of India, has been held up by four weeks, the BBC has been told.
Housing Secretary Robert Jenrick said neither a single factory nor a country was responsible for supply issues.
The Department of Health insists it is still on track to offer a first dose to all adults by the end of July.
A spokesperson for the Serum Institute said: "Five million doses had been delivered a few weeks ago to the UK and we will try to supply more later, based on the current situation and the requirement for the government immunisation programme in India."
A source told the BBC that although the original aim had been to deliver the next five million in March, there was not a stipulated time for the delivery of the doses.
Mr Jenrick told the BBC that the government had learned of vaccine supply issues "in the last few days".
He said the UK had less supply of the vaccine "than we might have hoped for in the coming weeks but we expect it to increase again through the course of April".
The vaccine rollout would be "slightly slower than we might have hoped but not slower than the target we had set ourselves" of offering a first dose to all people aged over 50 by 15 April, and all adults by the end of July, he said.
Anyone with an appointment for a second jab "should have complete confidence" that they will go ahead, he said, adding: "The month of April will be different - and it was always going to be - because I think this will be the month that second jabs exceed first jabs."
Under-50s 'will have to wait'
Prof Martin Marshall, chair of the Royal College of GPs, said over the next two weeks the NHS would be pushing on with vaccinating over-50s and vulnerable people while it had a "bumper supply".
He said the announcement of a shortage was "disappointing" news and it would impact "the group we were hoping to start on in April which is the people under the age of 50 without any pre-existing conditions" who would now have to wait until May.
Prof Adam Finn, a member of the government's Joint Committee for Vaccinations and Immunisation (JCVI), said the disruption to supply meant the UK's rollout would be going from "extremely fast to somewhat less fast", rather than "juddering to a halt".
He told BBC Radio 4's Today programme that the supply issues could affect infection rates but should not have an impact on hospital admissions, as those who are most vulnerable to Covid-19 were being prioritised for the jab.
The Serum Institute of India is the world's largest manufacturer of vaccines and is making one billion doses of the AstraZeneca jab this year for low and middle-income countries.
Earlier this month, it agreed to supply 10 million doses for the UK, but only half of these will arrive this month with the rest delayed for several weeks.
The rest of the UK's AstraZeneca doses are being produced domestically and the company says there are no supply issues.
Pfizer, which produces its vaccine in Belgium, says its deliveries to the NHS are also on track.
The UK has also approved a third vaccine - Moderna, which is due to start being rolled out in late spring.
Predicting what supply is available in the future is difficult. Vaccine production is a biological process so manufacturers can never absolutely guarantee how much will be available.
When you are relying on supplies from abroad there's an added element of complexity.
The UK only has two plants that are currently producing an approved vaccine - both make the AstraZeneca jab. Stocks of Pfizer come from Belgium. Both these supply routes are currently delivering what has been forecast.
A deal was done with India to supply 10 million doses. But it was always made clear the exact date of shipment could not be absolutely guaranteed.
The government had understood the full shipment would arrive in time for mid-March and felt it needed to get vaccination clinics ready to do extra doses. They have now had to be stood down.
It comes after expectations were ramped up at the weekend after briefing to the media that the target to offer all adults a jab by the end of July could be hit a month early.
Those hopes now seem to have been dashed. Another reminder of just how fragile supply is.
Health Secretary Matt Hancock is due to give a statement to MPs in the Commons later on Thursday.
Shadow health secretary Jonathan Ashworth tweeted that people "across the country" would be "anxious and worried" about news of delays.
The European Medicines Agency (EMA) is due on Thursday to release the findings of an investigation into cases of blood clots in a handful of Oxford-AstraZeneca jab recipients.
The World Health Organization has urged countries not to halt vaccinations.
A further 141 people in the UK have died within 28 days of a positive test, according to figures updated on Wednesday from the UK government. A further 5,758 people have tested positive.