Covid-19: More than 6,000 'lives saved by vaccine programme'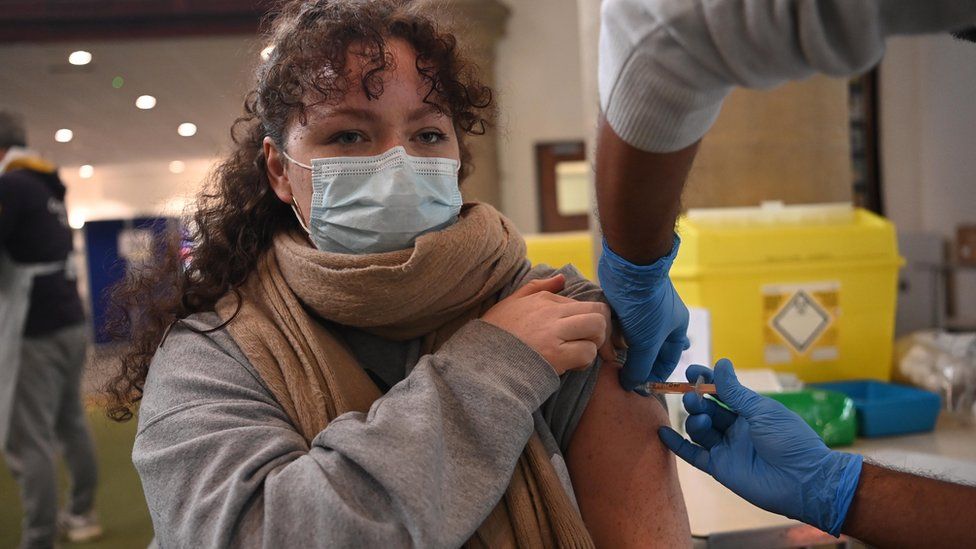 The Covid-19 vaccination programme has saved more than 6,000 lives, an analysis by Public Health England says.
Most would have been among the over-80s and some among people in their 70s, estimates up to the end of February suggest.
It comes as people in England aged over 50 and in at-risk categories are being urged to book their Covid jabs before Monday, when slots are set to dry up.
The NHS said appointments should be arranged by 29 March.
Officials expect a slowdown in vaccine supplies in April - and medics will be focusing on providing second doses.
Ministers say the plan to offer a first dose to all adults by July is on track.
But NHS England said no first appointments should be booked next month for the under-50s unless they fall into a higher-priority group, such as those who are clinically vulnerable.
Four in five people in the first nine priority groups have now received at least one dose of a vaccine.
The PHE analysis compared expected deaths with Covid-19 with deaths observed among the four million over-70s given first doses by the end of January, assuming it would take 31 days before the protective effects of the vaccine had a significant impact on death rates.
It estimated 6,100 lives had been saved:
5,900 among the over-80s
200 among people in their 70s
And an even higher number of lives would have been saved, PHE said, if vaccines also helped to reduce transmission of the virus, as hoped.
Immunisation head Dr Mary Ramsay said: "The vaccines have an excellent safety record - and I would encourage anyone who is offered a vaccine to take it as soon as possible."
NHS England medical director Prof Stephen Powis said: "It is a testament to the careful planning and sheer hard work of staff that the NHS vaccination programme is continuing to protect people against coronavirus at a record pace.
"I was thrilled to get my first dose earlier this month - it was quick, painless and safe and it feels great knowing I've got protection against Covid-19.
"So if you are eligible, do not delay, book a jab."
The latest government figures show 28,653,523 people in the UK have received a first dose of a vaccine, while 2,532,839 second doses have been given.
Anybody aged 50 or over and people aged 18 and over who are clinically vulnerable can book themselves in for a first dose using the online national booking system for England before 29 March.
GPs will also continue contacting eligible patients on their lists and offer vaccines to anyone who has not had one so far in that period.
The reduction in the UK's Covid vaccine supply in April is partly due to a delay in a delivery from India of five million Oxford-AstraZeneca doses.