Covid: Outdoor meet-ups and sports resume in England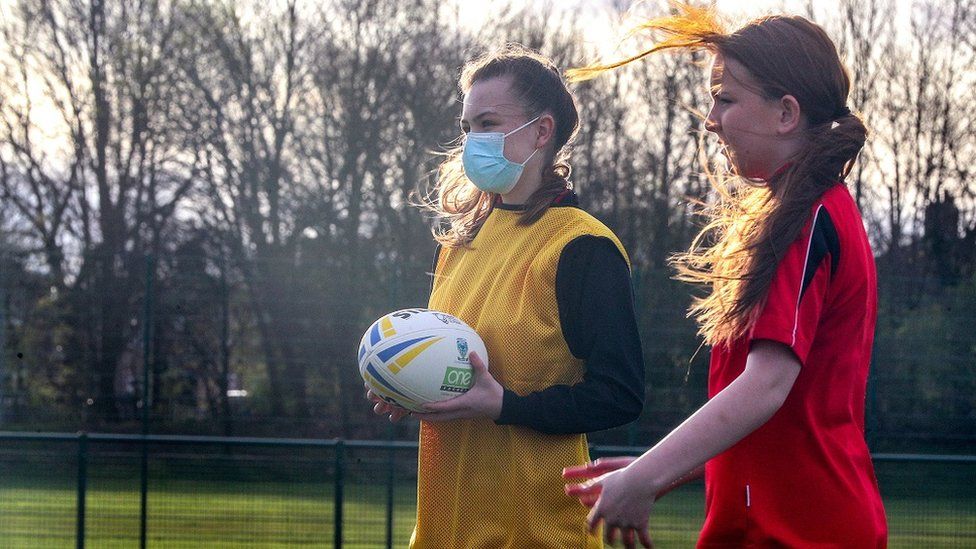 Two households or groups of up to six people are now able to meet outside in England again as the stay-at-home Covid restrictions order comes to an end.
Outdoor sport facilities, including tennis courts and golf courses, have reopened, and organised outdoor sports are resuming in the latest easing.
But Boris Johnson has urged caution, saying cases are up in Europe and variants threaten the vaccine rollout.
"Despite today's easements, everyone must continue to stick to the rules, remember hands, face, space, and come forward for a vaccine when called," the prime minister said.
A further 4,654 Covid cases were recorded in the UK on Monday, compared with 5,342 cases a week ago. There were also another 23 deaths of people within 28 days of a positive test, compared with 17 on the same day last week.
The latest government figures show 293,542 UK adults received a first dose of the vaccine on Sunday, taking the overall number to 30,444,829 - with 146,785 having their second dose, bringing that total to 3,674,266.
Players at Eastbourne Netball Club told the BBC they were excited to get back on the court after only a few sessions of virtual netball during lockdown.
"It's our social interaction as well as our physical wellbeing," Samantha, head coach, told Radio 4's Today programme.
England's next moment of unlocking, including that much-anticipated haircut, is a fortnight away at the earliest.
Monday marks the second easing of the lockdown imposed across England in early January, after schools reopened to all pupils on 8 March.
People can now meet outside - including in private gardens - in groups of up to six, or as two households, with social distancing.
Culture Secretary Oliver Dowden said he was confident people would stick to the new rules, saying: "They have kept with it for the past year, shown common sense."
"We can see that light at the end of the tunnel," he added. "Stick with it just a little bit more and we can start doing more and more of what we love."
The prime minister will hold a Downing Street coronavirus briefing at 17:00 BST. He will be joined by England's Chief Medical Officer Prof Chris Whitty and Chief Scientific Adviser Sir Patrick Vallance.
A new slogan - Hands, Face, Space and Fresh Air - has also been unveiled by the government to emphasise the importance of ventilation in reducing the spread of the virus.
Prof Dame Anne Johnson, professor of infectious disease epidemiology at University College London, told Today: "People shouldn't mix indoors. That's going to be the biggest risk."
She said it was important to maintain social distance outside because "the longer the contact and the closer you are, the more likely [you are] to get transmission".
The lifting of the stay at home order in England happens just days after Wales took a similar step. Scotland and Northern Ireland will follow suit later this week.
It comes after huge progress has been made in reducing infections and rolling out the vaccination programme.
It should signify the worst of the pandemic being over.
But if the virus has taught us anything, it is that you can take nothing for granted.
The direct link between infections and hospitalisations has been severely weakened - even broken - by vaccines.
However, a surge in infections would still cause havoc for many people who are in the process of building up immunity, for small numbers of the most at-risk groups who have not been vaccinated, and for those for whom the vaccines do not work - while very good, they are not 100% perfect.
Mutations that allow the virus to dodge past some of the immune response could also make things worse.
It's why the government's key message today is one of caution.
But it does not mean we can't be optimistic, either.
As many friends and families prepare to be reunited for the first time together in several months, ministers are still advising people to work from home where possible and minimise the number of journeys they take.
Sports minister Nigel Huddleston urged those travelling to visit family and friends to plan journeys ahead - filling up with petrol or going to shops locally before travelling.
People should stay outside once there, he told BBC Breakfast, as the change of rules "is not an excuse to stay overnight".
Mr Huddleston also advised people who see others bending the rules to "call them out in a respectful way" and refrain from hugging.
"I know it's a little bit awkward, but actually in these circumstances it's the right thing to do," he said.
The next stage in the relaxation of the rules will take place no earlier than 12 April with non-essential retail reopening, and restaurants and pubs allowed to serve outdoors.
The stay home order in Scotland will end on Friday, and from Thursday in Northern Ireland up to six people, or two households, will be able to meet outdoors.
Are you getting married today or returning to sport? Tell us what the latest easing of restrictions means for you. Email haveyoursay@bbc.co.uk
Sports stars including England World Cup-winning cricket captain Eoin Morgan and British number one women's tennis player Johanna Konta are teaming up with the government to encourage a return to physical activity.
Mr Johnson said "as teams return to outdoor pitches, courts, parks and fields, I hope today will kick-start a Great British summer of sport".
The prime minister added: "I know how much people have missed the camaraderie and competition of organised sport, and how difficult it has been to restrict physical activities - especially for children."
The government has announced it will set up a new Office for Health Promotion in England to promote physical fitness and mental health, saying the pandemic has revealed many vulnerabilities in the population.
The PM said the new office, expected to be launched by the autumn, will be "crucial in tackling the causes, not just the symptoms" of ill-health.
It will design policy across Whitehall and resources will come from the existing health budget, according to the Department of Health and Social Care, where it will be based.