Violence against women: Loss, death and grieving in public
By Hazel Shearing
BBC News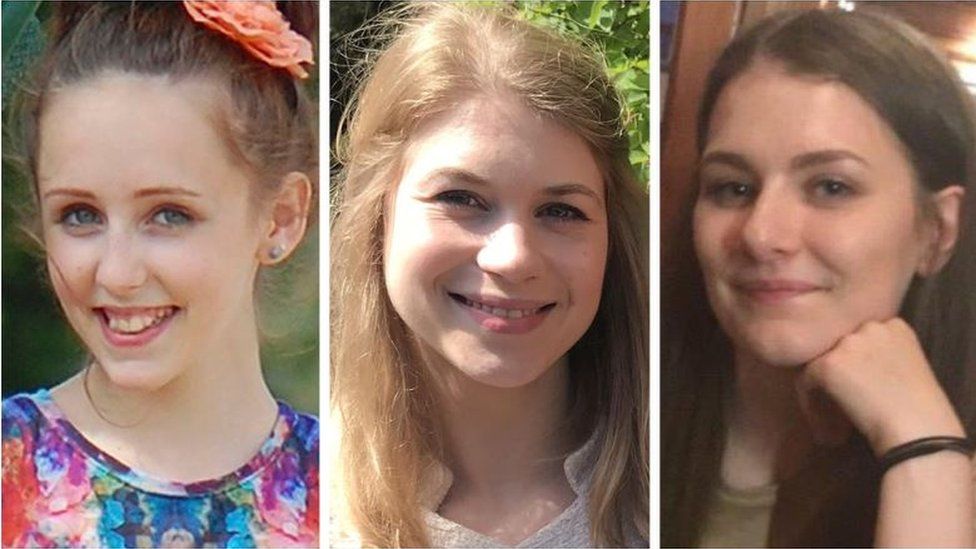 A month ago, Sarah Everard was a 33-year-old woman who was walking to her house in south London. Since her disappearance on 3 March, her name has become inextricably linked to public debates about women's safety, police conduct and even personal freedoms under lockdown. The media coverage in the wake of her death has been fast-paced and wide-ranging. But at the heart of this story is a young woman who did not make it through her front door.
This week I spoke to Nina Gross - the older sister of Alice Gross, who was killed aged 14 - and Lisa Squire - mum to Libby Squire, who was murdered aged 21. Here, they share their experiences of what it is like to grieve in the limelight and how it feels when you lose control of your loved one's name, their image and their narrative.
Nina was just 19 when she found herself in front of lights and cameras, surrounded by people she did not know, asking the world to look for her sister. When she logged on to social media that evening in September 2014, after the family's appeal had been broadcast on television, she was met with a flood of support. But she also came across messages asking why she had not cried in the footage, and they left her stunned.
"You feel this need to justify yourself. Like 'no, maybe I didn't cry then, but I probably cried before'," she tells me over a video call. "It's not the majority of people, but that's the bit you remember because it's just infuriating and upsetting."
It was the start of what would prove to be a complicated relationship with the media - caught between wanting to keep Alice's case in the spotlight when she was missing, and then to be left to grieve once her body was found five weeks later. For Nina, this blurring between private and public sometimes felt like she had "lost control" of Alice's story - and it began with the photo used on her missing poster.
Nina remembers every detail of when and where the photo was taken. She was housesitting for a friend and 14-year-old Alice came to visit. On the mantelpiece was a painting - Girl with a Pearl Earring by Dutch painter Johannes Vermeer. Nina thought it looked like Alice, and took photos of her sister posing beside it to prove it. Weeks later, when Alice went missing, Nina scrolled through her phone to find a photo that could help the public find her.
"That just happened to be the most recent photo that I had of Alice where it was face-on and not her pulling some stupid face, because that's what she normally did," Nina laughs. Now, however, she can only see it as "the face of the missing poster".
"We had no idea then that was going to be this massive thing that was everywhere. It's really strange because there were two photos taken and one of them is just slightly different. It's just totally different to me, that photo where she's just got a slightly different angle to her face," she says. "There are so many photos of Alice now in the public domain that don't feel like ours."
In the weeks that followed, Nina says reporters turned up at the gates of Alice's school to try to speak to her friends. Once, she says, a tabloid newspaper posted a note through the letterbox, telling her parents it was going to run a story about Alice's eating disorder. The family decided to "get ahead" and share information before the story was published.
"It's not something you want to share about someone," Nina says. "Especially when we thought that Alice was going to come home."
About four-and-a-half years after Alice disappeared, Libby Squire vanished in Hull. Her body was found seven weeks later.
Libby's mum, Lisa, remembers the shock of seeing her 21-year-old daughter's face on TV for the first time. That, she says, was the "strangest thing". "You know it's happening to you, but it's not happening to you. You're like a spectator in your life, if you like," she explains over the phone.
She recalls getting out of bed early after sleepless nights to reply to thousands of kind messages from strangers on Facebook. Once Libby's body was found, people sent cards, too. Lisa says she was grateful for the support, but at the same time found it hard to come to terms with the response from people she didn't know - and with the way Libby was talked about in the media.
She recalls her feelings of being very protective of her daughter's memory and not being comfortable with seeing her name or picture in the papers. "What I felt very much was all these people are talking about her but they didn't know her. She was my child."
She says that after Sarah Everard's death, people have told her that "there wasn't this outpouring of grief when Libby died". The difference, she thinks, is that Libby was missing for longer. "Without being unkind, people go off the boil. Unless it's current and there, they forget... It's human nature, isn't it?"
Media interest in Libby's case ebbed and flowed, she says. Shortly before her 50th birthday, Lisa recalls jumping out of the shower to answer the doorbell, thinking it would be her neighbour. Instead, she was greeted by a journalist on the doorstep, who asked her how it felt to have a "big birthday" without her daughter. She calls the experience "horrendous".
"Libby used to love celebrating my birthday," she says. "I'm wrapped in a towel with dripping wet hair, trying to stop the puppy from running out and I'm like - how do you think it feels?"
Both Lisa and Alice Gross's sister Nina want to see other elements of media coverage change, too. Nina said she struggles particularly when photographs of Alice and the man who killed her are positioned next to one another, and when her sister is referred to as "murdered schoolgirl Alice Gross". "It feels like that becomes a soundbite," she says. "This person is far more than that."
For Lisa, headlines like "Drunk student murdered by Polish butcher" stick with her.
"It doesn't matter what job he did," she says. "It doesn't actually matter what nationality he was, and it didn't matter that she was drunk. A man has killed my daughter, that's what matters."
Nina and Lisa have received help from Victim Support, a charity that offers emotional support for those who have gone through this type of traumatic event, as well as practical things like help closing a deceased relative's bank accounts.
Lauren Brain, Victim Support's senior homicide case worker, says the news of Sarah Everard's death has "brought up a lot of things for a lot of families" and there has been "retraumatisation".
She says many find it "difficult to cope" when their loved one's death leads to discussions about other topics in the media - such as the debate about policing after the vigil for Sarah Everard at Clapham Common - and that they can feel a "lack of control".
She adds the charity can help people even "years down the line" from a traumatic event, as everyone is "affected in different ways".
Just as we are about to leave our call, Lisa says that for many years she did not want to do media interviews about her daughter - but is doing so now because she wants to generate more discussion about women's safety. She hopes that public debate will continue even after the immediate conversations around Sarah Everard's death.
"We have to start talking to these boys from when they're old enough to understand that you respect a female as much as you respect a male," she says.
This, she hopes, will help "change things - and stop there being another Sarah, another Libby, another Alice".
Victim Support provides emotional and practical help to victims or witnesses of any crime, whether or not it has been reported to the police. Phone 0808 16 89 111 (24/7) or visit the Victim Support website.
If you have been affected by issues raised in this story, further sources of support are available via the BBC Action Line.