Covid-19: Boris Johnson warns against mixing indoors as Easter weekend begins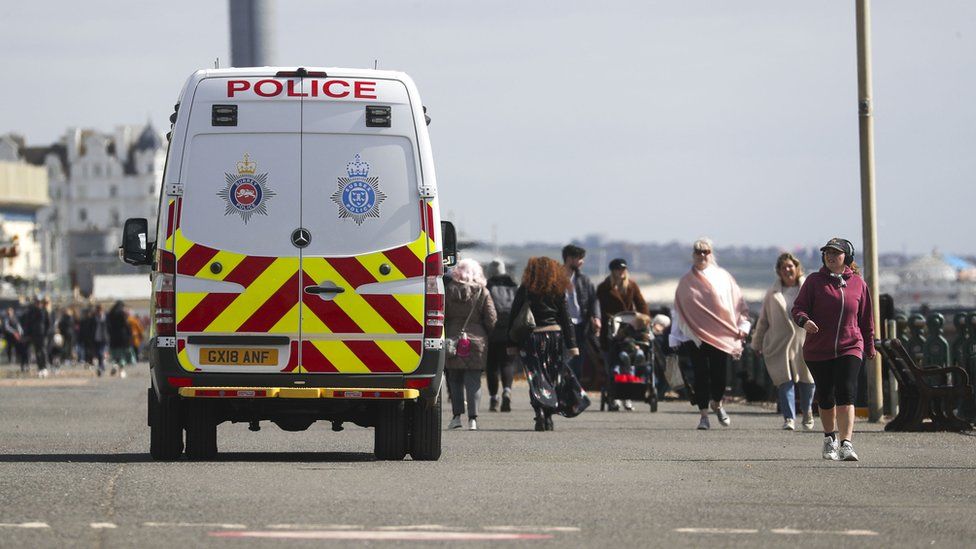 People should not socialise indoors with other households even if they are vaccinated, Boris Johnson has said.
As the Easter Bank Holiday weekend began, the PM said "we're not yet at that stage" as coronavirus vaccines "are not giving 100% protection".
Police forces across England have also called for people to obey the rules over the bank holiday.
It is the first weekend since England's rules were relaxed to allow outside gatherings of more than two people.
With groups of up to six or two households allowed to meet, councils and police forces are preparing for beauty spots and parks to be busy.
But, despite unseasonably warm weather earlier this week, the weekend is forecast to be mild before temperatures drop further from Sunday, with a warning of snow in northern Scotland.
Rules have also recently been relaxed in Scotland, Wales and Northern Ireland - with people also allowed to meet outside in small groups.
In a video published on Twitter to answer questions about the rule changes, the prime minister addressed the question: Can I meet family and friends indoors if they are vaccinated?
"I'm afraid the answer is no, because we're not yet at that stage," he said.
"We're still very much in a world where you can meet friends and family outdoors under the rule of six or two households.
"And even though your friends and family members may be vaccinated, the vaccines are not giving 100% protection, and that's why we just need to be cautious.
"We don't think that they entirely reduce or remove the risk of transmission."
He later tweeted: "This Easter weekend, please remember that outdoors is generally much safer than indoors."
More than 4.9 million people in the UK have now been fully vaccinated - receiving both doses - while 31.3 million first doses have been given.
Pfizer said its vaccine prevented 91% of coronavirus cases in the six months after people are given their second dose.
Meanwhile, a recent study found a single dose of the Oxford-AstraZeneca jab offered 76% protection for three months, and this went up to 82% after the second dose.
Several police forces have also issued warnings ahead of the bank holiday. The Metropolitan Police said officers will be "highly visible" in open spaces in London to remind people in groups of more than six that they could be fined.
"After a long and difficult few months, let's not undo all of that hard work now," said Deputy Assistant Commissioner Jane Connors.
"We can expect to see parks and beauty spots busier than usual," she said, adding: "Don't crowd in open spaces and do follow the rule of six, or, only meet up with one other household."
Other forces have said they will be patrolling parks and beaches, with Merseyside Police planning to remind people that alcohol is banned at some beaches.
Also pleading with people to follow the rules, Sussex Police said: "Warm blankets and hot drinks are the way forward this weekend - not bringing friends or family into your home."
Meanwhile, Police Scotland said if anyone was visiting their local beauty spots, they should do "safely and respectfully".
In Wales, since last weekend people have been allowed to meet groups of six or two households outdoors, as well as travel within the country for holidays with their own household.
In Northern Ireland, up to six people from two households are allowed to meet in a private garden and 10 people in public spaces.
The number of cases has increased by 3,402 - the lowest since mid-September.
Earlier this week, parks an beaches were busy as the UK saw a spell of warm weather, including its hottest March day since 1968 as temperatures topped 24.5C on Tuesday.
Forecasters predict that this weekend will be milder, ahead of air from the Arctic moving in from Sunday night and bringing colder weather across the UK - with even gales and snow possible in some areas.
A yellow weather warning predicting heavy snow showers has been issued for northern Scotland from 18:00 BST on Sunday.