Covid: PM to set out latest lockdown easing in England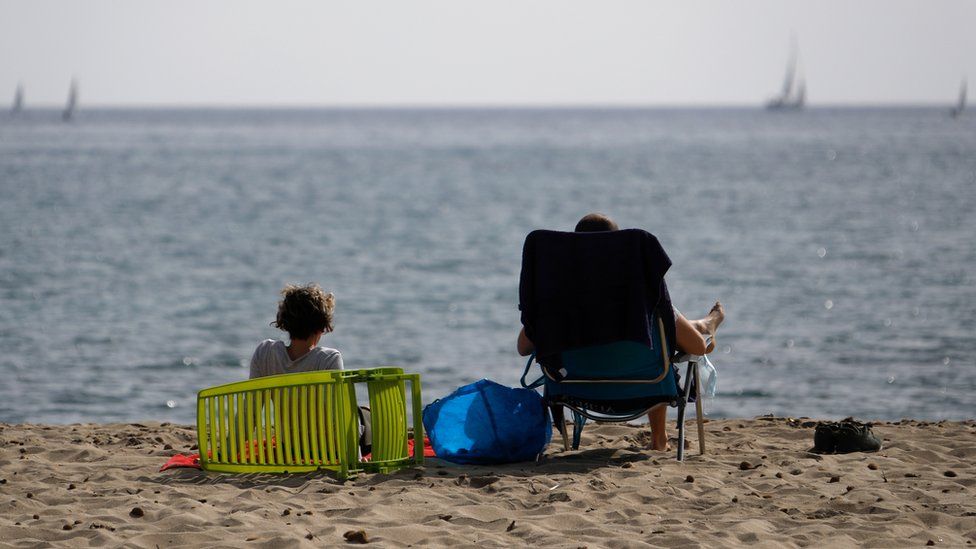 Boris Johnson is expected to unveil a traffic light system for foreign travel in an update on measures for easing Covid restrictions in England.
The prime minister is to make a series of announcements on changes to lockdown rules at a Downing Street briefing.
More detail might be given on the possible use of Covid certificates to access services or events domestically.
Close-contact services such as hairdressers and barbers can reopen
Gyms and spas can reopen, as can zoos, theme parks, libraries and community centres
Members of the same household can take a holiday in England in self-contained accommodation
Weddings attended by up to 15 people can take place
Mr Johnson will be joined by chief scientific adviser Sir Patrick Vallance and England's chief medical officer Prof Chris Whitty at the Downing Street briefing at 17:00 BST.
Under the current plan for easing restrictions, the earliest date people in England could go abroad for a holiday would be 17 May.
Health minister Edward Argar said the government was acting "very carefully and cautiously" due to the risk of importing new variants.
Asked on BBC Breakfast if Europe was likely to be on the "caution list" of destinations due to a surge in cases, Mr Argar said the thing the government did not want to see "as the vaccination programme is working so well" was "new variants getting imported into the country".
He said at the moment ministers were "very much focused" on the gold standard PCR tests "in the context of travel" and suggested the model where travellers paid for their own tests would continue.
Mr Johnson is unlikely to set out which countries will be in each category of the traffic light system in his briefing later.
After months of anticipation, many in the travel industry will be pleased if the prime minister announces some measures on how international travel can restart.
But there will still be unanswered questions. Boris Johnson is unlikely to announce which destinations will be designated green, amber or red yet under any traffic light system.
The vaccination rate and the level of variants in a country are likely to determine which level a country is placed at, but the travel industry still wants to know more about how this will be decided and how quickly things could change to move countries into different categories.
The government's roadmap has stated international travel could restart from England on 17 May at the earliest; there's no guarantee yet that it won't be pushed back.
Imperial College London scientist Prof Neil Ferguson told BBC Radio 4's Today programme testing everyone from European countries would be "sensible", rather than "some of the 'red list' countries which are far away".
He said there was "concern" over the proportion of cases of the South African variant, which might undermine the UK's vaccine programme, in some European countries such as France and Luxembourg.
Immigration minister Kevin Foster said he did not "recognise" the figures but Labour's Yvette Cooper tweeted that the Home Office needed to "urgently respond, explain and publish these figures".
A certification scheme could record whether people had been vaccinated, recently tested negative or had natural immunity and are seen as a possible means of enabling mass-audience events to take place in the future.
The FA Cup final on 15 May is one event which will be piloting certification, the government said.
Shadow health secretary Jonathan Ashworth told BBC Radio 4's World At One programme he was worried introducing vaccine passports would make people feel they were being forced to have a jab, which he thought could be "counterproductive".
"All the evidence has always suggested that if you want to maintain confidence in vaccination, that you don't make it compulsory, don't force people to be vaccinated - you encourage people, you persuade people," he said.
For foreign travel, European officials have announced a plan for an EU-wide "Green Digital Certificate", which would allow anyone vaccinated against Covid, or who has tested negative, or recently recovered from the virus, to travel within the region.
TUI UK and Ireland managing director Andrew Flintham called for "clear guidelines" for the travel industry.
He said the company would take its lead from the government on travel certification, but the industry wanted it to be as "wide as possible".
"So free, ideally free, or cheap testing that is freely available is another major way of getting people moving and also being able to certify that people have actually had the disease and have recovered, therefore they have created these antibodies," he told BBC Breakfast.
He added what the sector did not want the "stop and start" situation of last year with advice changing at short notice.
From 12 April, at the earliest, all pupils are due to return schools in Wales, which will coincide with the reopening of shops and close contact services.
On the same date Northern Ireland is set to relax its stay at home message, with non-essential retail to reopen and groups of up to 10 people from two households able to meet in a private garden.